There's a way to get a free flatscreen TV — but with a catch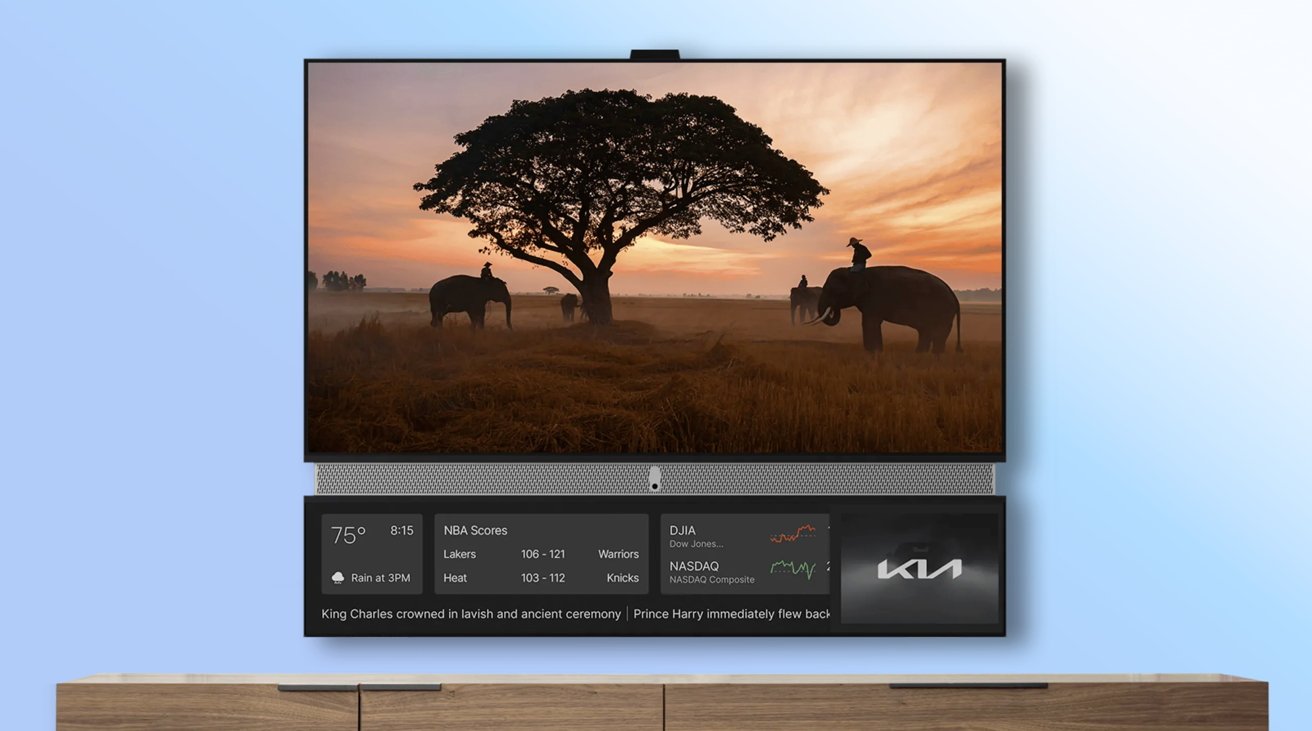 Telly promises a smart television for free, if users are willing to deal with advertising on a second screen and the wholesale handing over of their usage data to marketers.
A start-up named Telly, created by a co-founder of streaming service Pluto TV, is offering people the chance to get a new yet unusual television at no charge. Rather than having one large screen, it actually has two.
The dual-screen smart TV mainly consists of a 55-inch 4K HDR display, with a camera on the top. Underneath is a soundbar with a five-driver system that the company claims offers excellent bass.
The unusual addition is a second slimmer display under the soundbar, which can be used to display extra information, such as sports results, weather, or stock prices. This will apparently provide users with more opportunities to get the updates they may desire, without necessarily switching away from what they're watching or having to glance at a smartphone display.
As a smart television, it is also touted to include quite a few features, including video calling via Zoom, more than 40 video games, music streaming, fitness functions with motion tracking, and its own voice assistant.
The television has three HDMI ports that can be used with various streaming devices, including the Apple TV and game consoles, but it will also be supplied with a 4K Android TV streaming stick.
Telly is currently available for pre-order, with 500,000 TVs expected to be distributed to users in the United States in the summer. Users won't be paying for the television directly, but they do exchange their data instead.
The lower secondary screen will be used to display a "non-intrusive ad" to the user while they're watching television. Telly frames this as making it the "first TV paid for by brands."
As part of the signup process, users are asked questions about their household to optimize advertising that will be displayed on the second screen.
The Viewing and Activity Data Policy explains that data about the user's viewing habits will be collected, including channels viewed and durations. Activity data including search queries, settings preferences, applications, purchases, button presses, and "the physical presence of you and any other individuals using the TV at any given time" will also be collected.
Viewing and activity data "may" be shared with third-parties for customized content and advertising. However, Telly insists that the personal data is anonymized by the redaction of personally-identifiable information and fuzzing techniques.
Users of Telly can opt out of sharing the data, but they will lose access to services and must return the television. If they don't, a charge of $500 is then applied to an on-file credit card.
Advertising on smart televisions isn't a new concept, and has been around for a few years already. Telly is taking the concept to a more extreme level, but unlike other firms, it's being upfront about the arrangement.
While Telly is a reuse of the slang term used in the UK to refer to a television, the offer only applies in the United States.