Apple's packed WWDC 2013 keynote replay now available
By AppleInsider Staff
Monday, June 10, 2013, 01:06 pm PT (04:06 pm ET)
As per usual, Apple has released Monday's keynote in full on its events webpage, offering those who missed the product-packed event a second chance to watch Apple execs introduce iOS 7, Mac OS X Mavericks, the radically redesigned Mac Pro, faster MacBook Air, and more.




While Apple streamed the WWDC 2013 keynote on its website and via a special Apple TV app this morning, the full keynote has now been uploaded to the company's events page.

The entire 120-minute video can be streamed through most Web browsers, with highlights including iOS 7, OS X Mavericks, the upcoming Mac Pro, MacBook Air, iTunes Radio, iWork for iCloud beta, and the AirPort Extreme and Time Capsule.

As of this writing, a holding page is being displayed, though the video is expected to be ready shortly.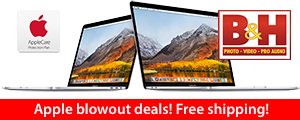 2018 13" Touch Bars
Price
Save
2.3GHz/8GB/256GB (Gray)
$1,649.99+
$150
2.3GHz/8GB/512GB (Silver)
$1,849.00+
$150
2.3GHz/16GB/256GB (Gray)
$1,949.00+
$50
2.7GHz/16GB/512GB
$2,449.00+
$50
2.7GHz/16GB/1TB
$2,849.00+
$50
2018 15" MacBook Pros
Price
Save
2.2GHz/16/256GB/555X
$2,099.00+
$300
2.6GHz/16/512GB/560X
$2,399.00+
$400
2.9GHz/16/1TB/560X
$3,199.00+
$300
2.9GHz/32/2TB/560X (Gray)
$3,999.00+
$700
tr class="model">
2.9GHz/32/4TB/560X (Gray)
$5,999.00+
$700
Click here for dozens more configurations
+ Free shipping within the contiguous U.S.
Lowest Prices Anywhere!

13" MacBook Pros
Price
You Save
3.1GHz/8GB/256GB Gray
$1,679.00
$120.00
3.1GHz/8GB/256GB Silver
$1,704.00*
$95.00
3.1GHz/8GB/512GB Gray
$1,849.00*
$150.00
3.1GHz/16/512GB Gray
$2,099.00
$100.00
15" MacBook Pro
Price
You Save
2.8GHz/16/256/555 Silver
$2,199.00*
$200.00
2.8GHz/16/256/560 Gray
$2,299.00
$200.00
2.9GHz/16/512/560 Gray
$2,599.00
$200.00
2.9GHz/16/1TB/560 Gray
$2,999.00
$200.00
3.1GHz/16/512/560 Gray
$2,799.00
$200.00
3.1GHz/16/2TB/560 Gray
$3,899.00
$300.00

*

price with Promo Code:

APINSIDER

prices.appleinsider.com for more configurations