Elgato debuts standalone Eve Light Switch for Apple's HomeKit
By Roger Fingas
Wednesday, October 26, 2016, 09:34 am PT (12:34 pm ET)
Accessory maker Elgato on Wednesday launched the Eve Light Switch, which it claimed is the world's first standalone switch with support for Apple's HomeKit.




The Bluetooth-based Light Switch replaces a standard pole switch, and controls lights that way instead of through a more expensive smartbulb setup. People with Philips Hue bulbs, though, have access to additional color and brightness settings.

To manage lights, people can use Siri, iOS 10's native Home app, Elgato's Eve software, or the switch itself. Because the device uses Bluetooth rather than Wi-Fi, control away from home requires an Apple TV to serve as a HomeKit hub.

The Eve Light Switch is selling for $49.95 from Elgato's website and Amazon.com.
Today's Headlines
No news headlines yet today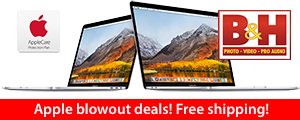 2018 13" Touch Bars
Price
Save
2.3GHz/8GB/256GB (Gray)
$1,649.99+
$150
2.3GHz/8GB/512GB (Silver)
$1,849.00+
$150
2.3GHz/16GB/256GB (Gray)
$1,949.00+
$50
2.7GHz/16GB/512GB
$2,449.00+
$50
2.7GHz/16GB/1TB
$2,849.00+
$50
2018 15" MacBook Pros
Price
Save
2.2GHz/16/256GB/555X
$2,099.00+
$300
2.6GHz/16/512GB/560X
$2,399.00+
$400
2.9GHz/16/1TB/560X
$3,199.00+
$300
2.9GHz/32/2TB/560X (Gray)
$3,999.00+
$700
tr class="model">
2.9GHz/32/4TB/560X (Gray)
$5,999.00+
$700
Click here for dozens more configurations
+ Free shipping within the contiguous U.S.
Lowest Prices Anywhere!

13" MacBook Pros
Price
You Save
3.1GHz/8GB/256GB Gray
$1,679.00
$120.00
3.1GHz/8GB/256GB Silver
$1,704.00*
$95.00
3.1GHz/8GB/512GB Gray
$1,849.00*
$150.00
3.1GHz/16/512GB Gray
$2,099.00
$100.00
15" MacBook Pro
Price
You Save
2.8GHz/16/256/555 Silver
$2,199.00*
$200.00
2.8GHz/16/256/560 Gray
$2,299.00
$200.00
2.9GHz/16/512/560 Gray
$2,599.00
$200.00
2.9GHz/16/1TB/560 Gray
$2,999.00
$200.00
3.1GHz/16/512/560 Gray
$2,799.00
$200.00
3.1GHz/16/2TB/560 Gray
$3,899.00
$300.00

*

price with Promo Code:

APINSIDER

prices.appleinsider.com for more configurations