Apple outs tvOS 11.1 for Apple TV with fix for KRACK Wi-Fi vulnerability & minor changes
By Roger Fingas
Tuesday, October 31, 2017, 10:30 am PT (01:30 pm ET)
Apple on Tuesday put out tvOS 11.1, a maintenance update for the Apple TV and Apple TV 4K that nevertheless includes one important addition: a fix for the KRACK WPA2 vulnerability in devices with Wi-Fi.




The problem has also been fixed in iOS 11.1, watchOS 4.1, and macOS 10.13.1. For a person to be targeted, both a router and connected Wi-Fi device must be vulnerable to the KRACK exploit, but if so it's possible for a hacker to launch a man-in-the-middle attack and bypass encryption.

Earlier this month, Apple confirmed plans to release fixes across all its software platforms.

The tvOS 11.1 update otherwise concentrates on bugfixes and performance boosts.

If automatic software updates aren't turned on, users can force a download to start by going into the Settings app, selecting System, Software Updates, and then "Update Software."
Today's Headlines
No news headlines yet today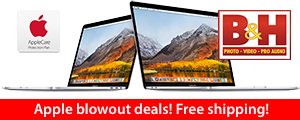 2018 13" Touch Bars
Price
Save
2.3GHz/8GB/256GB (Gray)
$1,649.99+
$150
2.3GHz/8GB/512GB (Silver)
$1,849.00+
$150
2.3GHz/16GB/256GB (Gray)
$1,949.00+
$50
2.7GHz/16GB/512GB
$2,449.00+
$50
2.7GHz/16GB/1TB
$2,849.00+
$50
2018 15" MacBook Pros
Price
Save
2.2GHz/16/256GB/555X
$2,099.00+
$300
2.6GHz/16/512GB/560X
$2,399.00+
$400
2.9GHz/16/1TB/560X
$3,199.00+
$300
2.9GHz/32/2TB/560X (Gray)
$3,999.00+
$700
tr class="model">
2.9GHz/32/4TB/560X (Gray)
$5,999.00+
$700
Click here for dozens more configurations
+ Free shipping within the contiguous U.S.
Lowest Prices Anywhere!

13" MacBook Pros
Price
You Save
3.1GHz/8GB/256GB Gray
$1,679.00
$120.00
3.1GHz/8GB/256GB Silver
$1,704.00*
$95.00
3.1GHz/8GB/512GB Gray
$1,849.00*
$150.00
3.1GHz/16/512GB Gray
$2,099.00
$100.00
15" MacBook Pro
Price
You Save
2.8GHz/16/256/555 Silver
$2,199.00*
$200.00
2.8GHz/16/256/560 Gray
$2,299.00
$200.00
2.9GHz/16/512/560 Gray
$2,599.00
$200.00
2.9GHz/16/1TB/560 Gray
$2,999.00
$200.00
3.1GHz/16/512/560 Gray
$2,799.00
$200.00
3.1GHz/16/2TB/560 Gray
$3,899.00
$300.00

*

price with Promo Code:

APINSIDER

prices.appleinsider.com for more configurations