Pro Video Formats macOS extension updated for new Final Cut Pro X support
By Mike Wuerthele
Thursday, December 14, 2017, 06:24 am PT (09:24 am ET)
Alongside the update to Final Cut Pro X, Apple has also made available a new version of the Pro Video Formats extension, with extension of MXF to not just QuickTime Player but other supported macOS applications, plus wider AVC-Intra support.




The update is a sub-point update, and relatively minor. The biggest addition is widening of MXF support with full plug-in and presets for Compressor 4.3 and earlier, and a widening of app support in High Sierra.

In addition, AVC-Intra has been extended to Intra 50, 100, 200, 4:4:4, and LT.

The last update to the suite was in October, 2016. It will only appear as a software update after users have downloaded and installed Final Cut Pro X, Motion, or Compressor.

However, the discrete download is free, is 7MB, and suggested for users who have to deal with Final Cut Pro X workflows.

The update is complimentary to version 10.4 of Final Cut Pro X, which was released on Thursday.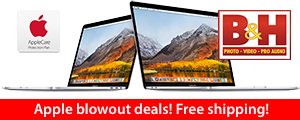 2018 13" Touch Bars
Price
Save
2.3GHz/8GB/256GB (Gray)
$1,649.99+
$150
2.3GHz/8GB/512GB (Silver)
$1,879.00+
$120
2.3GHz/16GB/256GB (Gray)
$1,949.00+
$50
2.7GHz/16GB/512GB
$2,449.00+
$50
2.7GHz/16GB/1TB
$2,849.00+
$50
2018 15" MacBook Pros
Price
Save
2.2GHz/16/256GB/555X
$2,549.00+
$50
2.2GHz/16/512GB/555X
$2,575.00+
$225
2.9GHz/16/1TB/560X
$3,199.00+
$300
2.9GHz/32/2TB/560X (Gray)
$3,999.00+
$700
2.9GHz/32/4TB/560X (Gray)
$5,999.00+
$700
Click here for dozens more configurations
+ Free shipping within the contiguous U.S.
Lowest Prices Anywhere!

13" MacBook Pros
Price
You Save
3.1GHz/8GB/256GB Gray
$1,679.00
$120.00
3.1GHz/8GB/256GB Silver
$1,704.00*
$95.00
3.1GHz/8GB/512GB Gray
$1,849.00*
$150.00
3.1GHz/16/512GB Gray
$2,099.00
$100.00
15" MacBook Pro
Price
You Save
2.8GHz/16/256/555 Silver
$2,199.00*
$200.00
2.8GHz/16/256/560 Gray
$2,299.00
$200.00
2.9GHz/16/512/560 Gray
$2,599.00
$200.00
2.9GHz/16/1TB/560 Gray
$2,999.00
$200.00
3.1GHz/16/512/560 Gray
$2,799.00
$200.00
3.1GHz/16/2TB/560 Gray
$3,899.00
$300.00

*

price with Promo Code:

APINSIDER

prices.appleinsider.com for more configurations