Tim Cook publicly commemorates the 63rd birthday of Steve Jobs with a Tweet
By Mike Wuerthele
Saturday, February 24, 2018, 10:06 am PT (01:06 pm ET)
Apple CEO Tim Cook used Twitter to celebrate Steve Jobs' birthday, using one of the founder's own quotes.




The Tweet by Cook was simple, and was only the latest in a series of commemorations of Jobs' life in the last year by the CEO and by Apple itself.


Remembering Steve, our friend and leader, on his 63rd birthday: "The thing that bound us together at Apple was the ability to make things that were going to change the world." We are forever bound to that goal — and to you, Steve. pic.twitter.com/rDvzR8s2F8

— Tim Cook (@tim_cook) February 24, 2018


Apple started a year-long series of Jobs remembrances on Feb. 22, 2017 by naming the theater on the Apple Park headquarters facility the "Steve Jobs Theater." Cook name-dropped Jobs throughout the year on assorted interviews.

When the Steve Jobs Theater opened for the iPhone 8 and iPhone X event, Cook led the presentation with a short video celebrating Jobs.

Steve Jobs died on Oct. 5, 2011 at 56 years of age.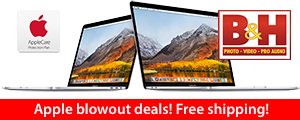 2017 12" MacBooks
Price
Save
1.2GHz/8GB/256GB (Gold)
$799.00+
$500
1.2GHz/8GB/256GB (Rose Gold)
$799.00+
$500
2018 13" Touch Bars
Price
Save
2.3GHz/8GB/256GB (Gray)
$1,649.99+
$150
2.3GHz/8GB/512GB (Silver)
$1,879.00+
$120
2.3GHz/16GB/256GB (Gray)
$1,949.00+
$50
2.7GHz/16GB/512GB
$2,449.00+
$50
2.7GHz/16GB/1TB
$2,849.00+
$50
2018 15" MacBook Pros
Price
Save
2.2GHz/16/256GB/555X
$2,549.00+
$50
2.2GHz/16/512GB/555X
$2,575.00+
$225
2.9GHz/16/1TB/560X
$3,199.00+
$300
2.9GHz/32/2TB/560X (Gray)
$3,999.00+
$700
2.9GHz/32/4TB/560X (Gray)
$5,999.00+
$700
Click here for dozens more configurations
+ Free shipping within the contiguous U.S.
Lowest Prices Anywhere!

13" MacBook Pros
Price
You Save
3.1GHz/8GB/256GB Gray
$1,679.00
$120.00
3.1GHz/8GB/256GB Silver
$1,704.00*
$95.00
3.1GHz/8GB/512GB Gray
$1,849.00*
$150.00
3.1GHz/16/512GB Gray
$2,099.00
$100.00
15" MacBook Pro
Price
You Save
2.8GHz/16/256/555 Silver
$2,199.00*
$200.00
2.8GHz/16/256/560 Gray
$2,299.00
$200.00
2.9GHz/16/512/560 Gray
$2,599.00
$200.00
2.9GHz/16/1TB/560 Gray
$2,999.00
$200.00
3.1GHz/16/512/560 Gray
$2,799.00
$200.00
3.1GHz/16/2TB/560 Gray
$3,899.00
$300.00

*

price with Promo Code:

APINSIDER

prices.appleinsider.com for more configurations