Apple Park's campus auditorium named 'Steve Jobs Theater,' opens later in year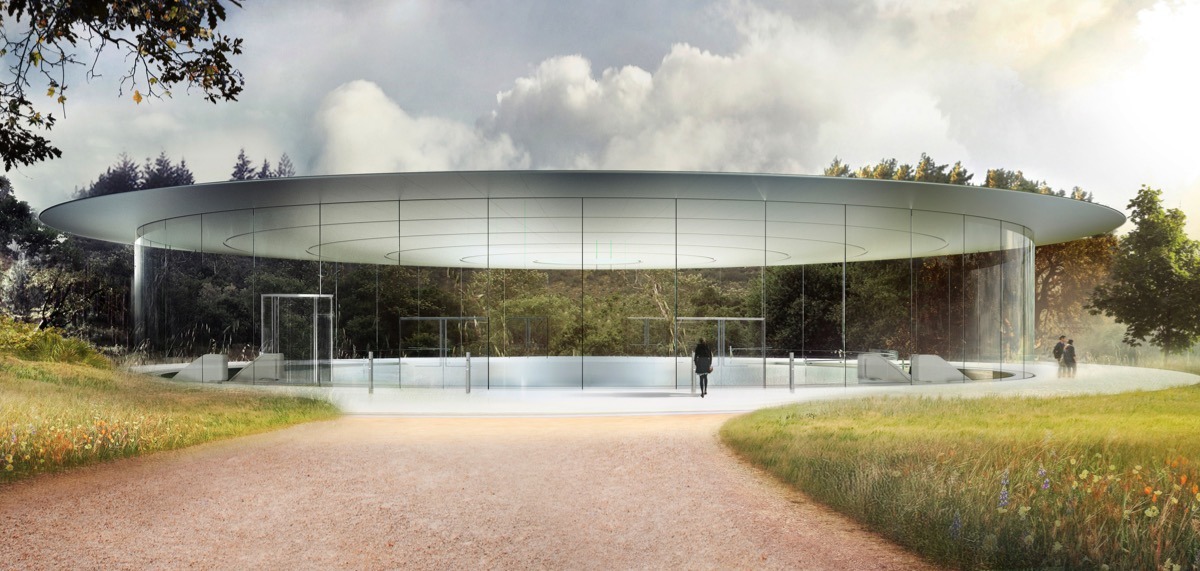 As part of the new "spaceship" campus, now called "Apple Park," Apple is commemorating its legendary cofounder, naming the auditorium that overlooks the facility "Steve Jobs Theater."
The entrance to the auditorium is a 20-foot-tall glass cylinder that measures 165 feet in diameter, and supports a metallic carbon-fiber roof.
"Steve's vision for Apple stretched far beyond his time with us. He intended Apple Park to be the home of innovation for generations to come," Apple Chief Executive Tim Cook said. "The workspaces and parklands are designed to inspire our team as well as benefit the environment. We've achieved the most energy-efficient building of its kind in the world and the campus will run entirely on renewable energy."
The Steve Jobs Theater is on top of a hill, one of the highest points within Apple Park, and overlooks the main building.
In announcing the opening of Apple Park, the company also included commentary from Jobs's widow, Laurene Powell Jobs, who said that her husband would have "flourished" alongside staff on the new campus.
"Steve was exhilarated, and inspired, by the California landscape, by its light and its expansiveness." Said Powell Jobs. "It was his favorite setting for thought. Apple Park captures his spirit uncannily well."
In 2011, Jobs announced the project to the world, saying over 12,000 employees would work in what is now called Apple Park. Edible landscaping, walking paths, and other "green" measures are being implemented, to minimize the overall impact the facility makes on the environment.
Much of Campus 2 was conceived by Jobs, who made the project one of his last efforts. In fact, one of his last public appearances involved pitching the idea to the Cupertino City Council.
Apple has referred to Jobs's vision as a "center for creativity and collaboration." The main building, which Jobs told the city council would look like a "spaceship had landed," will feature 2.8 million square feet surrounded by the world's largest panels of cured glass.
An environmentally-friendly design was paramount to Jobs's vision, and Apple's related Phase 2 project adds additional workspace adjacent to the main headquarters, and includes a renewable energy-powered small data center.
A new micro-grid installed on the campus is reportedly capable of handling about 75 percent of the facility's power requirements during work hours, supplemented by Bloom Energy-provided fuel cells. Bloom Energy provided similar cells to Apple previously for use at the North Carolina data center.