New Apple Campus 2 'spaceship' construction project 4K drone flyover shows progress on landscaping, canopies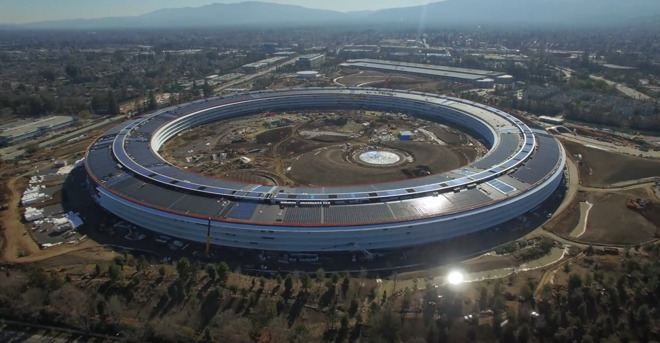 AppleInsider may earn an affiliate commission on purchases made through links on our site.
The latest footage of Apple's new 'Campus 2' headquarters shot by a drone reveals developers are continuing to make progress, with signs of work on the canopies, walkways, and plants around the campus buildings despite recent poor weather.
The previous installment from drone pilot Matthew Roberts showed progress was being hampered by poor weather, with waterlogged grounds affecting landscaping efforts. Patches of water accumulated from the storms persist in the latest video, but the site as a whole seems to have drained sufficiently enough to dry off the majority of work areas.
The research and development facility now has paving in front of the building, giving a solid surface to load, unload, and to park nearby. Lighting poles have also been put in place around all sides of the facility, illuminating not only the paved area but also walkways to the sides and rear.
A walkway on top of the main transit tunnel is under construction, complete with trees to surround the pathway. Trees are also being planted around the fitness center, while another walking path is visible through the meadow area of the campus.
While the auditorium is still covered up from the last video, preventing anyone from seeing inside, the landscaping continues at pace around the structure. Rows of trees spotted within the main circular "Spaceship" building in the last video are increasing in quantity, with more of the plant life put into position.
On the outside edge, workers are using cranes to install more of the canopies on the windows, while others are adding finishing touches to those already in place. The solar installation on the roof is also making progress, estimated to be 70 percent complete.
Work has seemingly completed on the garages, which are now being used by construction workers while they complete the rest of the project.
Apple aims to start moving its employees into Campus 2 sometime this year, with over 12,000 employees expected to work in the 2.8-million-square-foot "Spaceship" building once it is completed.