Waterlogged landscaping, open Atrium shown in latest 4K drone video of Apple's Campus 2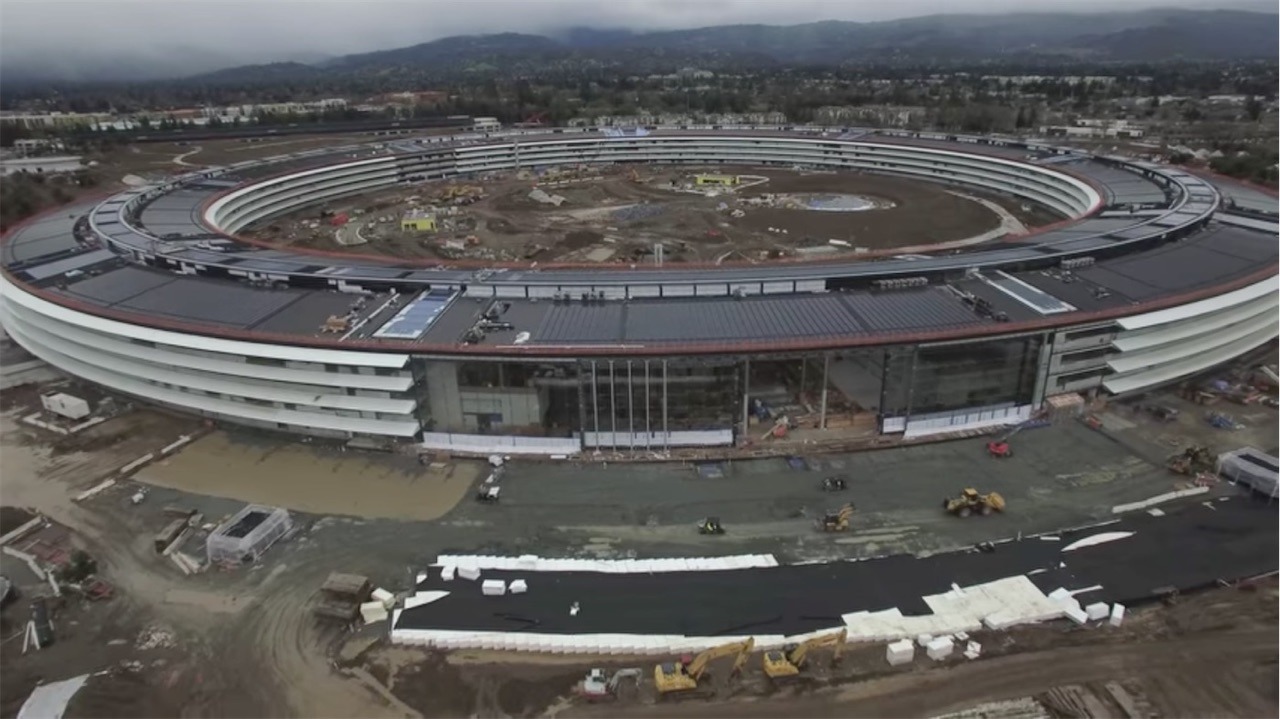 New drone footage of Apple's Campus 2 construction project from the sky reveals progress is still being made on the development, though the onslaught of rain is making the task of landscaping the area a tougher task for developers.
The video starts off by showing the landscaping and construction leading to the car parking structure, able to hold up to 20,000 vehicles. While the building seems mostly complete, work is still being carried out next to the nearby roads.
For the Christmas day drone video, it appeared that part of the cladding of the circular auditorium was removed on the outside, partially showing the scaffolding inside the structure. In the new video, the cladding has returned, preventing anyone from viewing the inside.
On the main building, the work on the solar panels covering the roof and the roof itself appears to be mostly completed, with some of the construction equipment removed from the area. One video shot clearly shows the internal height of the facility, with the uncovered floor-to-ceiling glass showing construction vehicles inside and the potentially cavernous internal area of the Atrium, which is seen with the doors open.
Recent rain has waterlogged the grounds, making landscaping difficult, but progress is still being made. Efforts to plant trees within the main building's central area continue, with rows of planted trees and crated plants clearly visible.
Landscaping efforts to cover the tunnel leading to the underground garage appear to have stalled, though there seems to be more work being done to change the appearance of the tunnel entrances themselves.
Lastly, the footage gives a closer look at the solar-covered multi-story parking, which the video shows is in use by a number of vehicles, most likely from the construction team.
Apple is anticipating a move into Campus 2 sometime this year, with over 12,000 employees expected to work in the main "Spaceship" structure.