Apple Readies WebObjects Update for Mac OS X 10.3 Panther
By < a href=\"mailto:[email protected]\">AppleInsider Staff
Thursday, October 09, 2003, 11:55 am PT (02:55 pm ET)
Apple will provide support for WebObjects development on Mac OS X v 10.3 Panther with an upcoming WebObjects Software Update (WebObjects 5.2.2). The update will include support for WebObjects application development using Xcode, qualification of WebObjects applications running under Java 1.4.1, and support for WebObjects applications running on the JBoss application server.

According to Apple developer documentation, no WebObjects software update will be required to deploy WebObjects applications on Mac OS X Server v 10.3 Panther Server. The WebObjects runtime libraries will be included in the Server release.
Unbeatable Deals from AppleInsider & Apple's Top Authorized Resellers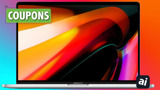 SAVE $300.00 - Save $150 to $300 on every 16-inch MacBook Pro
Today's Headlines
No news headlines yet today
Lowest Prices Anywhere!