Anti-phishing measures already turning up in Safari 3 builds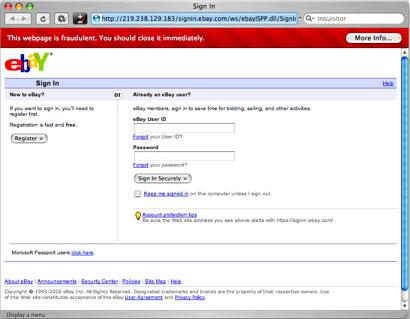 AppleInsider may earn an affiliate commission on purchases made through links on our site.
Security enhancements that will protect users of Apple Computer's forthcoming Safari 3.0 Web browser from malicious websites have already begun to appear in the latest builds of the company's next-generation Leopard operating system.
According to published reports, the "anti-phishing" features, first described by AppleInsider last week, are accessible to developers testing the latest pre-release distribution of Leopard, build 9A283.
Through interaction with Google's AntiTrust database, Safari 3.0 is able to automatically detecting "phishy" or deceitful website URLs. It then notifies the user via a dialog box, webpage overlay, or a combination of the two.
"This webpage is fraudulent. You should close it immediately," reads a dialog box that pops up in pre-release builds of the browser. "Google has identified this webpage as fraudulent. Do not enter any personal information on this page."
Also new to Leopard in build 9A283 are significant user interface changes to iCal, 3D audio cues in VoiceOver, live previews in print panels, basic document editing in Preview.app, and the ability to restore groups and subgroups in AddressBook with Time Machine.
Additionally, Apple said Spotlight search technology in the latest builds includes support for  PDF, HTML, Web Archives, Text, QuickTime movies and sound in "Quick Look" view. Time Machine snapshots are searchable through Spotlight, the company told developers.
Meanwhile, iChat in Leopard now allows Spotlight Previews to be streamed in iChat Theater mode and gives users the ability to replace background video effects.