Ripe in Cupertino: an Apple with 8 cores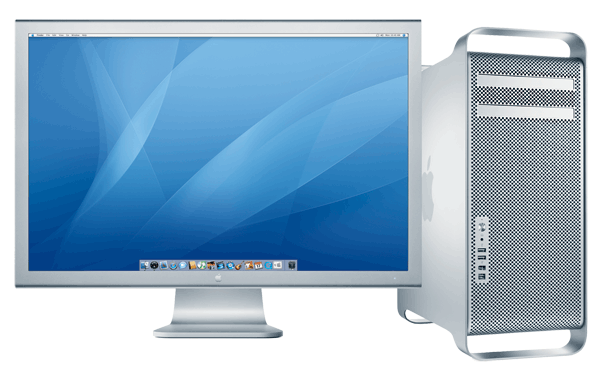 Exclusive: Apple Computer is prepping a lavish new version of the Mac Pro that will boast nearly twice the brawn of existing models and form the centerpiece of the company's high-performance professional desktop line, AppleInsider has learned.
Thus far, the Cupertino, Calif.-based company has offered only a single retail configuration of the Mac Pro desktop, a quad-core system featuring two 2.66GHz dual-core Intel Xeon "Woodcrest" processors. It sells for $2500, but can be custom configured with two 3.0GHz dual-core chips for an additional $800.
Since introducing the Mac Pro in August, Apple has received "very, very positive" feedback from both customers and analysts, chief operating officer Tim Cook said during a recent company conference call. However, he noted that there's still some hesitation among customers to purchase the high-end desktop ahead of Adobe's Creative Suite 3.0 launch.
Due by late March, Creative Suite 3.0 will be the first versions of the industry leading graphics suite to run natively on Apple's new Intel Macs, allowing individual applications to take full advantage of the new Mac architecture, rather than operate under Apple's Rosetta compatibility layer. But with just over five months to go before roll-out, Apple knows its professional customers, which account for 15 - 20 percent of its Mac business, may need a little short term purchasing push.
People familiar with the Mac maker's plans say it plans to drop jaws and strike awe with a new king of speed, a super-charged Mac Pro featuring a total of eight cores of processing power. The systems, which resemble the quad-core Mac Pro externally, will house two of Intel's forthcoming quad-core Xeon 5300 series "Clovertown" chips inside its chassis, those people say.
While it's unclear precisely when Apple plans to take the wraps off the new eight-core Mac, those familiar with the company's plans have indicated an introduction could take place any time after mid-Nov. As previously reported, it's around that time that Intel will officially launch its quad-core Xeon line, which in addition to Clovertown will also include a single processor variant code-named "Kentsfield."
Of the four Clovertown chips that have turned up on Intel price lists, only two fit the bill as potential candidates for the new systems due to their 1333MHz, 64-bit dual independent frontside buses and 8MB Level 2 cache.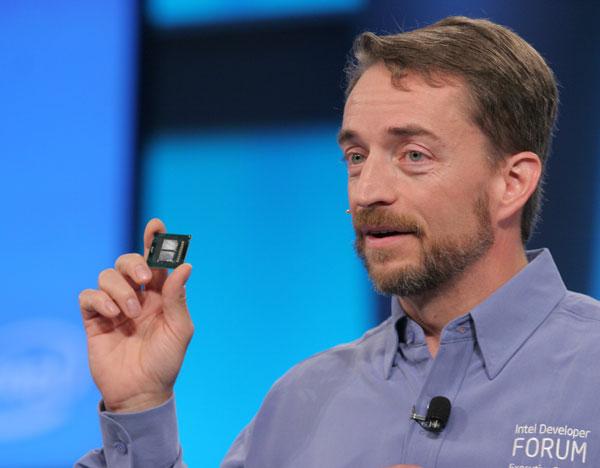 Inte's Pat Gelsinger shows off the Quad-Core Intel Xeon 5300 series at the fall 2006 Intel Developer Forum in San Francisco.
The Xeon X5355 runs at speeds of 2.66GHz per core and will retail in lots of 1000 for $1172 each. Meanwhile, the Xeon E5345 runs at 2.33GHz per core and will cost considerably less, making it the ideal candidate for the default configuration of the eight-core Mac Pro. At just $851 a piece, the 2.33GHz carries the same price tag as the 3.0GHz dual-core Woodcrest Xeon currently available to quad-core Mac Pro buyers.
As it stands, the release of the eight-core Mac Pro hinges on both Intel and Apple. But following Intel's mid-Nov. quad-core Xeon launch, the ball should be completely on Apple's side of the court. It'll be strictly a marketing decision from there, say insiders, as the Mac maker wrapped up hardware preparations for this brawny beast during the tail-end of the back-to-school season.