Apple extends SoHo hours; posts holiday shipping deadlines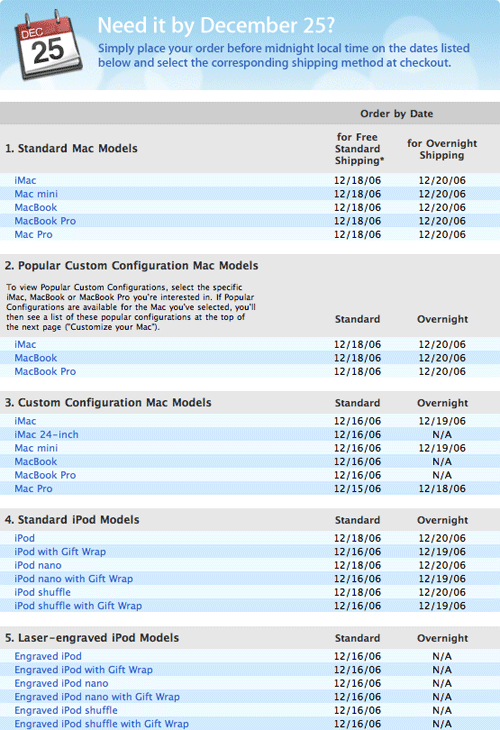 Apple Computer in an email to customers this week announced that it will hold "twelve days (and nights) of shopping" at its Manhattan-based flagship retail stores leading up to Christmas.
"Starting Wednesday, the Apple Store, Soho, and the Apple Store, Fifth Avenue, will be open 24 hours a day until December 25th," the company wrote. "So you can shop whenever you want and enjoy free special events along the way.
Meanwhile, the Cupertino, Calif.-based company has also posted a comprehensive list of holiday shipping deadlines for its various Mac and iPod products.
"Need it by December 25th?," asks Apple. "Simply place your order before midnight local time on the dates listed and select the corresponding shipping method at checkout."
In order to qualify for free shipping, customers looking to purchase standard Mac models through the company's online store must do so by December 18th. Some popular iMac, MacBook, and MacBook Pro configurations can also be ordered up until that date.
For the most part, however, Apple says the majority of custom Mac orders should be placed by December 16th in order to qualify for free shipping, with the exception of the Mac Pro, which must be ordered by the 15th.
Standard iPod models can also be ordered up until the 18th with free shipping, though gift-wrapped and laser-engraved orders must be placed by the 16th.
Last minute shoppers will still be able to place orders for most Mac and iPod models on the 19th or 20th for delivery by the 25th but must pay for overnight shipping. Again, the exception is the Mac Pro, which must be ordered by the 18th even with overnight shipping.
Apple said laser-engraved iPod orders placed after December 16th will not ship in time for Christmas.
Apple Store Holiday Shipping Deadlines | Source: Apple