Apple Retail plans second Scotland location for 2007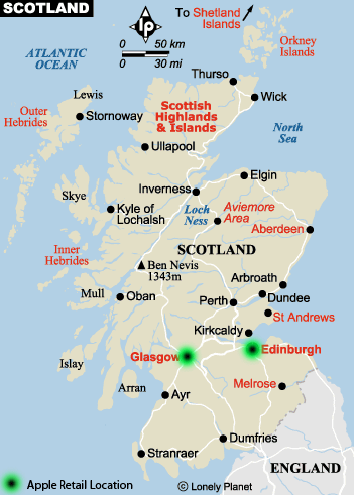 Apple Computer plans to open a retail store inside Scotland's capital city of Edinburgh during the 2007 calendar year, AppleInsider has learned.
People familiar with the matter say the company recently secured retail space along the Edinburgh's main shopping strip on Princes Street.
Apple is expected to begin renovations at the unspecified location shortly for an opening sometime next year.
For the iPod maker, the Princes Street location will mark the second Scotland-based retail shop slated for the new year. It will operate alongside a similar location out of Glasgow.
According to a building planning application filed with Glasgow's Planning and Development agency, Apple will spend an estimated £1,1,68,000 to renovate a building at 147 Buchanan Street for that location.
The two Scotland locations are believed to be part of an Apple Retail "hit list" of some 20 additional UK-based retail store fronts the company is looking to move on over the next couple of years.
During a May 2005 visit to the Apple Store Regent Street in London, company chief executive Steve Jobs commented to one shopper that Apple's first France-based retail store would open in 2007.
According to reports, Apple has been seeking a prime location on the famed Champs Elysées in Paris since 2003.