What's inside an Apple TV: Tear-down reveals (almost) all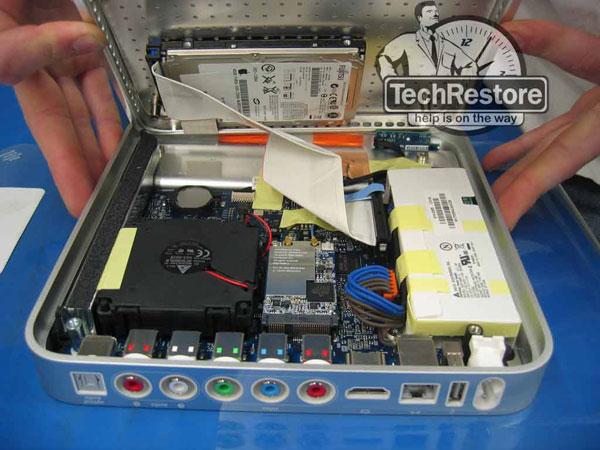 AppleInsider may earn an affiliate commission on purchases made through links on our site.
Wondering which firms help make Apple TV possible? Investment researchers over at Prudential Equity Group are supplying some answers after having purchased one of the new Apple devices and torn it down.
"To us, it looks like a scaled down version of a PC," said analyst Mark Lipacis, whose preliminary tear-down confirms an older 1.0GHz Intel mobile CPU (called Crofton) drives the device, along with an Intel Calistoga chipset and Nvidia GeForce Go 7300 graphics processing unit.
The Apple TV purchased by Prudential also sports Broadcom's 802.11n WLAN chipset as well as Realtek's Audio Codec and Fast Ethernet LAN controller. "In our universe, we are encouraged by the 802.11N win by Broadcom," Lipacis wrote in a note to technology investors.
Other significant design wins favor Linear, which is supplying three step-down regulators; Marvell, which is providing the HDD SoC; Foxlink, which makes the circuit board, Silicon Image, for the HDMI output; Silicon Storage Tech, for the flash memory and controller; Texas Instruments for the various analog components and HDD motor controller; and Cypress, which also makes the unit's clock chip and controller for flash.
On the memory side, Nanya and Samsung appear to be the largest suppliers, Lipacis said. The former is supplying 64MB of DDR2 graphics video memory, while the latter serves up 256MB of DDR3 DRAM. (It should be noted, however, that AppleInsider's previous checks indicate the Apple TV uses 256MB of DDR2 system memory, not DDR3.)
Based on Prudential Equity Group's I/T Hardware Analyst Jesse Tortora's estimate that Apple will ship 800,000 Apple TV units 2007 and 1.8 million in 2008, Lipacis in his report attempted to calculated what revenues the different suppliers should expect from Apple TV.
Intel stands to be the primary beneficiary, he said, with estimated sales of $42 million and $93 million in 2007 and 2008, respectively, from the combined shipments of the Crofton CPU and Calistoga chipset. Next in line is Broadcom, which would reportedly reap some $12 million and $26 million in incremental revenue from shipments of its WLAN chipset over the same time periods. Other revenue estimates include $11 and $25 million for Nvidia, $10 and $21 million from Nanya, and $6 and $14 million from Samsung.
Because Prudential's tear-down is preliminary, it does not include design wins for components such as the Apple TV's 40GB hard disk drive, which means that the actual order of beneficiaries is likely a change in the final report.
"While the Apple TV is a high visibility design win, we do not expect it to change the economic fortunes for most of its suppliers," Lipacis wrote in his report. "[However], we do view design wins as a gauge for how competitive individual players are in their respective markets."