Apple continues to explore audio interfaces for handheld devices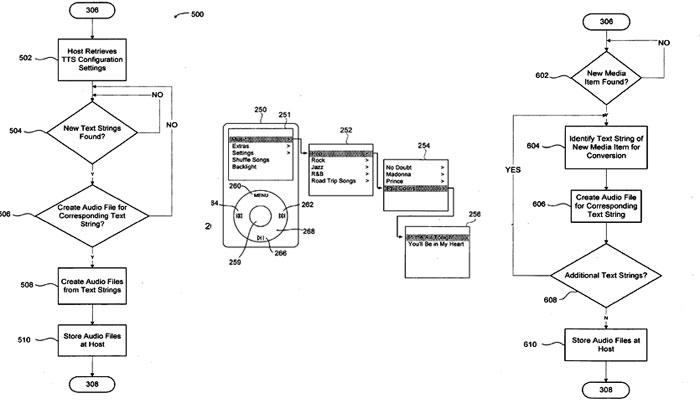 There are often situations in everyday life where operating handheld devices via tiny touch-screens and click-wheels may cause distractions from critical tasks. For these situations, Apple Inc. suggests a supplemental audio-based interface capable of navigating graphical user interfaces via voice commands.
In a patent filing titled "Audio User Interface for Computing Devices," the Cupertino-based electronics maker explains that many of today's handheld devices employ user interfaces that present various display screens to the user for interaction that is predominantly visual. Users can interact with these user interfaces to manipulate a scroll wheel and/or a set of buttons to navigate display screens to thereby access functions of the handheld devices.
"However," the company notes, "these user interfaces can be difficult to use at times for various reasons. One reason is that the display screens tend to be small in size and form factor and therefore difficult to see. Another reason is that a user may have poor reading vision or otherwise be visually impaired. Even if the display screens can be perceived, a user will have difficulty navigating the user interface in 'eyes-busy' situations when a user cannot shift visual focus away from an important activity and towards the user interface. Such activities include, for example, driving an automobile, exercising, and crossing a street."
To this end, Apple recommends an audio user interface that generates audio prompts to help a user navigate through the features of handheld computing devices. Audio prompts would provide audio indicators that allow a user to focus his or her visual attention upon other tasks.
The filing notes that handheld devices that include voice synthesis engines to provide test-to-speech conversion tend to produce poor quality audio due to their limited computing power and memory capacity. Therefore, Apple recommends a system in which a host computer — such as a Mac — performs the processing-intensive text-to-speech conversion of a handheld's media file names and menu items when it is connected over a wired USB or FireWire connection. Under this method, the handheld device only needs to perform the less intensive task of playing the audio file once the handheld is disconnected and used on the go.
"This approach of utilizing the host computer system in addition to the handheld computing device allows for increased quality for the text-to-speech conversions and helps reduce not only the computational requirements but also the size and weight of the handheld computing device," Apple wrote.
The April 7, 2007 patent filing with the United States Patent and Trademark Office is credited to Apple employee Devang Naik of San Jose, Calif.
Of potential interest to readers, we note that Apple is rumored to have recently partnered with luxury automaker Mercedes-Benz to deliver a multifaceted navigational system sometime during the 2009 calendar year. Such a device would likely employ aspects of an audio-based user interface to supplement its graphical display.