Apple iTunes glitch reveals movie rental preparations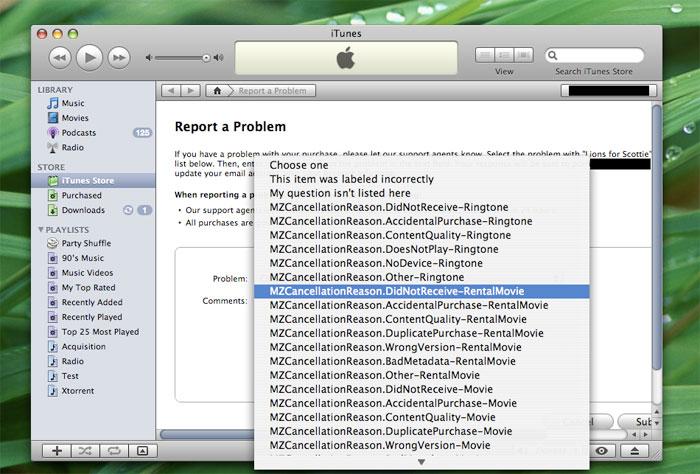 AppleInsider may earn an affiliate commission on purchases made through links on our site.
While attempting to notify Apple of a problem with its iTunes Store, one user stumbled upon evidence that suggests the company may be gearing up to offer movie rentals through the digital download service.
"I was trying to report a problem via iTunes, and this pop-up for selecting a reason contains some interesting/revealing strings," David Watanabe wrote in a posting the popular Flickr image sharing website. "[It] looks like 'RentalMovies' will be coming to the iTunes store."
Among the reasons for reporting a problem listed in the Apple-created menus were "DidNotReceiveMovie-RentalMovie," "AccidentalPurchase-RentalMovie," "ContentQuality-RentalMovie," "DuplicatePurchase-RentalMovie," "WrongVErsion-RentalMovie," "BadMetadata-RentalMovie" and "Other-RentalMovie."
Rumors that Apple would eventually be compelled to supplement its a la carte movie download service with a rental option have been making the rounds ever since the company first began offering downloadable flicks nearly two years ago.
The most recent report on the matter came courtesy of the Financial Times, which reported in June that Apple was in advanced talks with Hollywood's largest movie studios about launching an online film rental service to challenge cable and satellite TV operators.
According to the report, individual films on the iTunes service would fetch $2.99 for a 30-day rental and would be governed by digital rights-management software that would allow users to transfer the movie "from a computer to at least one other device such as the video iPod or iPhone."