Apple UK to host special (iPhone?) event next week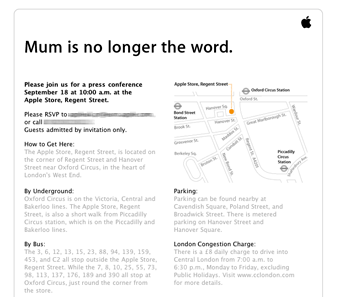 AppleInsider is supported by its audience and may earn commission as an Amazon Associate and affiliate partner on qualifying purchases. These affiliate partnerships do not influence our editorial content.
Apple is calling on the UK press for a special media presentation next week to be held at the company's flagship retail store in London, reports Macworld UK.
Digital invites to the event simply state that: "Mum is no longer the word", and ask media and analysts to show up at 10:00 a.m., Tuesday 18 September, for a press conference.
It's widely expected that Apple will use the gathering to reveal long-awaited plans to brings its sleek, touch-screen iPhone handset to select parts of Europe.
In speaking to Reuters, an Apple spokesman in Germany would say only that the company plans to announce which wireless carriers had clinched deals to offer the handset by the end of September.
Reports have suggested that the US-based consumer electronics giant has struck a UK deal with Spanish Telefonica's O2 UK unit, a German deal with Deutsche Telekom's T-Mobile and a French deal with France Telecom's Orange.
In the unlikely event that Apple is not yet ready to reveal its European iPhone plans, Macworld UK believes that another scenario for the event could be the launch an extended television or film service in the UK.
"The company could also be ready to add Beatles to iTunes," the publication added, "although the general consensus is that these scenarios would involve either a world-wide announcement, or a different venue to the Apple store."