An in-depth iPod Touch review

The iPod Touch delivers an advanced new generation of the iPod using technology developed for the iPhone. However, it's not an "iPhone without the phone," and that reality is likely to upset lots of users who want it to be. For everyone else, the new Touch is an amazingly thin and sexy new media playing, web browsing, photo viewing, widescreen, multi-touch member of the iPod family that simply changes the game in handheld media players.
As presented in the iPod Touch unpacking tour and first look photos, the Touch is only 8mm deep, just 60 percent of the thickness of the iPhone, and only a scant 1.5mm thicker than the new iPod Nano. It is the same width as the iPhone, but slightly shorter: 110mm tall rather than 115mm. That makes it still a bit taller than the standard iPod Classic, which is 103.5mm tall, but gives the Touch an outline and form factor that feels slightly closer to an iPod than the iPhone.
The overall body shape is different too. Like other iPods, the Touch has a flat face and a rounded, polished stainless steel back. In contrast, the iPhone has a round beveled edge on both the front and the back. That results in the iPhone's screen being tightly framed on either side by a curved chrome rim, and gives it an aerodynamic profile coming and going. The Touch has a nearly flat metal face plate on the front, giving it a sharper edge.

The Touch has the same sized display, but lacks the iPhone's chrome or a similarly rounded replacement; instead, its metal face creates a 2.5mm black anodized metal rim surrounding an identically wide matte frame around the screen, under the glass face. Combined, the two make a roughly 5mm dark frame around the screen, creating an optical allusion that suggests that the Touch's screen is slightly smaller than the iPhone's, but that its case is wider. It also appears that the screen is floating deeper under the glass than with the iPhone.
In reality the screens are identical in size, although Apple says the Touch uses a 163 pixel per inch display, while the iPhone uses a 160 pixels per inch model. The difference isn't visible; both screens deliver an identical screen resolution of 480 x 320.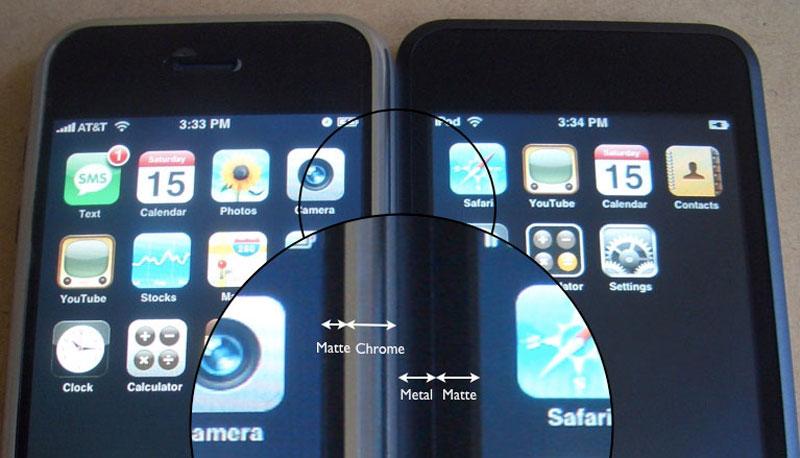 Compared next to each other, the Touch seemed to have a slightly bluer cast over the neutral grey background areas, but photos and videos I examined in still frames and in motion appeared identical, and I could not see any noticeable difference in color accuracy, brightness, or contrast. The background difference I noticed on the Touch could be related to the fact that it uses a revised version of OS X (as noted in more detail below), but could also be related to the dark, wide mask surrounding the screen. Identical objects against different backgrounds can appear not to match; when I masked off the screen with white paper, I could not see any difference between the two displays.
The dark margin around the Touch's screen is, if anything, less distracting than the shiny chrome of the iPhone, making it well suited as a media playback device. However, the sharper edge of its face is less comfortable to grasp in the hand, making it a good thing that it's not a phone. Included in the Touch box is a small plastic stand that holds the Touch horizontally like a digital picture frame, for casually watching movies or podcasts while at a desk. The purpose-driven, differing designs of the Touch and the iPhone indicate that a lot of thought went into the shaping of each.
The Touch has a solid and rigid feel, with a perfectly flush fit and finish between the back cover and the face plate. As with all iPods, the battery hides behind its back cover, and taking the unit apart requires some expertise. That exacting construction is a large part of the reason why the Touch doesn't have a removable battery; if it did, it would be considerably thicker and sport a cheaper plastic lid instead. At some point in the future, this device will need a new battery. The good news is that millions of other Touch users will also need new batteries by then, and the cost of replacing it will be as marginal as today's iPods, which commonly cost $20 or less in a do it yourself kit.
The Touch battery is rated for 22 hours of audio or 5 hours of video playback. It rapidly charges to 80% in about an hour and a half, while a full charge takes about three hours. That's slightly less than the iPhone, which Apple says will playback 24 hours of audio and up to 7 hours of video, but the iPhone is also significantly thicker and has other features consuming its battery. Browsing the web over WiFi, the Touch has a realistic lifespan of about 4 to 5 hours.
The Touch has a single home button on its chin just like the iPhone, although the button is slightly smaller and not as deeply recessed. It also has a power wake button on its top edge like the iPhone, but it's on the left edge rather than the right. That appears to be to make room for the WiFi antenna window, the black plastic corner on the back side of the Touch that allows radio signals through the otherwise all metal body.
There are no other controls on the unit; it lacks the iPhone's rocker volume control and its silence switch, which it doesn't need because there is no real external speaker. It only has a piezo speaker for making simple beeps; any audio playback requires headphones. Also unlike the iPhone, there is also no mic, no camera, and obviously no GSM card slot.
The headphone jack is at the bottom end of the Touch, just like the Nano, next to its standard iPod dock connector. It doesn't have the iPhone's deeply recessed headphone plug, so it works with any standard aftermarket headphones. While it can play audio through the iPhone's headphones, there are only three conductors on the Touch headphone jack, so it can't support the click-to-skip button or the mic. It also can't support the four pin AV output cables designed for earlier video-capable iPods. That means any support for a mic input or video output has to use the dock connector.
The Touch also lacks the somewhat clumsier remote control cable of earlier iPods. Without the iPhone's integrated click-to-skip button, this means there's no easy way to jump to the next song or pause playback without directly interacting with its face. Users looking for an iPod that plays from a pocket might prefer the small Nano or large capacity Classic; the Touch is really designed to interact with, making it much better at video and interactive information browsing but not as exceptional as a hidden away MP3 player. No remote control is a significant missing feature.
On page 2:The Touch is Not an iPhone; Video Output Differences; and New Touch Software.
The Touch is Not an iPhone
With the subtle differences in styling, Apple appears to be saying that the Touch is not an iPhone, it's an iPod. Users who expect the Touch to be an iPhone without the mobile features will be upset about a number of other limitations of the Touch.
Missing in comparison to the iPhone is internal support for Bluetooth. It may be technically possible to add Bluetooth support via the dock connector, but the lack of built in support means that it won't be as easy to use Bluetooth stereo headphones when they become available, or sync data over Bluetooth, or use a Bluetooth keyboard. Of course, you can't do any of those things with the iPhone yet either, but the potential is there. It's not on the Touch without adding a dongle.
The Touch also lacks some of the iPhone's software. Obviously there's no Phone apps or SMS, but its curious that there is also no Google Maps, no Stocks and Weather, and no Notes. None of these apps are really phone oriented, as they are most useful over WiFi. Using Google Maps over EDGE on the iPhone is possible, but its a lot more desirable over WiFi. It's not at all possible on the Touch.
Instead, the Touch is presented solely as an iPod. There's no Mail, which would be slightly less useful without an always-on data connection, but Safari isn't much use without a WiFi hotspot either. Without Mail or SMS, it might seem that Apple should have at least put an iChat client on it. The marketing message is clear however: the Touch isn't a mobile messaging tool, it's an iPod for watching videos and playing music.
It's also clearly not a PDA. Even so, the Touch — which splits out Contacts as a standalone app; on the iPhone it hides within the Phone section — does allow you to enter new contacts. However, it doesn't present a way to enter Calendar items, only offering a read-only view of what was synced over from your computer. This is going to upset a lot of people who feel there really isn't any acceptable reason to hamstring the Calendar app, even if the Touch is not marketed as a PDA.
Clearly, Apple is trying to differentiate the Touch from the iPhone. The company claims users have never been able to enter calendar items on the iPod, so they wouldn't expect to on the Touch. Well, they've never had a touchscreen keyboard on the iPod either, and that's the main reason why the iPod's calendar features have languished; it's simply not practical to enter calendar items with a click-wheel.
While this review intends to compare the Touch against its advertised features and not just compare it to the iPhone, users will; Apple really needs to address this because a read-only calendar isn't a great product differentiation. It's like buying a computer and finding that it is not only offered as different hardware models, but that it is also artificially segregated into different levels of software features, so you can't join a network or have media center features without buying the right edition of software. Apple should take note of the fact that Microsoft's strategy with Windows Vista isn't pleasing customers.
Conversely, the Touch does a few things that the iPhone does not yet do, despite having the hardware. The most obvious is video output to a TV. The new Touch includes a similar style of video output features as the Nano and Classic with an important difference.
While previous video-enabled iPods offered composite video output from a video iPod Dock or via an "iPod AV Cable" that plugged into the headphone jack, the new Classic, Nano, and the Touch now use a new set of dock connector cables that support either composite video or new component video for use with a HDTV or modern standard definition TV. Component video delivers a higher quality picture.
All the new iPods now lack any option to output video from the headphone jack. Instead, Apple sells both composite cables for use with all video-capable iPods and component cables that only work with the new Classic, Nano, and Touch. Both cables plug into the iPods using a dock connector. They also come with a USB wall power adapter and cost $50. Apple also sells a $50 "Apple Universal Dock," which provides an IR remote control. It requires one of the above cables to plug into a TV or HDTV set.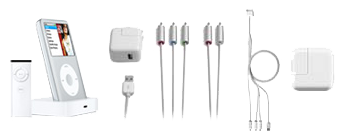 The new iPod models may not work with some third party devices that extract video from the Dock connector. However, the Touch differs from the revised new Nano and Classic in that it will only work with the new dock connector type cables, using any dock; only the Nano and Classic iPods still work with the previous "iPod Universal Dock" when used with the headphone jack to composite video "iPod AV Cable" designed for the previous video-capable iPods.
In other words, the Nano and Classic work with any video output cables as long as a dock is involved; the Touch will only work with the newer dock connector cables, whether a dock is used or not. Specifically, the Touch does not work with the headphone "iPod AV Cable," even if a dock is used.
Apple hasn't yet begun selling the new dock-connector type video output cables, so I was unable to test the video output features of the Touch. It is important to note that the existing Apple iPod AV Connection Kit does not work with the Touch. When the new cables are made available, I'll review its video output features and compare them to the other iPods; note that all iPods, including the Nano and Classic, continue to work with the iPod AV Cable as long as a dock of some kind is used.
There are also a variety of subtle software differences that distinguish the Touch from the iPhone, software wise. It runs a new system software version, OS X 1.1, that's not yet available for the iPhone, which as of this writing, still runs 1.0.2. There are a variety of enhancements in the new system. Among them:
A setting in Settings/Keyboard to type a period shortcut by double tapping the spacebar, and a method for choosing one of a dozen different localized keyboards.
A setting in Settings/International to choose one of several languages for the UI and use different regional formats for dates, times, and phone numbers.
A setting in Settings/Video to "start playing where I left off," a way to turn on Closed Captioning, and settings to output video as NTSC or PAL and widescreen or fullscreen.
A setting in Settings/Safari to activate a developer debug console to troubleshoot web page errors.
Apple hasn't yet announced plans to activate video output functions for the iPhone, but it appears they are imminent. It has described its video cables as compatible with the iPhone in advertising. Until then, the Touch is the only OS X device able to output video like the earlier iPods.
Closed caption support is new, and also recently appeared as a setting on the new Nano and Classic. It appears Apple will be adding support for captions to iTunes downloads soon; there is currently none. This is a great accessibility feature for the hearing impaired, as well as a useful feature for users watching foreign language films.
The Touch also supports a new double-click feature for the home button. Its default action is to popup a translucent overlay with music playback controls for the current song. This welcomed improvement allows for skipping a song, adjusting the volume, or pausing music playback while doing something else, without having to go in and out of the music playback menus. It also offers a quick shortcut for jumping to the Music section.
Another new software difference in the Touch is its new dock, which looks a lot like the one depicted in Mac OS X 10.5 Leopard. While the iPhone has four icons sitting in a light grey gradient band of a dock that fully surrounds the icons, the new Touch has a more subtle, Leopard-like dock that appears to be a lighly frosted sheet of glass indirectly illuminated and tilted at an angle. The dock icons even cast reflections onto it.

On page 3:Safari, YouTube, and Photos; Calendar and Contacts; Clock and Alarm Sounds; Calculator; and Music and Videos.
Safari, YouTube, and Photos
Apart from the new debug option, Safari on the Touch is identical to the iPhone. It syncs over desktop bookmarks via iTunes, allows you to load multiple pages at once, and zooms in and out of web pages with the touch of a finger. The only thing more impressive about the Touch is that the web browser is in a device 60% thinner than the iPhone. Of course, the other limitation is that pages only load in the shadow of a WiFi hotspot; on the iPhone, you can use the slower EDGE nearly everywhere.
Safari can also be used to play live audio and video podcasts that are published according to the standard iPod file formats. Simply search Google for podcast URLs, and Safari will use Apple's servers to parse the RSS feed and present a listing of content you can listen to directly from the web, anywhere you have WiFi access.
The custom Google YouTube client is similarly identical between the Touch and the iPhone, apart from lacking the iPhone's button to share a clip, which emails a URL. It's easy to browse through and play videos, although once again it only works when a WiFi network is within range. The iPhone can download lower quality versions of YouTube videos over EDGE at reasonably decent speeds, although it is far more enjoyable to watch them over a much faster WiFi connection.
The Photo features of the Touch are identical to the iPhone, apart from the fact that you can't take photos, mail them to others, or send them to a .Mac Web Gallery. Photos copied onto the Touch can only be viewed in the elegant multi-touch, flick to browse, pinch to zoom, flip to landscape photo browser, or set as wallpaper. Oddly enough, while you can create a Contact and assign them a picture from your photos, you can't assign the photo from within the Photos application, as you can on the iPhone.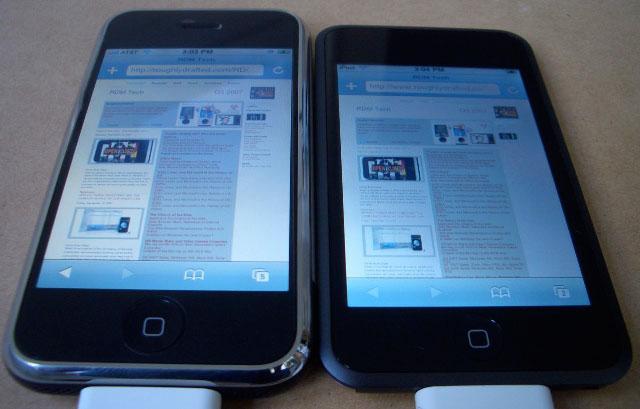 As noted earlier, the Touch's Calendar is identical to the iPhone's apart from the critical problem of not being able to enter new events. This is a real black eye for the Touch, because it will appeal to a lot of users who already have a mobile phone, and want to use the Touch as their Mac-friendly accessory for everything else. There is also a significant international audience interested in the Touch as a way to get as much of the iPhone as they currently can.
Any premise that the iPod 'can't enter calendar events because it is only an iPod and was never designed to be a PDA' is weakened by the fact that it has the full Contacts application, and can enter and edit contacts identically to the iPhone. At the same time, at least the Calendar is there; there is no provision for Notes at all, which is a bit odd as iPods have had the special notes feature since the third generation iPods. It may be that the Touch inherits a revised Notes after the release of Leopard, but the conspicuous lack of Calendar events does not hold great promise.
Another app carried over from the iPhone is the Clock, which provides a multi-time zone World Clock display. As with the iPhone, it displays four user-defined clocks on the screen, or an unlimited number of clocks that can be flicked though as a listing. It also has an Alarm, Stopwatch, and Timer function. The only real difference over the iPhone is that the Touch only provides a half dozen very simple beeping sounds to use as alarms, as opposed to the two dozen realistic sound effects the iPhone provides.
The reason for the limited selection of sounds is that the iPhone has a real speaker with adequate sound output, while the Touch only has a a little piezo speaker that can only reproduce simple click-like beeps like a Palm Pilot. That difference is noticeable from the first time you unlock the Touch, as it outputs a weak little chirp rather than the iPhone's more substantial snap sound. When put to sleep, the iPhone similarly plays a shutter snap sound, while the Touch again just chirps. When plugged into a dock, the iPhone emits a synthetic, futuristic glink sound, while the Touch only plays a simple trio of tones.
While the iPhone offers support for new ringtones within iTunes, the Touch does not. There's no reason or need to copy over ringtones, and the speaker can't play special alarm sounds anyway. The music label's egregious contract on iTunes' ringtones stipulates they only be used on the iPhone, and only to announce calls.
The Calculator is similarly identical to the iPhone's apart from having a slightly different icon. It is also identical in features to the Dashboard calculator in Mac OS X. One of the most common requests among iPhone software feature improvements I hear from readers involves expanded calculator features, whether the user is asking for a financial calculator, a programable math function calculator, or a utility to convert measurements.
Apple could really add some welcome sophistication to the Touch and the iPhone by including or at least offering a calculator that does more than fourth grade math. This is particularly puzzling given that Apple bundles Grapher, a sophisticated 3-D graphing calculator, in Mac OS X.
Sitting in the dock in place of the iPhone's Phone and Mail are new icons for Music and Videos. On the iPhone, both functions sit behind "iPod." On the Touch, Music is identical to the iPhone's iPod link, apart from the fact that there's no way to bring up Videos. Even when using the Edit button to customize menus, there's no way to restore a link to Videos. Similarly, on the Touch there are no shortcuts to play music from the Videos menu.
Having Music and Videos as separate apps actually makes more sense, unless you've already gotten used to going through the iPod icon to get to those functions. Once you begin playing music or videos, the experience is identical to the iPhone. Music plays songs against their album art, and when turned horizontally it automatically goes into widescreen Coverflow mode. Videos play in landscape orientation only, with a button to shift between widescreen and fullscreen playback.
I found the sound quality to be very good, and the volume went well beyond what earbuds can deliver before distorting. At 80%, the output was painfully loud. A top limit on volume can be set and locked under Settings/Music, along with the sound check for balancing out volume between songs and the familiar equalizer settings from the iPhone. It doesn't have the new EQ graphics of the new Nano and Classic.
The Touch has no external speakers for sound, so it only works with headphones. I find the iPhone useful as a desktop music player when I don't feel like wearing headphones, but its external speakers are only of fair quality, so the absence of any speakers on the Touch isn't a real strike against it. Anyone who wants to use it for desktop music playback has a variety of good quality iPod speaker docks to choose from.
On page 4:Apple's new WiFi iTunes Store.
The Touch also debuts a new application the iPhone doesn't yet have. Called "iTunes," it provides a way to browse, listen to, and buy songs from the iTunes Store. I previously doubted Apple would put a store on the iPhone or similar handheld device, because I thought it would complicate the existing contracts with labels that allow iTunes songs to play back on five computers but unlimited numbers of iPods. If the iPod became an instance of iTunes, would it affect the number of computers allowed?
I also questioned whether the experience of iTunes would translate into a small screen. However, while it doesn't deliver everything in desktop version of the iTunes Store, the WiFi Music Store does a very good job at quickly presenting featured, popular, and custom search results in an interface that is easy and appealing to use.
The Featured section highlights three tabs: New Releases, What's Hot, and Genres. Each of the first two tabs presents a screen with two featured blocks at the top and a scrolling list of around ten albums underneath. Each album is presented with its album art, so the experience is very visual, not just a bunch of text links.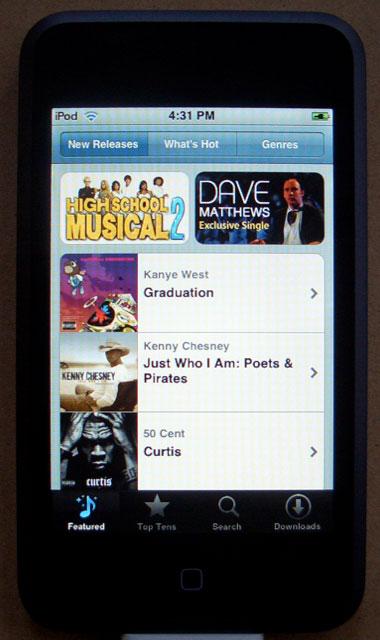 Touch an album, and it presents a list of songs. Touch a song, and it begins playing a half minute sample immediately in a round playback control that fills in like a 30 second timer as it plays. Each song and album is labeled with a 99 cent price. If you touch it, it it changes to a Buy Now link. Touch again, and you add the song to your library. You can also buy albums at the typical $9.99 price. If you've enabled iTunes Plus on your account, it will offer available DRM-free songs at the $1.29 price.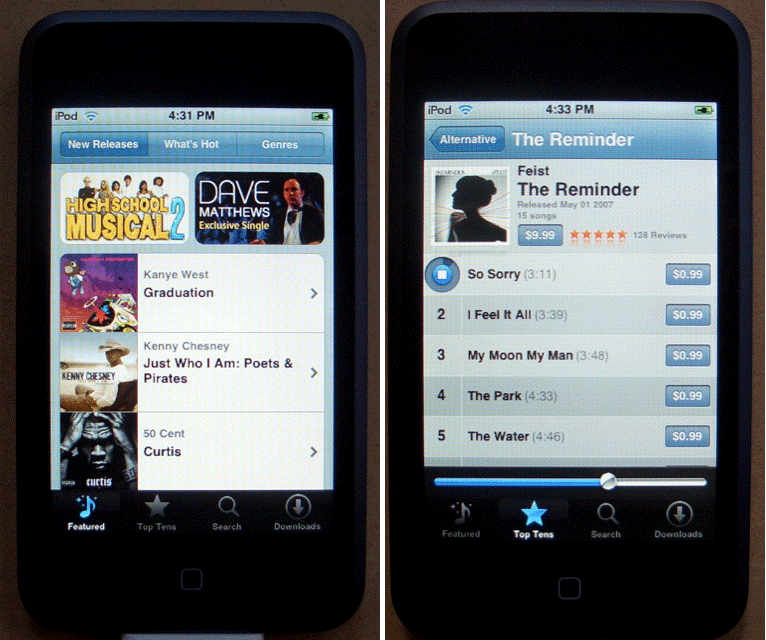 Under the Genres tab, a list of Pop, Alternative, Hip-Hop/Rap, Rock, and R&B/Soul appear, along with More Genres. Touch that and it displays a list of nearly 20 different types, each of which presents the familiar page of two picks by Apple and another ten items actually related to that genre.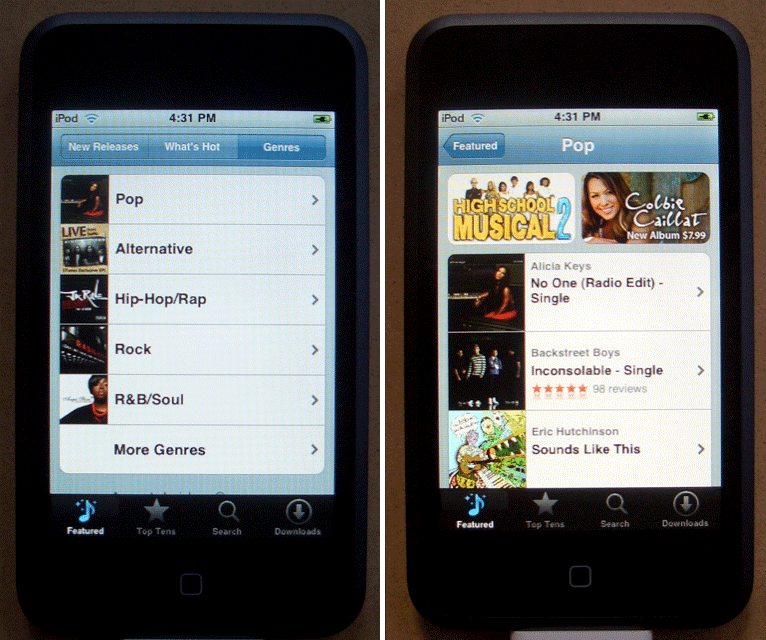 The second icon along the bottom takes you to the Top Tens section, which lists two tabs, one for iTunes' top ten songs and another for albums. On the songs tab, you can touch once for a preview, or double tap to be taken to that album. At the bottom of each Top Ten list is a button to pull down ten more. Every touch loads another ten items, eventually revealing the top 100 songs or albums for browsing.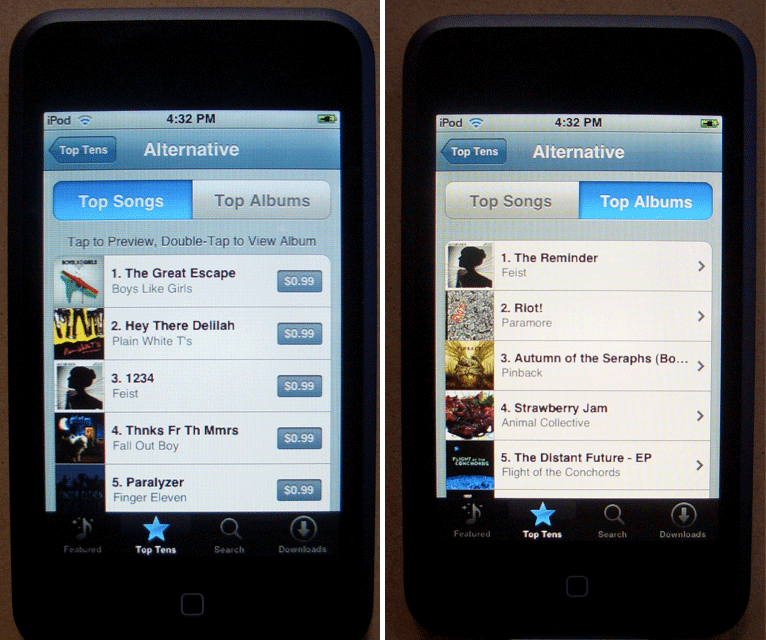 The third icon along the bottom is for Search, which presents a blank query field. As you type in letters, it presents instant search results. Typing MOD brought up both Modest Mouse and Depeche Mode, along with a list of ten other things. Touching Modest Mouse presents the band's last two albums and below that, a list of 25 songs. Under the two albums is a link to "see all albums," and a touch brought up 25 albums, with the option to load one more.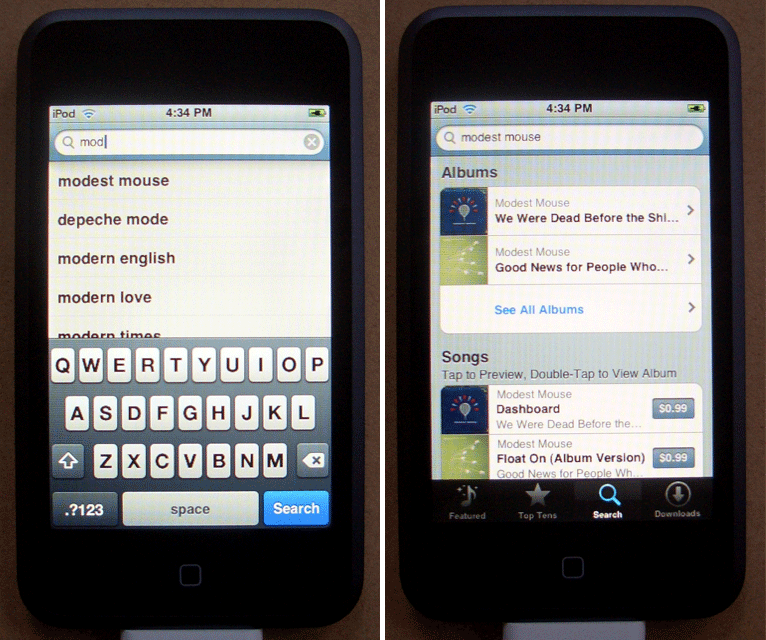 Each album is presented with cover art, the number of individual user reviews in iTunes, and average star ratings (although you can't read the actual reviews or post any). Touching an album presents the familiar listing of songs, with the option to audition tracks and buy the whole album or individual songs. Albums that include a digital booklet note that "If you purchase this album, the next time you connect to the iTunes Store on your computer, you will also receive:" followed by a list of the bonus material included.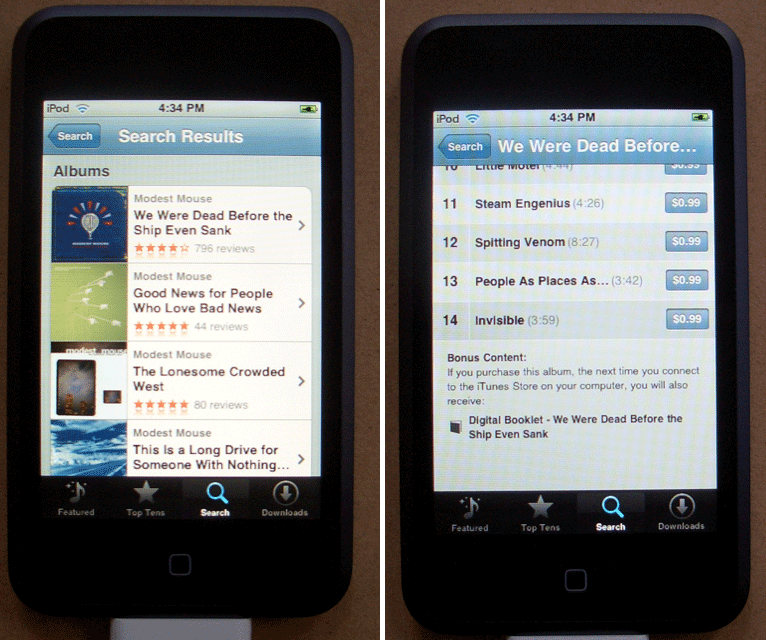 One yet invisible feature in the new WiFi Store is Apple's partnership with Starbucks. It's only active when you walk into a Starbucks, only only visible when you open the WiFi Store. It simply offers another page of music to browse through, related to the playlist of that store. As stores turn the new system on— which won't even start until next month, and won't hit most major US cities until the end of next year— Touch and iPhone users will be able to use Starbucks' WiFi to shop for songs on using the WiFi store. They won't however, be able to hitch a free ride for other browsing. That's all irrelevant to users who don't want to buy Starbucks music, because you have to concertedly dig to find the page. Don't expect Apple to start adding popup advertisements.
The simple and consistent layout of store content — and the speed of navigating and downloading samples — make the new WiFi Store very usable and very attractive. Purchased songs remain on the Touch until the next sync, when they are added to the iTunes library. At the bottom of the main page in the WiFi Store is a link to Apple's terms of service legalese, which opens in Safari.
On page 5:What's Missing on the Touch; A Frustration for 'iPhone Without the Phone' Seekers; The Touch as an iPod; and Rating.
What's Missing on the Touch
That brings up what is one of the biggest deficiencies of the Touch: there's no Mail. Of course, one can still use Safari to check email using a webmail client, but the biggest problem of going without Mail is that — on the iPhone — it serves as the only method users have for putting files on the device. While you can't copy over PDFs or graphics or Word documents to the iPhone, you can copy all of them to the Drafts folder of an IMAP mailbox, or simply mail them to yourself, and have them on the device. Mail is the iPhone's only accessible file system, as described in the article "Using iPhone: File and iTunes Sync Via USB, Wireless, and Over the Air."
Because it lacks the iPhone's Mail, the Touch can't be used to open any documents or graphics apart from those hosted on the web. If you have a web server, you can copy documents to it and find them in Safari, but that's a bit complex for many non-technical users who might want to reference a system map or time table or read a PDF ebook; unless the Touch is in range of a WiFi signal, there's absolutely no way to do anything but listen to music and play videos. Of course, that's also the intended purpose of an iPod.
If you're looking for something beyond a music and video player, the Touch is going to present some artificial and frustrating barriers. As an iPod, it's great. It's simple but sophisticated, and the 16 GB model allows you to store twice as much music and videos compared to the largest iPhone. It's also beautiful that it provides a full browser, making it harder to weep about not being able to bring along one's own scrap of information to read. The WiFi store makes it easy and fun to find music anywhere, at least anywhere with an available network signal.
A Frustration for 'iPhone Without the Phone' Seekers
However, the iPod Touch doesn't go beyond playing local content or browsing the web. There's limited PDA features, no communications features such as email or instant message chat, and no way to load up documents for later review, no way to take notes or snap photos, and no slick Google Maps client. To do any of those things, you'll need an iPhone. If Apple were only selling the Touch to users who could buy iPhones, such an arbitrary product differentiation would make more sense.
Unfortunately, there are a lot of overseas users who can't get the iPhone, and lots of US users who are either tied into a contract or can't buy an iPhone for other reasons. The best they can do is get a Touch, and Apple's marketing is preventing them from being able to really use the technology that's already available. Even worse, the Touch and iPhone have enough to keep them unique already.
Clearly, Apple wants customers to buy the iPhone. However, the iPhone already offers enough hardware features to entice many potential Touch buyers. Why thwart remaining Touch sales over limited software features? A case could be made that WiFi-only Touch wouldn't make a great Mail client, because it wouldn't deliver messages outside of a hotspot. But by that logic, it also won't make a great web browser or a great WiFi Store client.
The Touch is an amazing device, executed with brilliant hardware design and borrowing much of the iPhone's slick software. I can't really fault the Touch for not being something it isn't trying to be. If it were billed as a PDA or an "iPhone without the phone," I'd have to give it a fair to poor rating. But it isn't, it being sold as an iPod that also does web and photos.
That being the case, I can criticize the Touch for not delivering parity with the other recent iPods in three areas: the Nano and Classic deliver a nicer stopwatch with lap time logging, and they also offer a nice photo presentation mode when doing video output; it's not yet clear that the Touch matches the same video output features. The Touch also lacks any type of remote control. If Apple insists that the Touch is really an iPod and not an iPhone, then the Touch should at least deliver the features expected across the iPod line.
Outside of that irritating limitation, the Touch is a remarkably thin media player that delivers impressive video and audio features, surfs the web, displays photo albums, and even offers to put your photos and video on TV and allows you to shop for music online, two features that haven't yet made it to the iPhone.
For the features expected of an iPod, the Touch delivers on everything apart from the hard drive capacity of the iPod Classic line. Being Flash RAM based makes it faster and considerably thinner, but also currently limits it to 16GB, which is enough to hold several movies an thousands of songs, but not an entire music library. Being able to jump on the web or the WiFi store gives it a big jump in features over the existing iPods, introducing a luxury high end for Apple's lineup of media players. Just don't expect it to be an iPhone without the phone, because it most certainly isn't.
For more information on why Apple is moving to Flash RAM over hard drive based iPods, compare the iPod classic review.
For a detailed look at iPhone features that are largely identical to the Touch, see the iPhone review.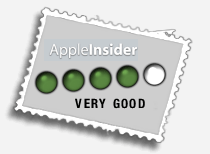 Pros
Scratch resistant metal face and glass screen.
Ultra thin, but solid construction.
Excellent media playback features.
Rich Internet experience with mobile Safari.
Very nice Photo library browser.
Cons
Lacks the new iPod stopwatch and photo slideshow polish.
Polished metal back will scuff up quickly without a cover.
No remote control feature.
Missing potential PDA features.