Apple unleashes new "Seed Update" for Leopard testers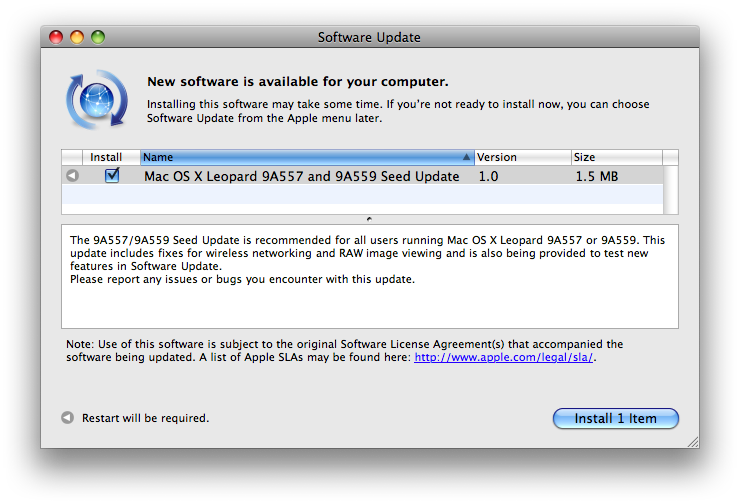 AppleInsider is supported by its audience and may earn commission as an Amazon Associate and affiliate partner on qualifying purchases. These affiliate partnerships do not influence our editorial content.
Apple Inc. on Monday provided its developer community with yet another small update to its upcoming Leopard operating system, this time adding a couple of bug fixes and proceeding with tests on the system's software update mechanism.
The 1.5MB update, labeled "Mac OS X Leopard 9A557 and 9A559 Seed Update 1.0," was recommended for all users testing Mac OS X Leopard build 9A557 or 9A559, but did not represent a new build in itself, according to people familiar with the matter.
Instead, Apple reportedly initiated the release to test "new features" of Leopard's embedded Software Update mechanism. It also repaired issues with wireless networking and RAW image viewing under the next-gen OS, expected to be released sometime later this month.
Apple issued two similar automatic software updates for Leopard testers about 10 days ago, with which it also claimed to be evaluating the system's software updater. The company then quickly followed up with a full-blown Leopard build release in which it instructed testers with HP printers to deselect any and all HP printer drivers from the Leopard installer. Apple said those drivers could be obtained via Leopard's Software Update mechanism once the new build had been installed.
It was later disclosed to MacNN that HP and Apple are working together to allow users of the finalized version of Mac OS X Leopard to instantly receive the the latest versions of HP's printer drivers over a new version of Software Update that will ship with the operating system later this month.
"HP has a large market share with Apple customers and is very pleased that Apple has chosen HP drivers and software to test with the latest Leopard developer seed and software update process," a representative for HP said.
Apple has said it plans to release Leopard in October and recent pre-release builds of the software are believed to be approaching release candidate status, if they are not already considered as such.
AppleInsider also recently cited sources who note that Apple in recent weeks determined that it would need to increased the requirements for Leopard to exclude 800MHz PowerPC G4-based system. Instead, it's now believed the software will now require Macs with "an Intel processor or a PowerPC G4 (867 MHz or faster) or G5 processor." Other system requirements will include a DVD drive, built-in FireWire, at least 512MB of RAM (additional recommended), and at least 9GB of hard disk space.