Road to Mac Office 2008: PowerPoint '08 vs Keynote 4.0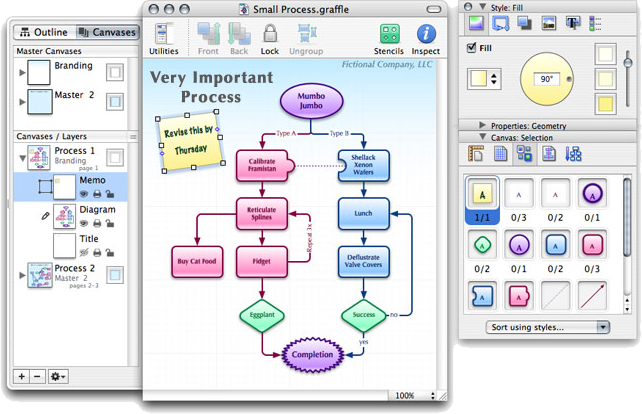 The planned mid-January release of Office 2008 offers a significant overhaul of the productivity suite's look and features. Previous segments described new features in Word and Excel, with comparisons to Apple's Pages and Numbers. This article examines what's new in PowerPoint 2008 in contrast to Keynote 4.0, the first new standalone productivity application Apple released for Mac OS X. It also looks at why Mac Office 2008 is still missing applications from the Windows version of Office, including Project, Access, and Visio.
This report goes to great lengths to explore the origins, history, and maturity of Microsoft's PowerPoint. For those readers with limited time or who are only interested in what's due in PowerPoint '08 as part of Office 2008 for Mac, you can skip to page 2 of this report.
The Birth of PowerPoint and Other Microsoft Office Apps
Microsoft acquired PowerPoint in 1987 from a Mac software developer Forethought. That company was also the distributor of Nashoba's FileMaker database, and owned the FileMaker marketing collateral and documentation. Microsoft had been unsuccessfully competing against FileMaker with its own Microsoft File. In order to improve its productivity software offerings, Microsoft dumped File and entered talks to acquire FileMaker from Nashoba, as described in FileMaker Early History.
However, after beating Microsoft in the marketplace, Nashoba chose to publish its increasingly popular FileMaker product independently, although it had to scramble to develop new packaging and documentation to do so. That same year, Apple spun off its desktop applications into the new Claris subsidiary. Claris then bought Nashoba began porting FileMaker to Windows. Had Nashoba instead sold FileMaker to Microsoft, the history of Microsoft Office, Claris, and FileMaker would be entirely different.
Project, FoxPro, Access, and Visio
By 1990, Microsoft had released Word, Excel, and PowerPoint under the new name Microsoft Office, first on the Mac and later for Windows. The following year, Microsoft released Project for the Mac. It continued development of Project for Macs up until 1993, when the company began shifting all of its efforts into Windows. Even after Microsoft returned to the Mac in 1997, no new version of Project was ever released by the Mac Business Unit, and the old versions do not run natively on Mac OS X.
Microsoft still wanted to include database software in Office, so it acquired Fox Software in 1992; that company had cloned Ashton-Tate's popular dBASE product under the name FoxBASE, which was later renamed FoxPro. The product was popular on both DOS and the Mac, and Fox was in the process of porting it to Windows when Microsoft acquired it. While it was never included in Office, Microsoft continued to support new versions of FoxPro on the Mac and Windows through 1995. In the second half of the 90s, it was renamed Visual FoxPro after being folded into Microsoft's Visual Studio developer tools for Windows, which includes Visual Basic. This year, Microsoft discontinued Visual FoxPro entirely.
Microsoft also began selling its own database product called Access in 1992, which was never ported to the Mac. This was likely because Microsoft was already selling FoxPro for Macs. Between the period when Microsoft stopped development of Office applications on the Mac in 1994 and the reintroduction of Office for Mac in 1998, FoxPro for Mac died but there was no new attempts made to port Access to the Mac. By that time, Claris' FileMaker Pro was already a strong product on the Mac, and Microsoft determined that there wasn't a large enough Mac database market to fight over.
In 1998, Apple subsequently dismantled the remains of Claris and then reestablished FileMaker, Inc. as a new subsidiary. Unlike competitors to Word or Excel, FileMaker Pro has been able to maintain competition against Access in part because Microsoft only includes Access with the more expensive versions of Office and does not offer a Mac version. Without the assistance of bundling, Access has not been able to displace FileMaker. The company advertises FileMaker Pro as the most popular desktop database product, and Microsoft's Mac version of Office offers support for accessing data from FileMaker using Excel. There are also third party tools for working with data in Access from the Mac. FileMaker also just released a new consumer database product called Bento, previewed in First Look: FileMaker's Bento personal database for Leopard.
In 2000, Microsoft paid $1.3 billion to acquire Visio Corporation, which had delivered a clone of the Lighthouse Design Diagram! application for NeXTSTEP. The Omni Group delivered a similar product for the Mac called OmniGraffle (below), which Apple bundles on new Macs. Omni also offers a pro version, which can open and save Visio 2007 documents, leaving little reason to want a port of Visio in Mac Office.
Along the same lines, Marware's Project X (below) provides project management software compatible with Microsoft's Project files but developed specifically to take advantage of features in Mac OS X, leaving little demand for a Mac version of Project.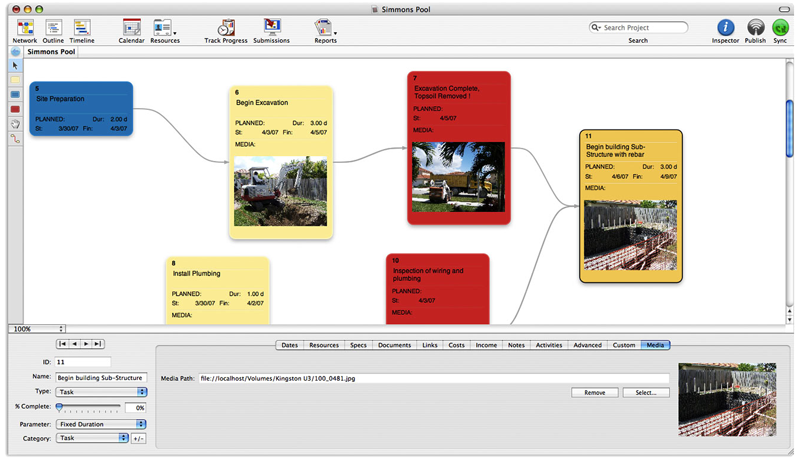 The Culture of Microsoft PowerPoint
Those developments left the MacBU to concentrate on only delivering the existing products within Mac Office 2008: Word, Excel, PowerPoint, and Entourage. Both Word and Excel deliver features missing from other Mac tools, and Entourage exists primarily to serve as an Exchange Server mail client for Mac users in corporate settings. PowerPoint serves more as a placeholder propping up convention.
While Word and Excel both followed established software roles in word processing and spreadsheets, PowerPoint was an entirely new concept in desktop software when it appeared in the late 80s. PowerPoint is designed to serve as a virtual slide projector, making it easy to present visuals while speaking. Over the last twenty years, "powerpoint" has become a common term for presentation slides.
Yale University professor Edward Tufte has become an outspoken critic of common elements of PowerPoint presentations, particularly because the medium encourages the oversimplification of facts through the use of bullet points. Charts and other graphics commonly minimize detail for readability, and the limited templates in PowerPoint tend to make meetings and presentations boring and homogenized, while at the same time consuming the attention of the audience rather than focusing it on the speaker and the message.
Competition for PowerPoint
By the release of Office v.X in 2002, PowerPoint had fallen into a rut; neither it nor the Office 2003 version for Windows really offered anything new. In 2003, Apple released Keynote as its own new presentation tool. In addition to more sophisticated graphics and text editing tools, Keynote also revamped the overall interface.
It added a mini slide preview in a sidebar that supported drag and drop reordering of slides, as well as segment grouping features using indented slide sections that could be hidden using disclosure triangles. Hidden groups of slides are skipped during the presentation.
Keynote also exposed the advanced features of Mac OS X's Quartz Graphics to make it easy to create soft drop shadows and use free rotation, image masks, translucency, and reflections on placed objects, as well as enabling advanced transition effects between slides. It also presented automatic positioning guidelines to make it easier to center or align text and graphics on the slide. With a second display attached to a laptop, the presenter could also direct their presentation to a projector while watching a presentation timer, reading notes, and seeing a preview of the next slide on their main screen.
Following the release of Keynote 1.0, Microsoft dramatically improved PowerPoint in Office 2004. However, some of the matched features of Keynote were constrained by other factors related to Office. For example, while PowerPoint 2004 added soft drop shadows like Keynote's, they weren't compatible with the Windows version of PowerPoint. Microsoft also added a hundred new template designs and more transitions in PowerPoint 2004, although these were far simpler than the smaller number of professional designs Apple included with Keynote.
Since the release of Office 2004, Apple has introduced three more revisions of Keynote. The latest added nine new themes, voice over narration features, motion path animations, Smart Builds for automatically adding animation to photos, new text and transition effects, and the Instant Alpha tool for extracting backgrounds from photos.
On page 2 of 3: New in PowerPoint 2008: User Interface; PowerPoint Templates; PowerPoint Transitions; PowerPoint Tables; and PowerPoint Charts.
New in PowerPoint 2008: User Interface
In Office 2008, Microsoft catches up with more of the features of Keynote, including alignment guides that appear when you reposition objects, and a mini-view sidebar presentation of slides in your document. There is still no grouping or sorting feature within the sidebar however. Rather than offering five different view modes, the new PowerPoint has simplified things down to three: Normal View (below), Slide Sorter, and Slide Show. Slide Sorter presents a light table view for rearranging slides, and Slide Show plays the presentation.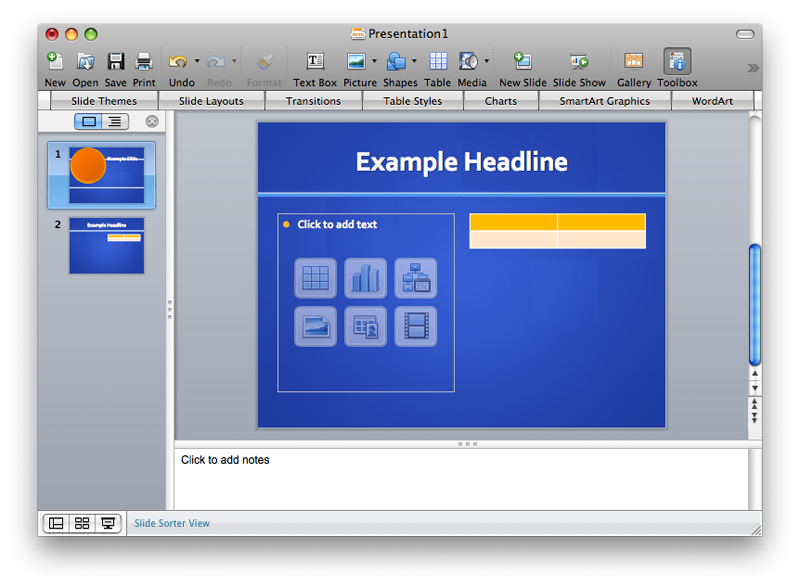 The Outline and Slide view are now gone; they simply presented Normal View without the notes and sidebar. Users can now manually slide the notes section out of view and click the close box to dismiss the sidebar. Unlike Keynote, the new PowerPoint sidebar dynamically scales the mini slide icons as it is resized. It also preserves the former outline view that depicts slides with a generic icon and a text label. The new sidebar isn't yet working correctly, as the slide selected in the sidebar isn't always updated in the main slide display (above).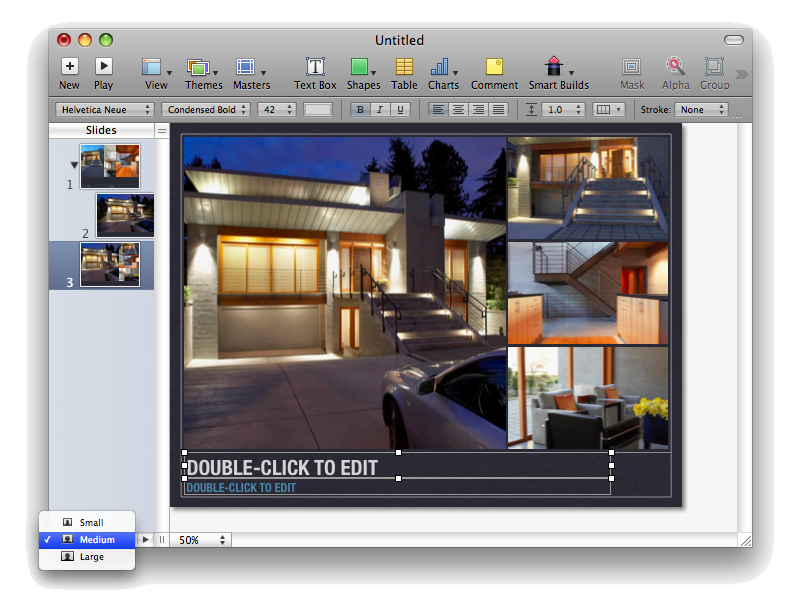 Keynote presents the sidebar slide views in one of three set sizes selected using a control at the bottom of the sidebar (above). The View drop down menu (below) presents both view modes for selecting between normal Navigator mode, the legacy Outline text view, a Slide Only view, and a Light Table view that works like PowerPoint's Slide Sorter. Keynote has less need for the Light Table view, because you can reorder visible slides by drag and drop right from the sidebar. In the new PowerPoint 2008, you can now do that too.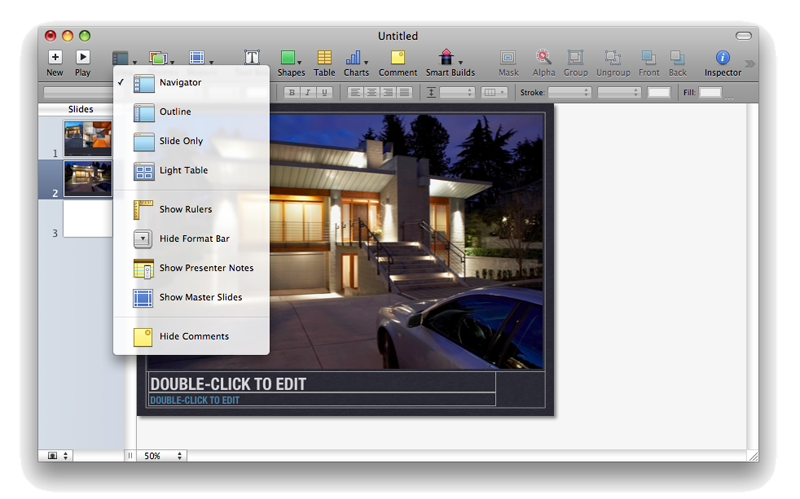 In the place of Office 2008's Elements Gallery dentures, Keynote displays a strip of functional contextual editing features called the Format Bar just under the Toolbar. Keynote's View menu (above) also presents controls to showing rulers, displaying the Format Bar, displaying presenter notes, displaying sticky comment notes, and showing Master Slides. The latter option puts Master Slides into the sidebar above the slides in your presentation.
As with Word and Excel, PowerPoint uses the Elements Gallery to present templates (below). In PowerPoint, the Gallery is orange. As with Excel, this can be turned off for a more basic grey appearance. The first tooth of the Gallery is Slide Themes, which presents four dozen different starting points. Selecting a theme changes all the slides in your document, but there is apparently a way to have multiple themes, as it also presents a selection of "Themes in Presentation."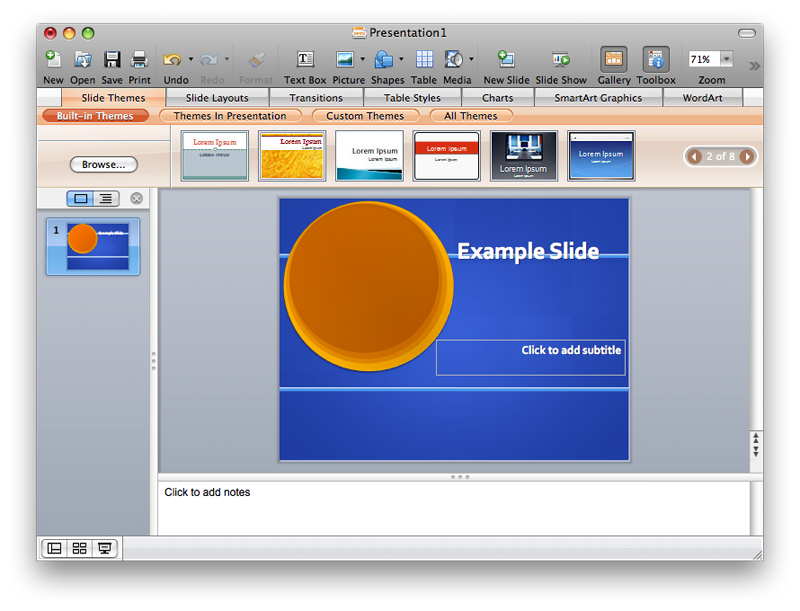 The second tooth is Slide Layouts (below), which presents a variety of layouts based on the chosen theme. Two radio buttons allow you to select between imposing the layout on the selected slide, or adding a new slide to the presentation using the selected layout.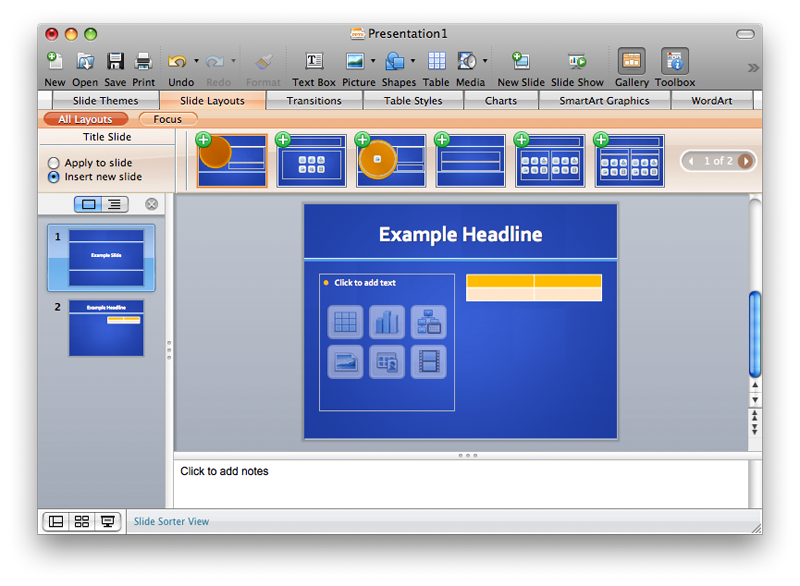 In Keynote, template themes are selected from the opening menu just like Pages or Numbers. A Keynote theme is more than just a background gradient and some placeholder text boxes. Each involves a strong overall design across a series of Master Slides. Unlike PowerPoint, when you select a theme from the Toolbar menu (below), it only changes the slides you have selected in the sidebar, allowing you to mix together themes within the same document.
The Theme Chooser (below) gives you a closer look at the theme choices, and allows you to select the slide size. This chooser can be used to apply a theme to all of the slides in a presentation, or just to a selected group. Additional changes to the document's page layout and slide size are done using the inspector panel.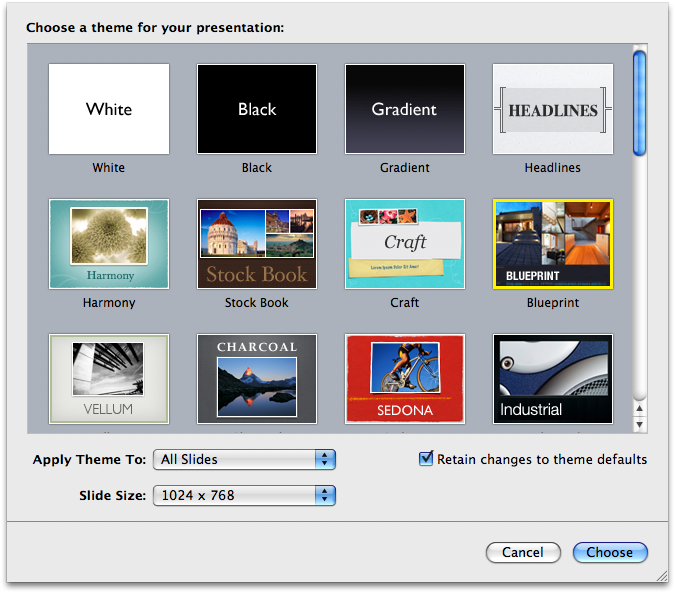 The Masters menu in the Toolbar presents a selection of alternative layouts related to both the currently selected theme as well as some generic unthemed pages.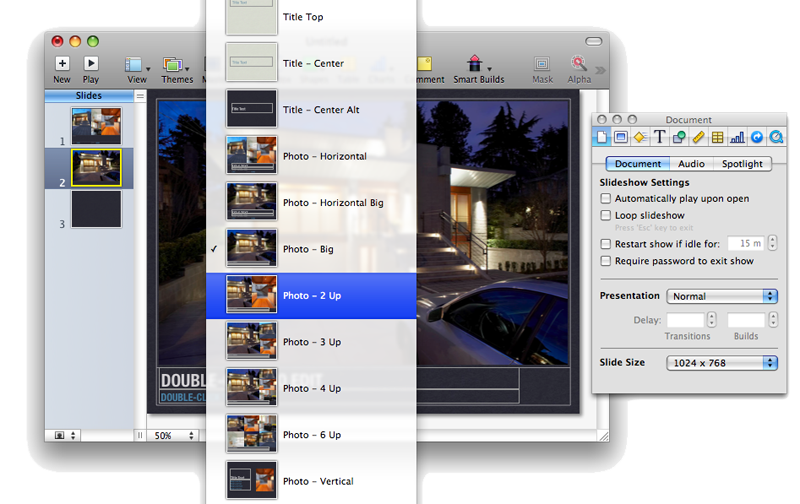 The Transitions tooth in the Gallery presents a series of fades, wipes, cube turns and other styles of slide transitions (below). You are supposed to select a slide and then pick a transition, but selected transitions don't seem to stick once applied. To see what the transition looks like, you have to switch to Slide Show mode and play the presentation. To change the attributes of the transition, you have to use a modal Transition Options window brought up from the Options button in the Gallery.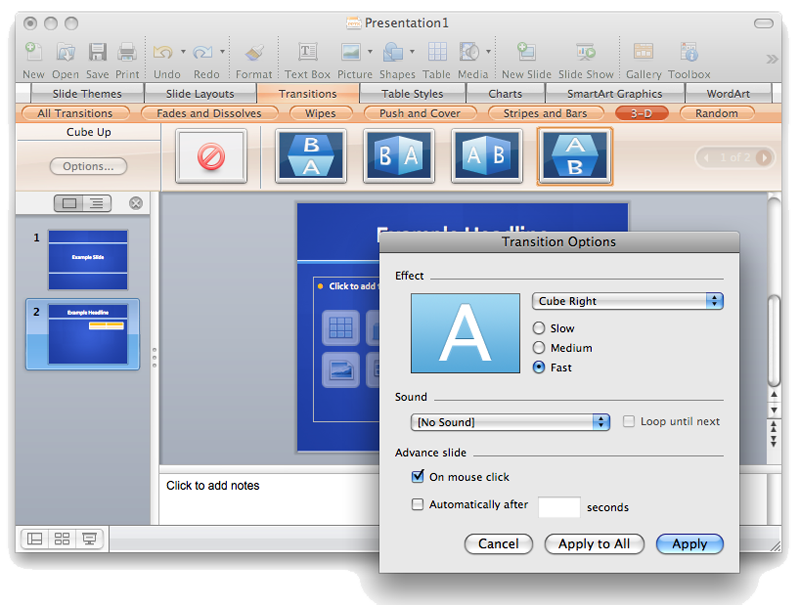 In Keynote, slide transitions are configured in the Slide panel of the Inspector, where a preview shows how the actual slide will look with that transition applied. It also offers more customization tools, in addition to offering more professional looking transition options.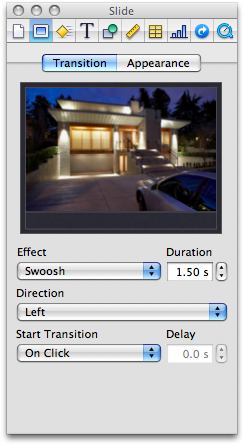 The Gallery also offers a huge selection of tables to choose from, but they're all just simple tables in loud primary colors. Rather than paging through nearly a hundred table styles, it would be nice to just insert a table and then be able to add formatting themes to it. The "Best Match for Document" selection seems like a joke (below). Once you pick out a table style, editing it to fit your document is clumsy and difficult, and the Formatting Palette is as awkward here as it is in other Office apps.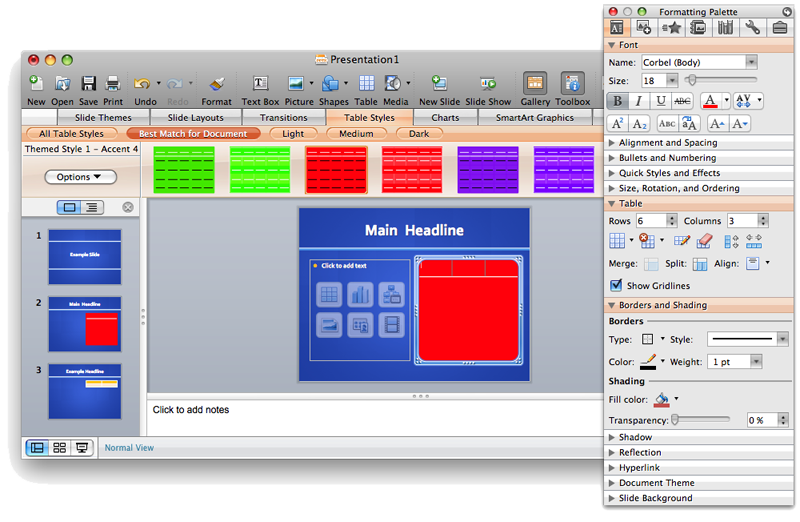 In Keynote, editing a table is as easy as adding one with a click on the Toolbar and then formating it as desired. By default, the table is formatted to fit your theme, but you can edit borders, background fills, add alternating row colors and define headers and footers.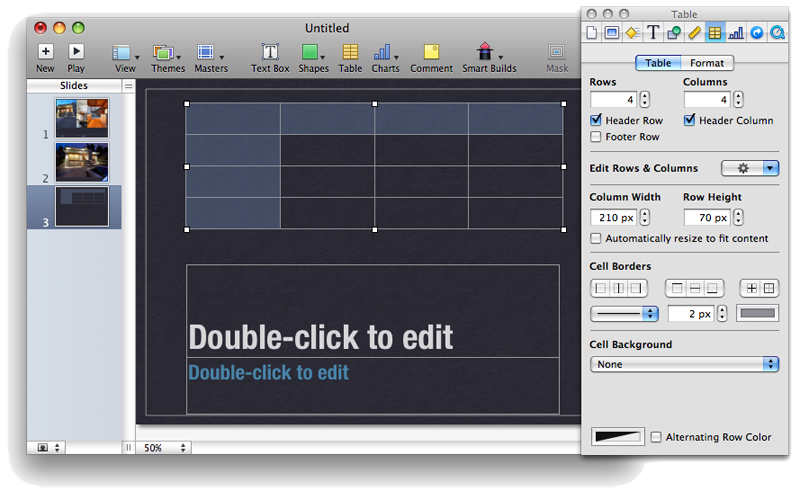 You can also add cell formatting, conditional formatting (which changes the format relative to the cell values), and insert basic spreadsheet formulas. Keynote's tables features were the reason so many people were predicting a spreadsheet product in iWork. Keynote's tables are not just smart, they also easy to attractively format and customize.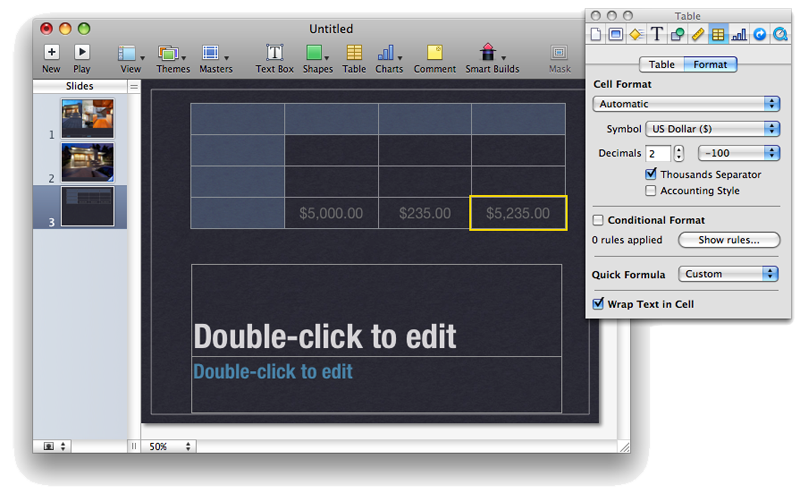 The Gallery offers the same selection of charts as noted in Excel. As was the case with Word, attempts to insert a chart actually launch Excel, but it then crashes, so this feature isn't yet ready (below). It also seems like overkill to launch Excel just to insert a chart.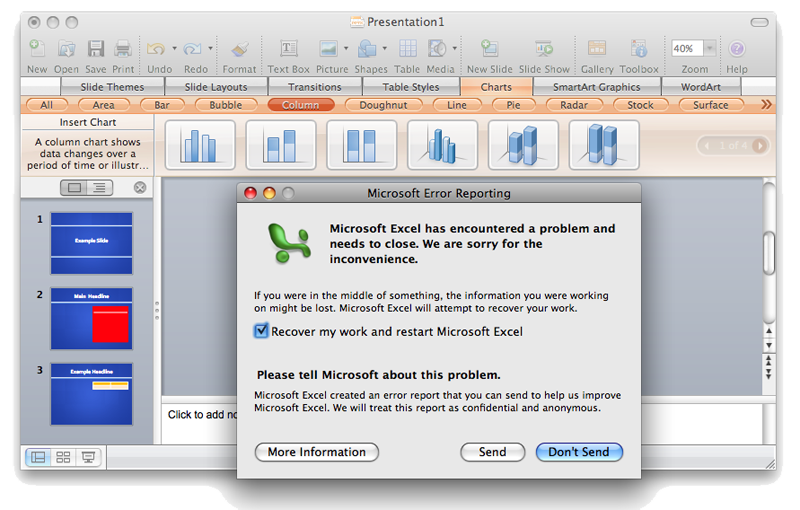 Keynote doesn't launch Numbers, it just inserts a chart of the type you select from the Charts menu in the Toolbar. You can then enter values using a Chart Data Editor and then customize the chart with the powerful but simple and easy to understand editing tools in the Chart Inspector panel. You can also drag and drop color finishes on chart objects using Chart Colors to present eye catching visuals.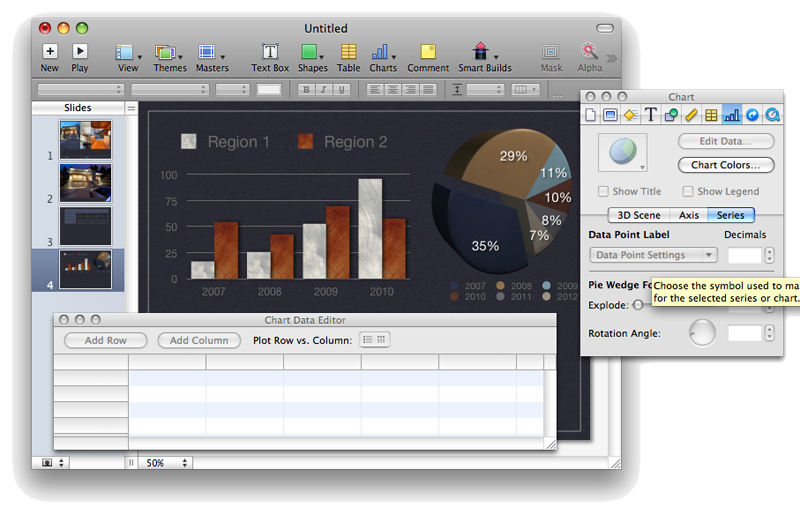 On page 3 of 3: SmartArt Graphics; Object Animation; PowerPoint Speaking Presentation; File Output; and PowerPoint vs Keynote.
The Gallery of every new Office app includes SmartArt Graphics, but they're best suited to use in PowerPoint. These graphics are intended to make it easy to lay out automated designs that the user can edit using a panel control. This process SmartArt graphic (below) allows you to add or remove graphical bullet points, automating the process of drawing arrows between them and laying the items in space.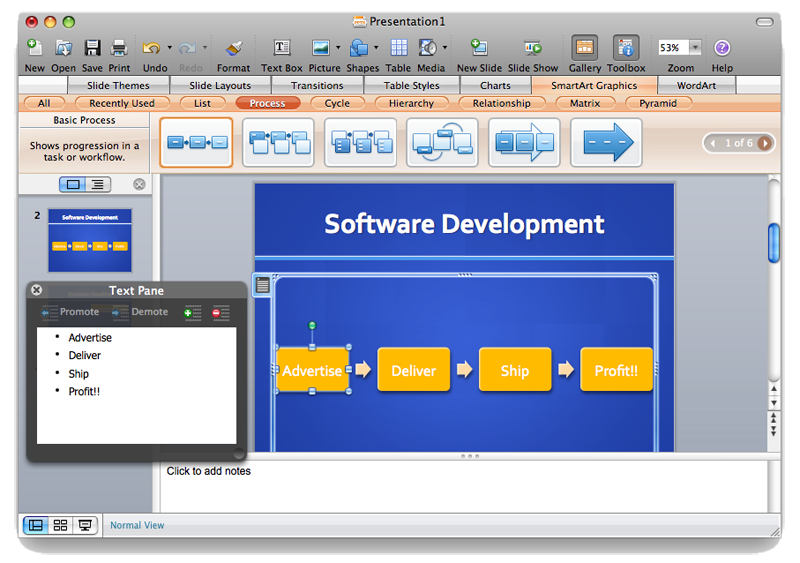 The labels of a SmartArt Graphic are configured using a translucent panel with rounded corners and a gradient ball that acts as its resize widget (above). Translucent panels are only supposed to be used in applications that present documents full screen mode, not within normal Aqua windows. Why Microsoft decided to camp it up with a fat margin, round corners, and amateur looking non-standard widgets might never be known to the public. These odd aberrations appear throughout Office 2008. Closing the panel makes it slurp into the calculator icon attached to the bright blue frame around the SmartArt object.
Using the SmartArt Graphics Styles in the Formatting Palette (below), you can apply predefined color swatches and effect styles to the items to render different effects. Here are three versions of the same item, with different colors and effects applied. SmartArt seems like a good way to offer non-technical, art-challenged users an easy way to present their ideas graphically without much effort.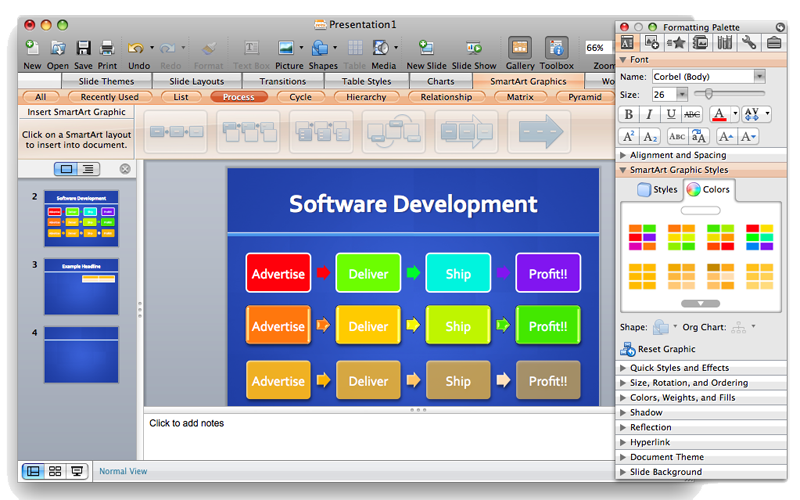 Keynote doesn't offer a comparable graphic-set automation, so laying out the same designs would require more imagination and effort. At the same time, the SmartArt items all pretty much look like editable clip art, so loading up a presentation with them will quickly make it appear canned and boring. Outside of the Graphic Styles supplied, there are not obvious ways to really customize them to look original.
Items on a PowerPoint slide can be assigned an animation using the Custom Animation tab in the Formatting Palette. You can apply a separate entrance effect such as fade or fly in, an emphasis effect such as shimmer or blink, and a similar exit effect. Additionally, audio and video clips can be assigned to play in a given order. This results the familiar PowerPoint-style presentation with timed fly-in items and bouncing titles.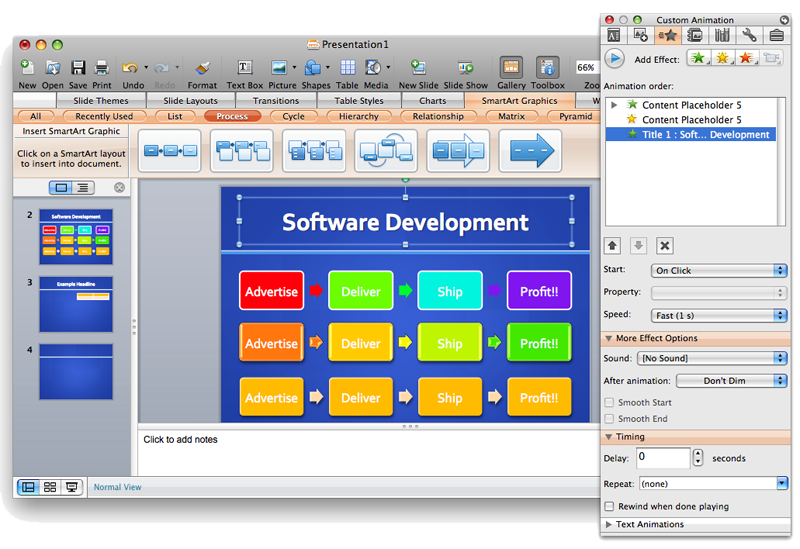 Keynote refers to animations as builds (the term used by professional animators). Editing builds is similar to transitions. Using the Builds panel, you can select any element on the slide and assign it one of a series of professional looking effects similar to those found in Apple's Motion (below). This makes it easy to create text with letters that appear to be hammered out by typewriter, or to remove text using flames, an explosion of sparks, or other effects.
Build In brings objects into the slide, Build Out pulls objects off, and Action Builds animate an object within the slide. An Action Build can move an object along a straight or bezier path, rotate it, scale it up or down in size or translucency, or apply a combination of factors over a given time duration to created more sophisticated build actions.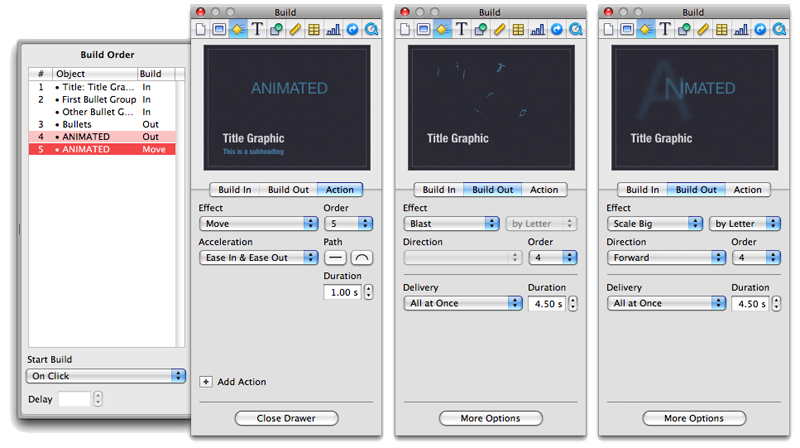 PowerPoint Speaking Presentation
In Office 2008, PowerPoint gets an enhanced full screen presentation mode with a clock that can be used for timing during rehearsal.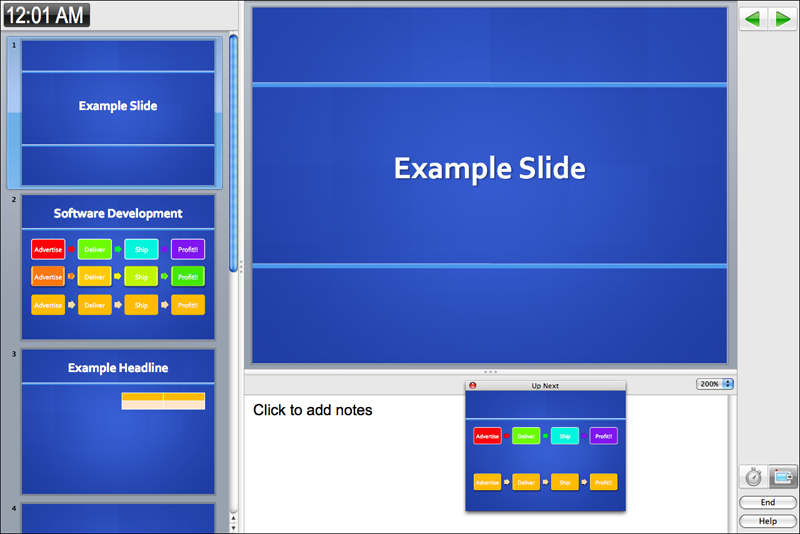 Keynote provides a similar layout, with notes, slides, a clock, and a timer that can all be customized in size and position to suit the presenter (below).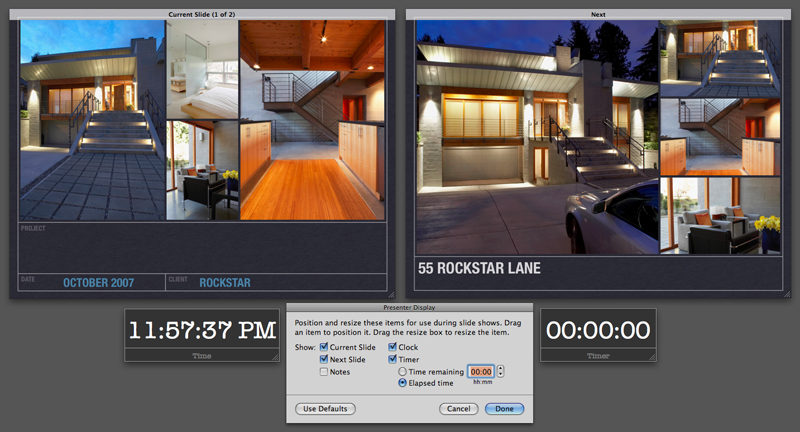 PowerPoint allows you to save presentations as a QuickTime movie, as a PDF, as a series of JPEG, PNG or other graphic files, or as a standard document in one of the several PowerPoint formats. It warns you that some transitions do not translate into saved movie files, and that animation effects are not preserved at all. It's not difficult to figure out how to get documents out of PowerPoint, but the settings are not exactly elegant.
Keynote exports to the same formats, but offers more options. QuickTime movies preserve animations and can use interactive hyperlinks for navigation. It can save back to both earlier versions of Keynote and PowerPoint, as well as a PDF document with or without notes, a series of image files, an Adobe Flash movie (Pages 08 comically still refers to Flash as a Macromedia product), a series of web pages, or for automated export to an iPod.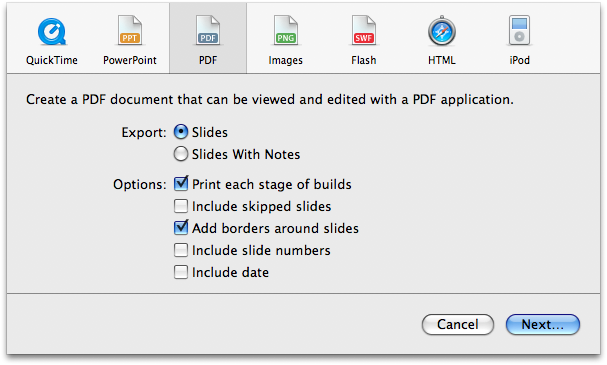 Neither PowerPoint (below top left) nor Keynote (below top right) use the standard print dialog, so both miss out on the new automatic print preview available to applications in Mac OS X Leopard (below bottom).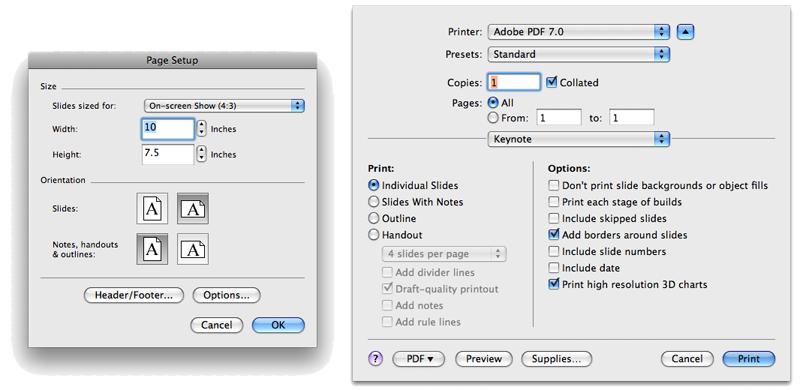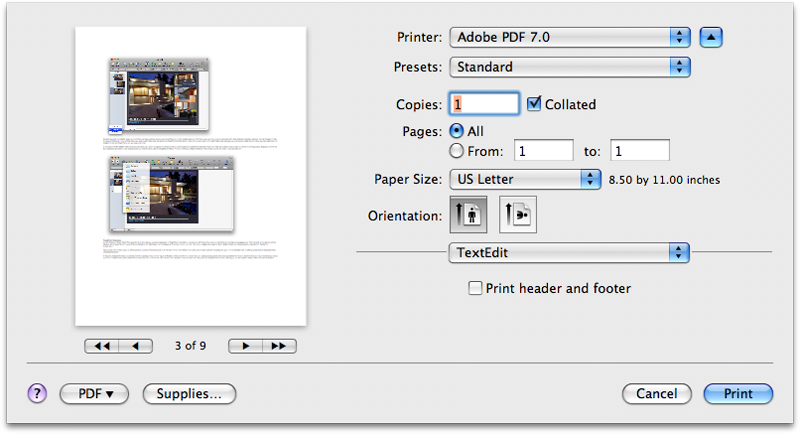 While PowerPoint is the weakest link in Office, Keynote is the most mature component of iWork. Both Excel and Word offer significant features missing from Numbers and Pages, but it's hard to suggest PowerPoint is even in the running against Keynote. Its graphics presentation tools are weak and the majority of settings are presented in modal windows that make editing settings a blindly frustrating effort. How would one adjust brightness in a photo using a modal window (below) that provides no feedback to the picture while editing it? The same problem looms for every other control nestled in that window and every other modal window in Office. These settings all obviously beg for a non-modal inspector panel. Office 2008 seems to repeatedly compensate for its user interface weaknesses by layering on multiple coats of makeup that only serve to make it look less professional.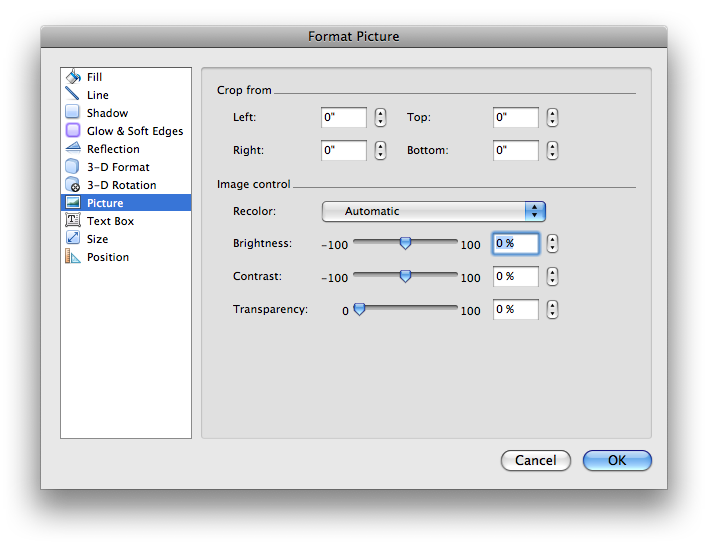 While a dedicated PowerPoint user could probably eventually deliver many of the effects possible in Keynote, doing so would be far more work and a lot less pleasant. The templates in PowerPoint are anemic and simplistic, the editing tools are spotty and limited, and the application seems intent on forcing you to make use of canned ideas rather that providing you the tools to actually create your own projects.
Keynote not only offers a great selection of powerful tools to create graphical compositions with functional tables, smart looking charts, and professional transitions and animations, but also presents them in an intuitive, simple layout that unleashes creative ideas quickly. You don't select from a handful of predictable and expected effects and then apply a set list of colors; instead you just have smart tools at your disposal that make your work faster. Some examples are the new Instant Alpha for erasing backgrounds, Smart Builds that use drop zones to quickly define sharp animation effects, and the intelligent masking and image adjustment tools for photos.
Like Excel, PowerPoint does not support live window dragging. Even more problematic, the text and graphical objects presented on a slide don't support live dragging. Instead, when you drag an object, you get an outline box, and the object doesn't redraw until you drop it. This is just bizarre for any application running on Mac OS X, but particularly for PowerPoint, given that its entire purpose is to create graphical compositions. Rather than looking exciting and interesting, the new PowerPoint in particular looks like a reheated application salvaged from the late 90s and in need of a complete overhaul. That's bad news considering that this "new version" of Office is supposed to be a fresh reworking of Office for the Mac.
It really looks like Microsoft should just dump PowerPoint and consider other components it could build from scratch for Leopard, similar to FileMaker's new Bento effort. It appears that PowerPoint has survived mainly to carry on the Office brand, but no amount of marketing can float a really bad product. Microsoft should rework its development efforts to deliver a fast, functional version of Word and Excel on the Mac that work as well as the Windows versions, and bury PowerPoint alongside File, FoxPro, Vizact, and Bob.
Apple's iWork '08 suite, which includes Keynote 4.0, is available from Amazon.com for $69.99, an 11 percent savings. Amazon is also offering instant savings on pre-orders of the various Office 2008 for Mac bundles.
Don't forget to check out our previous Road to Office 2008 installments: