Exclusive: Apple to adopt Intel's ultra-mobile PC platform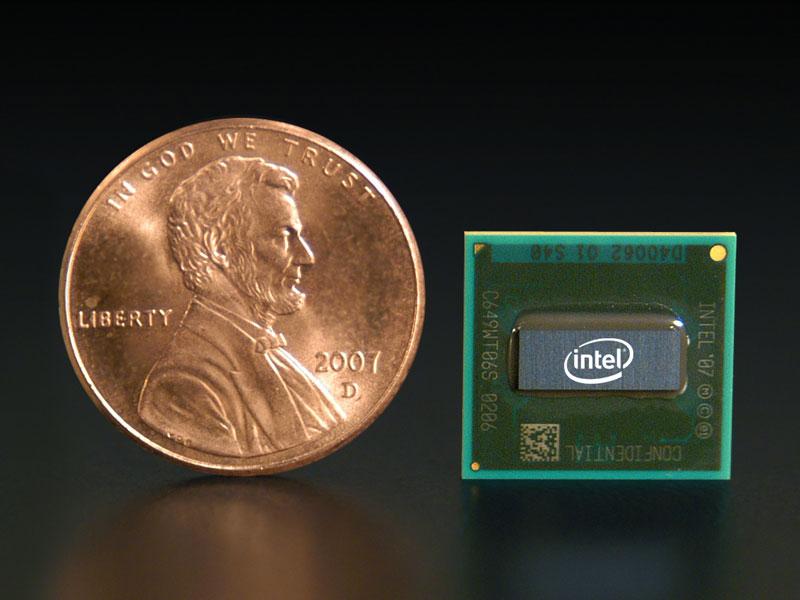 Apple Inc. will form a closer bond with once-rival Intel Corp. early next year when it begins building a new breed of ultra-mobile processors from the chipmaker into a fresh generation of handheld devices, AppleInsider has learned.
The two firms have been rubbing the sticks ever since the Spring of 2005, when Apple agreed to use Intel's desktop and mobile class processors to further the development of its Mac product line, leaving behind an ailing relationship with PowerPC chip supplier IBM.
In the months that followed, Intel went on to form an internal 'Apple Group' comprised of engineering and sales staff who serve to aid Apple's engineers in Intel-related product development, while pitching to the computer maker new technologies from its own internal skunkwork operations.Â
By last March, the two industry heavyweights were admittedly on to something when Deborah Conrad, vice president and director of Team Apple at Intel, told a group of CNet reporters that Apple's way of looking at the world was making Intel "think different" about its own business.
"That's really what's interesting about Apple, is they look at our technology in a very Apple way," she said, adding that when it came to the prospect of future gadgets other than the iPod, her team got "very, very excited."
The pair's first foray into this extended venture appears to have been the Apple TV wireless set-top-box, which employed a down clocked Intel Pentium M "Crofton" chip at its core. But what's on tap next promises to push the envelope in a completely different direction — ultra-mobile PCs.
People familiar with the matter tell AppleInsider that Apple will soon emerge as one of the largest supporters of Intel's "Menlow" Mobile Internet Device (MID) platform — the same platform the Santa Clara-based chipmaker has been harping about for the past several months.
More specifically, those same people say, Apple has taken a liking to the upcoming 45-nanometer (nm) "Silverthorne" chip, agreeing to use it in not one but multiple products currently situated on its 2008 calendar year product roadmap.Â
Introduced at this year's Spring Intel Developer Forum (IDF) with availability slated for early 2008, Silverthorne is aimed specifically at cell phones, ultra-mobile PCs and other MIDs. The chip is expected to be as fast as the second-generation of Pentium M processors, but use only between half a watt and 2 watts of electrical power — about one tenth as much as a typical notebook chip.
For his part, Intel chief executive Paul Otellini has gone on record in placing the advancements due with Silverthorne in the same light as those delivered by the original Pentium microprocessor way back when.
"The importance of the new Silverthorne chip is only comparable with the 8088 processor or Pentium," he told the German-language Frankfurter Allgemeine Zeitung in a June interview. Otellini added that his firm plans to deploy a whole "product family" of 45 nm Silverthorne chips in the near future aimed at capturing the "top 10 to 20 percent of the cellphone market."
While those people familiar with Apple's product roadmap did not specify in which products the company planned to utilize the Silverthorne processors, two seemingly apparent contenders appear to be the second-generation 3G iPhone and the much rumored Newton successor / ultra-portable slate computer.
Silverthorne side by side with a penny.
That's because, in addition to its extremely favorable power envelope, Silverthorne can fit onto a scant 74mm by 143mm motherboard — paving the way for lighter, sleeker industrial designs. What's more, Intel in September announced plans to offer ultra-mobile PC builders such as Apple the option to build WiFi, 3G, and WiMAX technologies into their Menlow-based chip packages, such as Silverthorne.
While embedded support for these features threatens Apple's ongoing relationship with several component makers like South Korea-based system-on-a-chip (SoC) supplier Samsung — whose chips power both the iPhone and new iPod touch — it presents several cost- and space-saving opportunities for iPhone-like gadgets going forward.
Speaking at the Spring IDF, Otellini said Silverthorne focuses more on cost-efficiency than any of his company's recent designs, which should help Intel boost margins while simultaneously making ultra-mobile computing more affordable worldwide.Â
"Silverthorne is the most cost efficient processor since the 286," he said, wielding a 300mm wafer containing a whopping of 2500 of the 45nm processors. "But it is about 100 times faster."
Otellini promised that the average price of a Silverthorne-based product would be approximately $100, which in itself suggests numerous inexpensive devices for Apple. However, several pricier products are also expected to sport the technology alongside added features.
It remains unclear whether Apple will be ready to divulge details of its own Silverthrone-based products at next month's Macworld Expo, or if those announcements will be reserved until a later date to coincide with general availability of the Intel chip.
Nevertheless, Apple's decision to adopt the Menlow platform further suggests a longer-term strategy that would indeed see the electronics maker step up to that platform's successor, Moorestown, in 2009 or 2010.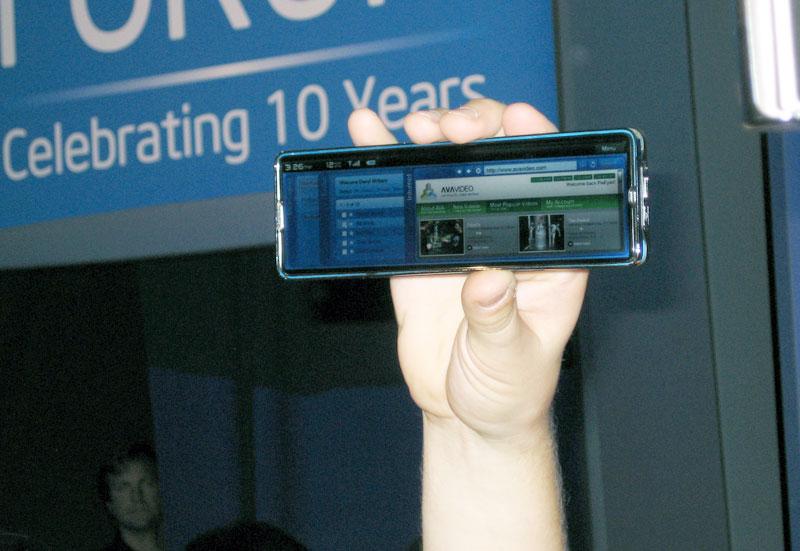 Intel shows off iPhone-like concept device running on Moorestown platform | Image courtesy of DailyTech.
At the most recent Fall IDF, Intel executives flaunted an unnamed Moorestown processor, describing it as the 'chip the iPhone would have wanted.' Similar to Silverthorne, the 45nm design bundles an integrated memory controller, video encode/decode engine and graphics processor all on a single SoC.
During an ensuing demonstration, executives whipped out an iPhone-like ultra-mobile PC in apparent homage to Apple, explaining that the Moorestown-based device could run constantly for 24 hours between charges.