Apple's iPhone goes on sale in Austria, Ireland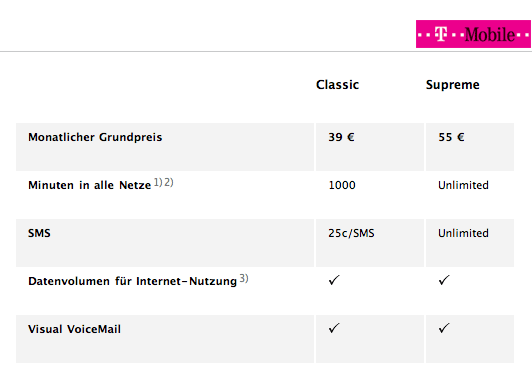 Apple on Friday began selling the iPhone in both Austria and Ireland, marking the fifth and sixth countries to see official support for the touch-screen handset since it first went on sale in the US last June.
Nearly all of the details surrounding the Austrian launch that were published Thursday evening turned out to be accurate with the exception of the top tier calling plan offered by T-Mobile Austria.
While the wireless carrier's website had initially listed the €55 "Supreme" calling plan as including a 3GB data cap, 4000 minutes, and 1000 SMS messages per month, Apple's Austrian site lists the plan with a 3GB cap and unlimited minutes and SMS messages.
Meanwhile, an entry-level €39 "Classic" plan includes a 3GB data cap, 1000 minutes, and no allotment of SMS messages, which will instead cost 25c each. Both plans offer Visual Voicemail support, though usage of the feature will draw from the 3GB monthly data cap.
Matching pricing in France, Germany, and Ireland, the iPhone itself retails for €399 and €499 in 8GB and 16GB configurations, respectively. The device, which requires a two-year service contract, is available from the online shops of both Apple and T-Mobile, as well as T-Mobile's 39 local retail shops.
In Ireland, details of which were announced last month, O2 wireless customers can select between three monthly plans, starting with a €45 option that includes 175 anytime minutes and 100 text messages. A €65 tariff includes 350 anytime minutes and 150 text messages, while the high end tariff offers 700 minutes and 250 text messages for €100.
All three plans require a 18-month agreement and none include unlimited data or Visual Voicemail at this time. Instead, all three bundle just 1GB of data transfer and a 15c per minute charge for checking messages.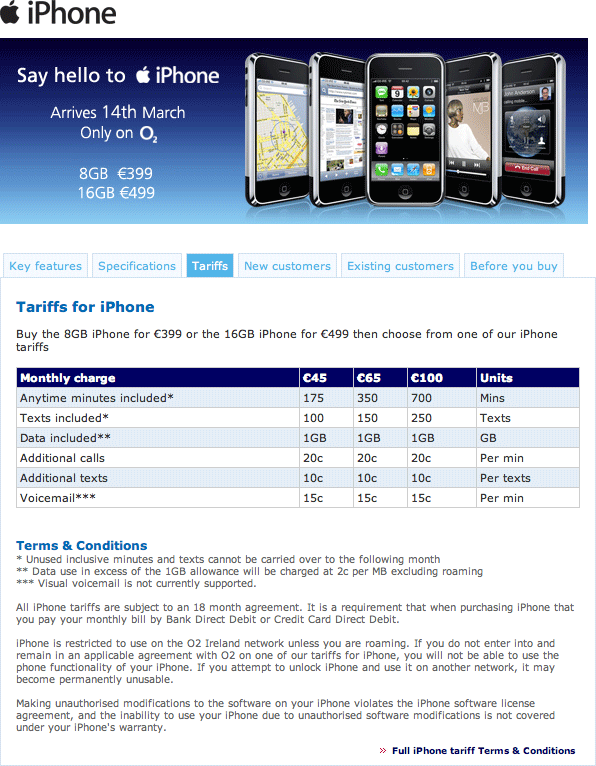 Similar to distribution in the UK, the iPhone will be made available through O2's local retail stores as well as local Carphone Warehouse shops.