Austria iPhone details revealed; Apple's design process exposed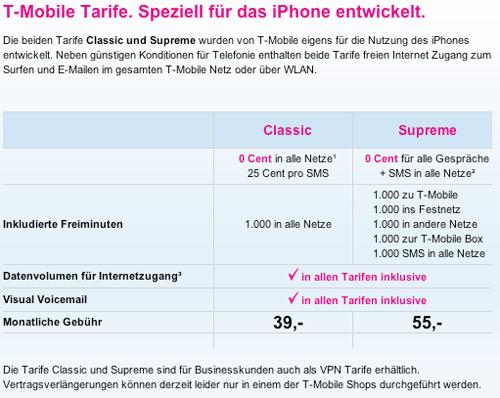 T-Mobile Austria has posted listings for the iPhone and its plans ahead of an Apple announcement. Also, a senior Apple engineer has revealed the company's unusual approach to its software design.
Austria reveals iPhone service details
Although yet to be discussed outside of the site by either Apple or T-Mobile, a special iPhone page has appeared that lists 8GB and 16GB handsets as selling for 399 Euros and 499 Euros respectively, matching similar pricing in France, Germany, and Ireland.
The company also reveals that its iPhone plans will offer more than its fellow T-Mobile division in Germany: a "Classic" plan at 39 Euros will include 1000 minutes of airtime for calls to any network versus the 100 minutes available with Germany's starter 49 Euro plan. A "Supreme" plan at 55 Euros adds 1000 SMS messages and also supplies 1,000 extra minutes each to other T-Mobile customers, the voicemail inbox, and other providers.
However, while the plan includes access to Visual Voicemail, the company reveals that Austrian users will encounter a data cap similar to that in Ireland: both the Classic and Supreme plans are limited to 3GB of data per month.
T-Mobile has not revealed its launch date but is reportedly set to launch the iPhone as early as tomorrow. In a statement on the Austrian site, the carrier says it expects to sell the phone through its 39 retail shops as well as its online store.
Apple manager discusses company software design
If Apple's software looks unusually well-designed and provides unique solutions to problems, that's because the company doesn't obey typical rules, Apple senior engineering manager Michael Lopp has revealed in a South by Southwest technology panel attended by BusinessWeek's Helen Walters.
Design mockups, which replicate the interface look and its mechanics, are one of the most important differentiators, Lopp says. Rather than sketch several crude mockups that will need to be changed later, Apple designers often create ten mockups that almost exactly mimic the final appearance. This adds extra time up front but pays off by preventing mistakes.
This is more than the seven or less renderings that come from other companies, the engineer adds, and is carried through to the completion stage: designers are given enough time to create their concepts and pick the top three, which themselves are refined for three months until the final interface is chosen.
The company also follows the unusual practice of holding two seemingly contradictory meetings each week. In one, the developers are encouraged to think of any design that might work, no matter impractical it initially seems; in the next, the same team is asked to determine how it could make a given plan a reality and focuses on concrete development. In doing so, Apple opens up the possibility of a creative solution even very late into production.
Importantly, Lopp adds, this also safeguards against conflicts in so-called "pony" meetings: gatherings where management outlines its desires for a product, no matter how unrealistic they might be for the actual designers. By learning what the team considers workable at any given stage, executives not avert long-term disasters but also may get the features (or "ponies") they want through different means.