WWDC sold out with over 5,000 attendees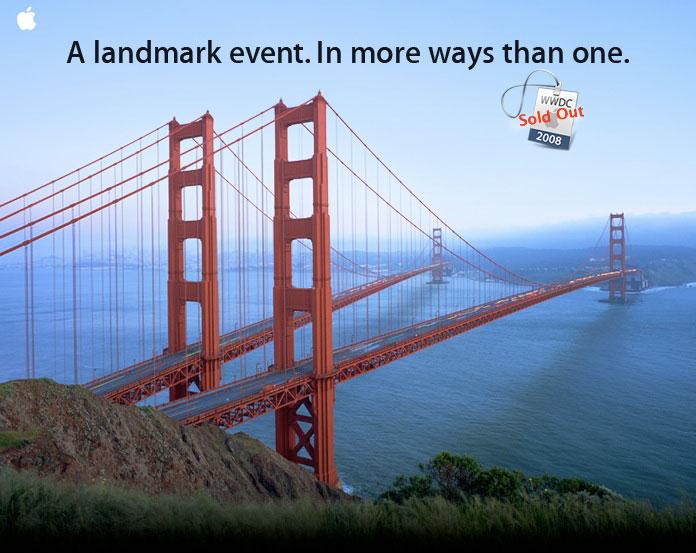 Apple's Worldwide Developer Conference, scheduled for June 9-11, has sold out for the first time ever. Attendance at the event has rapidly grown as interest in the Mac platform has snowballed in proportion to rapid new sales of Macs.
Build It and They Will Come
This year however, WWDC is expanding to address the new iPhone mobile WiFi platform, an new expansion Apple illustrated in WWDC marketing with a photoshopped doubling of San Francisco's landmark Golden Gate Bridge.
At last year's event, which focused on the then yet unreleased Mac OS X Leopard, Apple unveiled a preliminary web-based development program for the iPhone, which resulted in some howls of protest from developers who wanted to tap into the full features of the device rather than just offer server side custom web applications.
Since then, Apple released the iPod touch and then promised a full Software Development Kit for both devices based on the same Cocoa development tools as Mac OS X. Interest in developing applications for the iPhone and iPod touch kicked into overdrive in February as Apple outlined plans to securely host developer's signed applications in the iTunes Store and offer direct wireless downloads from the devices via a new App Store icon.
The prospect of a piracy and malware resistant development program has seen enthusiastic interest from everyone from games developers including EA and Sega to custom corporate Intranet development and major software vendors from Microsoft to IBM to Salesforce.com. Adobe and Sun have also been feverishly working out how to port their Flash and Java ME platforms to the iPhone, apparently without much help from Apple.
WWDC has grown dramatically in recent years, prompting Apple to move the event from the original underground Moscone Center into the modern new Moscone West building. Last year, Apple set a new record for WWDC attendance with 5,000 developers from around the world.
Apple hasn't said how many have registered for this event this year, but had to cap further ticket sales due to space limitations. On its developer web site, under the notice that WWDC 2008 has sold out, Apple says, "You can still get all the great content from WWDC 2008. Session videos will be available to purchase on iTunes shortly after the conference. More details will be available soon."