Psystar taunts Apple with Xserve clone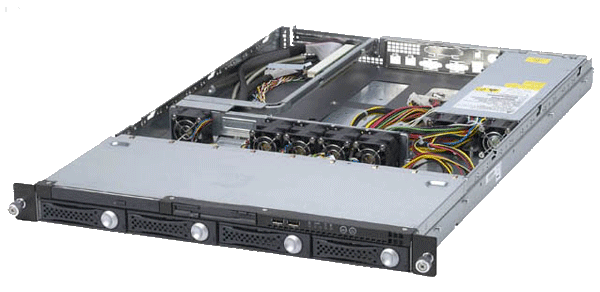 AppleInsider may earn an affiliate commission on purchases made through links on our site.
Aggressively staking its claim as the lone company outside of Apple selling Mac OS X systems, Psystar on Thursday has unveiled a pair of Xserve-like rackmount computers unofficially based on Apple's Mac OS X Leopard Server.
The one-unit-tall OpenServ 1100 and the two-unit OpenServ 2400 both run the server OS in either its 10-client or unlimited versions but promise 2.5GHz Xeon processors and storage options that aren't available in any of Apple's systems — including the very nature of the taller 2400, which also has six hard drive bays and a floppy drive.
Unlike Apple's servers, users can also specify a standard copy of Mac OS X Leopard rather than the server-class software, bringing the price of the base OpenServ to $1,724 with the software selection.
The release further cements Psystar's unusual position in the computer market as the only company to go unchallenged in selling unofficial Mac clones. Although the company is using third-party hacks to emulate Mac firmware and is otherwise known to be violating Mac OS X terms of service, Apple hasn't yet challenged the clone maker with warnings or legal action since it began selling a $400 Mac OS X tower in April.
For its part, Psystar has been on the offensive in staking out its rights to sell its clones, arguing that Apple would violate antitrust laws by attempting to ban third-party hardware and that Psystar itself wasn't violating any rules.