AT&T announces iPhone 3G plans, 8 a.m. launch time on July 11

AT&T announced Tuesday that iPhone 3G buyers will be forced into more costly service plans than those offered alongside the original iPhone. Plans will now start at $70 for a package that includes 450 minutes and no text messages. The carrier also issued a series of "tips" on how to be "iReady" when the new Apple handset goes on sale at its retail stores at 8 a.m. local time on Friday, July 11.
iPhone 3G will be available for $199 for the 8GB model and $299 for the 16GB model. Both prices require two-year contracts and are available to the following customers:
iPhone customers who purchased before July 11
Customers activating a new line with AT&T
Current AT&T customers who are eligible, at the time of purchase, for an upgrade discount
Existing AT&T customers who are not currently eligible for an upgrade discount can purchase iPhone 3G for $399 for the 8GB model or $499 for the 16GB model. Both options require a new two-year service agreement. In the future, AT&T will offer a no-contract-required option for $599 (8GB) or $699 (16GB).
Current customers may also choose to wait until they become eligible for an upgrade discount. Eligibility is generally determined by amount of time remaining on a current contract and payment history. Customers can check their upgrade eligibility and other wireless account information at www.att.com/iphone. The site also includes a series of "Get iReady" tips and frequently asked questions.
Current AT&T customers who are upgrading to iPhone 3G will be forced to pay an $18 upgrade fee and new AT&T customers will be forced to pay "the standard $36 activation fee."
Voice, Data and Text Messaging Plans
AT&T said iPhone 3G customers can choose from four individual AT&T Nation plans, which bundle voice and unlimited data (e-mail and Web browsing) but no SMS messages (which will cost extra):
AT&T NationSM Unlimited: Includes unlimited Anytime Minutes for $129.99 a month.
AT&T Nation 1350: Includes 1350 Anytime Minutes and unlimited Night & Weekend Minutes for $109.99 a month.
AT&T Nation 900: Includes 900 Anytime Minutes and unlimited Night & Weekend Minutes for $89.99 a month.
AT&T Nation 450: Includes 450 Anytime Minutes and 5,000 Night & Weekend Minutes for $69.99 a month.
All AT&T Nation and AT&T FamilyTalk plans for iPhone 3G include nationwide long distance and roaming, Visual Voicemail, Rollover, unlimited Mobile to Mobile calling, Call Forwarding, Call Waiting, Three-Way Calling and Caller ID.

AT&T will offer FamilyTalk plans, with bundled voice and unlimited data, starting as low as $129.99 a month for two iPhone 3G lines. Up to three additional iPhone lines can be added for $39.99 each.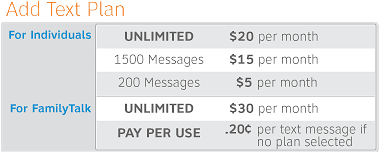 Unlimited text messaging can be added for an additional $20 ($30 for FamilyTalk plans of up to five lines); $15 (1,500 messages), or $5 (200 messages).
Business customers interested in iPhone 3G should contact an AT&T business sales representative or review their account information online to determine their eligibility for upgrade pricing. Corporate e-mail and other business applications require the Enterprise Data Plan for iPhone, which is $45 a month and bundled with an eligible voice plan. Small business customers may qualify for AT&T BusinessTalk, a shared plan specifically for small businesses. Additional details on iPhone business offerings are available at www.att.com/iphoneforbusiness.
All iPhone customers will benefit from the iPhone 2.0 software, which will be pre-loaded on all iPhone 3Gs and available as a free download for current iPhone customers. The new software will include numerous enhancements, such as business-class e-mail access via Microsoft Exchange ActiveSync; the iPhone Software Development Kit (SDK), which allows a business to easily create applications customized to its needs; and the App Store, which offers a wide-range of applications — from games to business, education to entertainment and productivity to social networking. For example, AT&T has developed YELLOWPAGES.COM Mobile for iPhone, which takes local mobile search to a new level by allowing users to discover businesses and local events based on their popularity among other iPhone users, get directions and access business reviews.
AppleInsider readers are discussing the new plans in the forums,