Visual preview of top 10 new iPhone games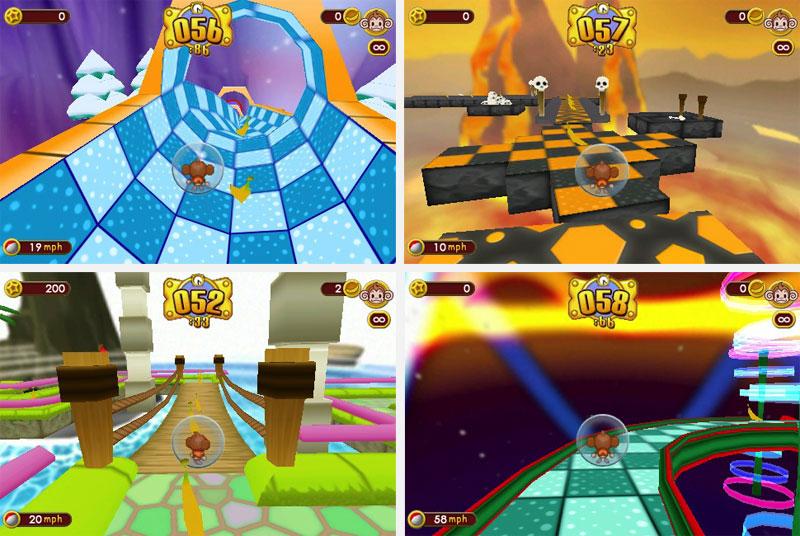 iPhone users on Apple's just-launched App Store are already downloading applications by the thousands. This article previews the top 10 games based off the number of downloads thus far. Included is pricing information, size information, descriptions, and screen shots of each title.
In Super Monkey Ball, you guide "a cute little monkey" encased in a transparent ball to victory by tilting and rolling him through a variety of slopes and turns. You must navigate a large variety of obstacle courses to reach goal lines within set time limits. Collect as many bananas as you can along the way and you'll be able to increase your remaining lives. Super Monkey Ball utilizes the accelerometer inside your iPhone or iPod touch and includes five worlds and 110 stages.
Enigmo is a 3D puzzle game where you direct animated streams of flowing liquid so that the droplets get to their destination. Water, Oil, and lava fall trom Droppers and bounce around the walls of the puzzle. You move and rotate various types ot bumpers, sliders, accelerators, and sponges in order to divert the flow of the tailing droplets. The faster you complete each of the 50 levels, the more bonus points you receive.

Cro-Mag Rally is a wild 3D racing game where you are a speed-hungry caveman named Brog who races through the Stone, Bronz. and Iron Ages in primitive vehicles such as the Geode Cruiser, Bone Buggy, Logmobile, Trojan Horse, and others. Brog has at his disposal an arsenal of primitive weaponry ranging from Bone Bombs to Chinese Bottle Rockets and Heat Seeking Homing Pigeons.
There are 9 different race tracks, 11 different vehicles to drive, and 9 types of powerups. To steer the cars you use the iPhone itself as the steering wheel.
Cro-Mag Rally is suitable for all ages.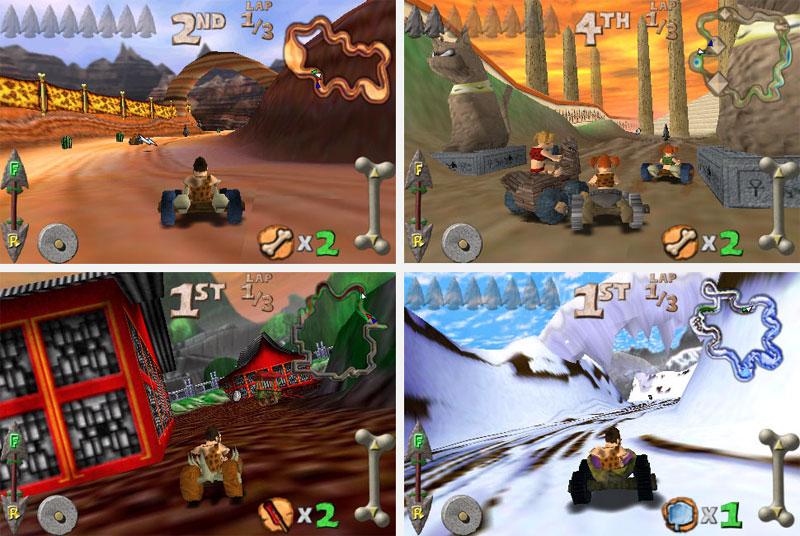 The Apple-written Texas Hold'em lets you "play like a pro" against realistic oppononts or with your friends over a WiFi network. "Use all of the hints, tips, tells, and your mastery to gain access to exclusive rooms with higher-stakes and bigger rewards.
- Switch between immersive first-person and top-down gameplay by rotating your iPhone or iPod touch
- Visually stunning graphics and realistic sound effects - Opponents bet, bluff, and have secret tells
- In-game hints, tip's, statistics, and player ratings
- WiFl multiplayer support for up to 9 players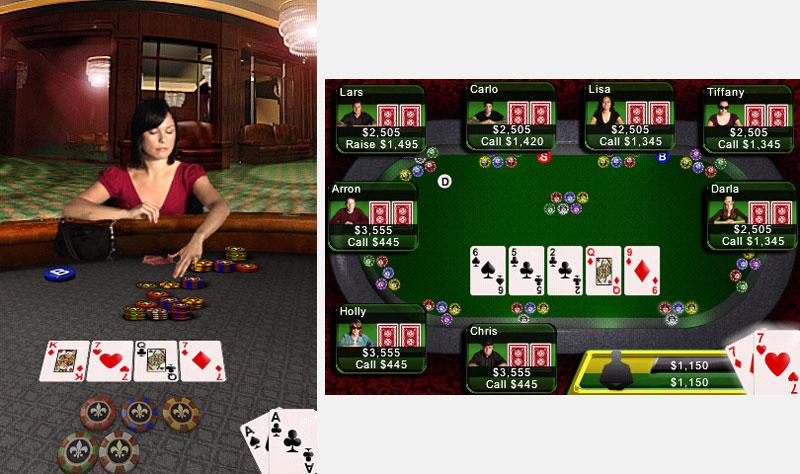 Bejeweled 2 is the sequel to the classic gem-swapping puzzle: "Sit back, relax and marvel at the fun you'll have when you swap adjacent gems to match three or more sparkling jewels."
The more matches you make, the higher your score, There are two game modes with Power Gems and Hyper Cubes. Bejeweled 2 is fully optimized for the touch screen, it's an all-new way to play the award-winning game. Players can also add in planetary backdrops and special effects. Gameplay lasts up to 2 hours.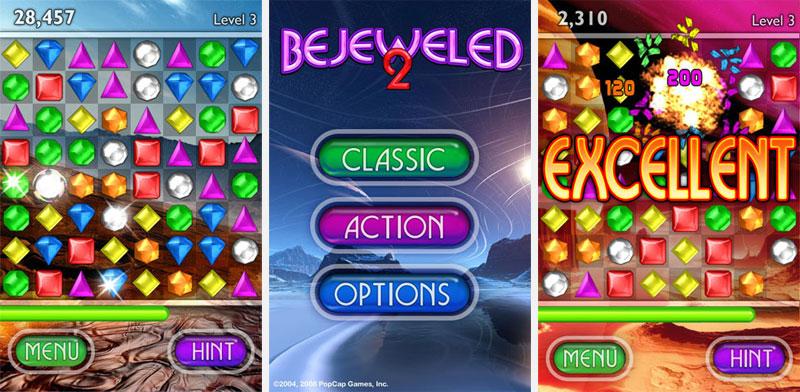 "The story of 'The Legend of Mystic Bomb': Get a hidden treasure in the ruins. It is said that deep inside the jungle lies a heretical ruins called KABOOM TEMPLE, where a legendary treasure is hidden somehwhere. Many adventurers have tried, but none succeeded to even come home alive. It is here that you will see another daredevil who will take on this challenge, at the risk of his own life, to face KA-BOOM TEMPLE. He is, Bomberman."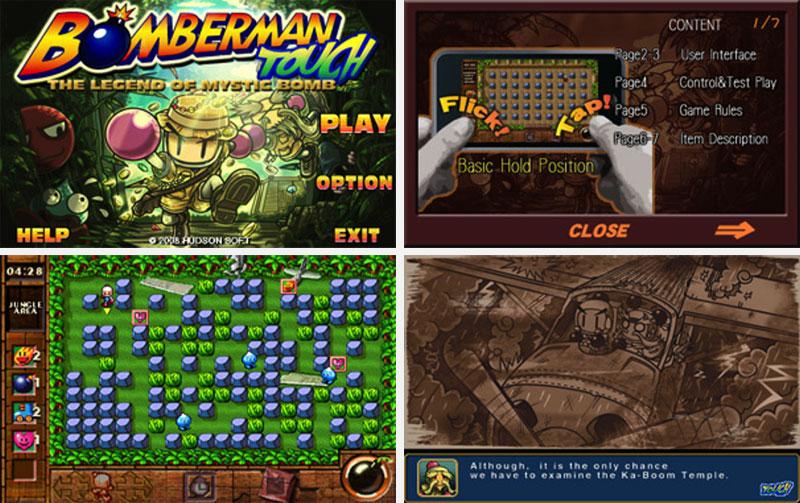 "Grab your bike and hit the road. Race through checkpoints. weave through traffic, fend off dangerous biker gangs and hit some sweet jumps along the way."
Race from Miami Beach to the Andean mountain, and around the globe.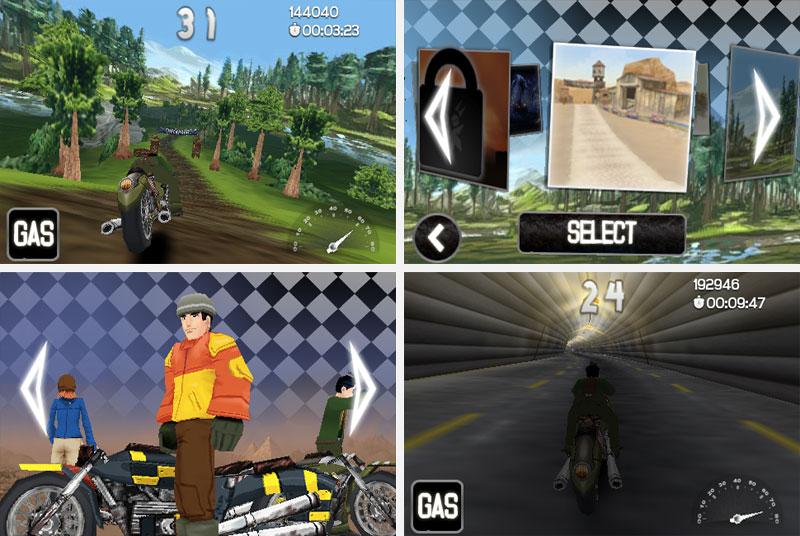 Trism is a casual new type of tilt and touch game in the spirit of Tetris and Bejeweled.

Aqua Forest is a unique application utilizing "OctaveEngine Casual" which is a /O-based multi-physics engine for casual games. This engine uses a particle-based physics model that has few restrictions. It can calculate almost any type of objects, not only solid materials, but also elastic body, plastic body, fluid and gas. In the "FREE" mode of the application, you can draw and create various shapes of objects and you can experience the ability of the engine. In the "PUZZLE" mode, with exploiting the touch screen and accelerometer, you will challenge the puzzles designed by ·"OctaveEngine Casual" that you'd have never seen before. There are 5 categories and each category has 10 puzzles.

"Relive the retro action with the undisputed queen of the arcades in Ms. PAC-MAN for your iPhone. Chomp your way to a champion score as you gobble dots, chase down delicious bouncing fruit, and eat up the ghosts when they're feeling blue. Learn the twists and turns of four unique maze designs in the 256 stages of this faithful rendition of the classic game."