Verizon now touting own 'Visual Voice Mail' service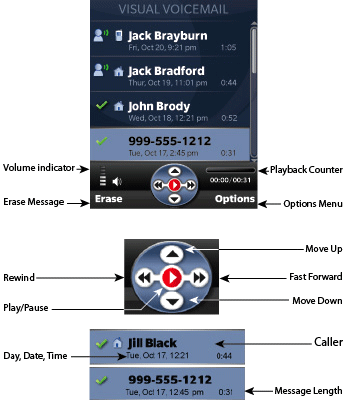 Playing catchup with rival AT&T and technology available on Apple's iPhone since last year, Verizon Wireless on Monday introduced its own visual voicemail service to a limited number of subscribers for an added monthly fee.
The new application, dubbed 'Visual Voice Mail,' offers a visual interface for managing voice messages, allowing users to browse, hear, delete, reply and forward their voicemails without having to first dial-in and listen to the messages in sequential order.
"Scroll through your messages, pick the ones you want to listen to, erase or archive them right from your screen on your wireless device," Verizon says on website touting the new service. "You can call back, text and add to contacts directly from the Visual Voice Mail screen."
Users of the $2.99 per-month service will be able to store up to 40 messages for 40 days, create up to 10 greetings, and specify up to 20 distribution lists and 50 distribution members to receive messages.
For those users who wish to avoid human interaction entirely, the Visual Voice Mail application also offers an option to reply to a voicemail with a text message or another voicemail.
The Alcatel-Lucent- and Comverse-powered service is currently available only to owners of LG's Voyager handset, though Verizon said it "expects to offer Visual Voice Mail on additional devices in the coming months."
Unlike the iPhone, which is capable of receiving new features and software updates over the Internet, existing Voyager owners will need to make a trip to their local Veirzon Wireless retailer to receive a software update that includes the new Visual Voice Mail application.
Newly manufactured Voyager handsets will include Verizon Software version VX10KV09 or later, which will be capable of using the service without an in-store software upgrade.