Apple Enterprise sending thousands of Macs into hotels, cruise ships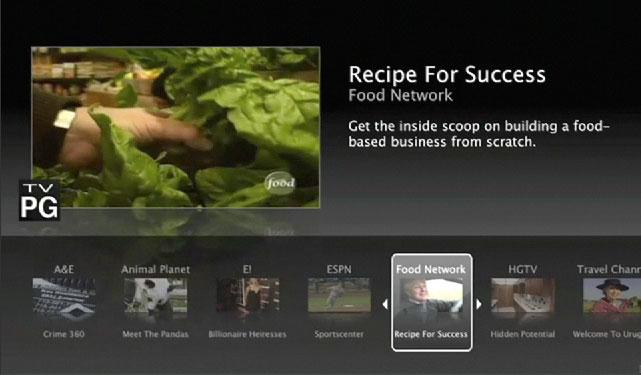 Apple's Enterprise Sales Group has been quietly installing thousands of iMacs, Mac minis, Mac Pros, and Xserves in hotels and cruise ships in a new push to bring the media rich experience of Apple's retail stores to the hospitality industry, where hoteliers are seeking to deliver personalized, unique experiences that will impress guests and bring them back for more.
Ten thousand Macs in front of luxury customers
In June, Fontainebleau Resorts announced plans to install 24" iMacs in all 1,400 rooms of its Miami Beach property now undergoing a $500 million renovation, as well as the 3,889 rooms of its new $2.9 billion, 63-story luxury resort in Las Vegas opening next year. The UK City Inn Group unveiled similar services for its hotels in Birmingham, Bristol, Glasgow, Manchester, and London, noting on its website, "you get what you should always expect: iMac computers, free wi-fi and Sky in every bedroom."
Royal Caribbean Cruise Lines began installing Mac minis in its floating hotels three years ago, starting with two of its 3,600 passenger "Freedom Class" ships. That includes the "Freedom of the Seas," the world's largest passenger ship ever built. Royal Caribbean is also building an IT infrastructure from Apple's hardware on its Solstice Class ships for Celebrity Cruises, as well as two of its own new $1.24 billion Oasis Class ships, which will accommodate at least 5,400 passengers each and assume the title of the world's largest passenger ships when completed a year from now.
Those massive infrastructure deployments, involving up to 16,150 Ethernet drops per ship, a 10 gigabit network backbone, thousands of client Macs and racks of Xserves, are adopting Apple's hardware for the same reasons the luxury hotels on land are: Mac hardware and software offers a differentiating end user polish while being easy to manage.
Hotels have actually asked for Apple's help in bringing iTunes-style simplicity to their luxury accommodations. Many hoteliers are "struggling to reach the digital demographic" and "to differentiate themselves," explained Bradley Walker of Nanonation in a seminar on Macs in the hospitality industry. "You've been to the Apple Store," Walker said. "If you could recreate that in a hotel, that would be a very attractive place to stay."
Nanonation is working with Apple to bring its technology to cruise ships, casinos, convention centers, and both large and boutique hotels. The initial applications have involved digital signage and display walls, which typically provide large format, one-to-many information services. Nanonation has also begun leveraging the unique software features of Mac OS X to build interactive solutions for lobby or pool side concierge service as well.
Installations in public locations can remind a guest of a spa appointment, allow them to order drinks, or make a service or restaurant reservation. Personalized services for the iPod touch and iPhone are also in development. "We're really excited about what Apple's done with the enterprise SDK," Walker added.
Last summer, Microsoft floated its Surface product concept as a way to deliver attention-grabbing interactive kiosk services in hotels and retail stores. Some appeared in AT&T retail stores this spring, and earlier this week, Surface installations were announced for five Sheraton hotels in the US.
However, the 30" Surface form factor (a YouTube parody of the Surface advertisement called it the "big ass table") uses an expensive combination of video projectors and scanners to deliver its kiosk services, making it too expensive (around $10,000) to install outside of a few public areas.
Apple is working to install its computers everywhere in the hospitality industry. In addition to freestanding iMacs in rooms, the smaller Mac mini is being promoted for installation in public kiosks and for use with standard flat screen televisions as a sophisticated set top box. The Mac Pro is used to drive larger display walls and digital signage, using Quartz Compositor to create programatically designed visuals that interact with feeds from external data sources and respond to input devices or music. The iPhone and iPod touch are also being used to deliver personalized customer-facing services.
In addition to public kiosk information services, Nanonation has also worked with Apple to develop its customizable Nanopoint software to enable hotel properties to tailor in-room virtual concierge services built around an iMac in every room. For example, the systems can provide walking directions to attractions, details on local nightlife, weather reports based on updated feeds, and offer local services such as spa appointments.
While most competing systems are based around a web browser, Nanopoint on the Mac moves away from the browser to deliver a richer media experience. Leveraging Mac OS X's graphics compositing tools, the software can present video with interactive controls and animated elements to deliver an impressive experience. Hotels typically just provide guests with a remote control to flick through cable channels and sometimes a custom video on demand service, but digital and HD TV tuners frequently take a moment to present each channel.
Apple's server technologies can support HD content with fast channel changing and an elegant presentation with video previews (below top), integrating episodic TV with video on demand as well as customized music services that remember guests' preferences and present player controls right on the screen, composited over full motion video with drop shadows and reflections. Nanonation also demonstrated Chat services between hotel guests (below bottom), such as those traveling together or attending the same convention or other event.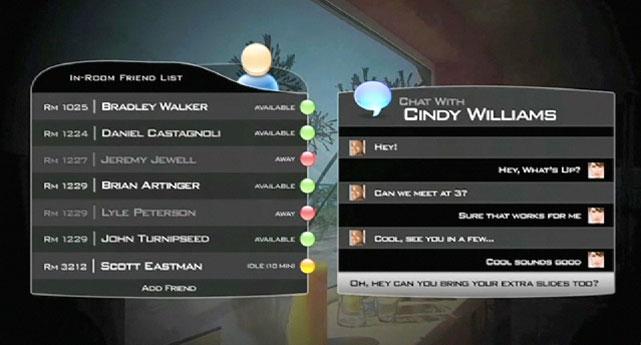 On page 2 of 2: Not just a pretty face; The Xserve side; Cruise control; Tools for large Mac deployments; and iPhone for the other enterprise.
Beyond the rich interface, Macs also provide a hotel-friendly hardware sophistication that PCs or set top boxes typically don't. "Stylistically, the guest facing hardware has to be beautiful," Walker said. "The iMac is a great example of something that just looks wonderful in a room. It immediately elevates the opinion a guest might have of a room when they see that piece of art sitting on the desk."
On the IT side, it's also important that equipment is up and running for the guest and easy to maintain. "The beautiful thing about the Mini," Walker noted, "is that it is interchangeable. It can be used to drive digital signage in the lobby. It can drive interactive touch points in other places, or it can drive the in-room experience on the large format television. If something goes wrong or you need to replace it, the same box goes into each of those locations, making it very easy to administrate from an IT perspective."
On the server side, Nanonation developed CommandPoint as a flexible, expandable server management tool for Mac OS X Server. CommandPoint handles user interaction communicated between the server and guests' client Macs running the Nanopoint software. It also manages kiosks and digital signage systems, and serves as a central tool for uploading content, scheduling playlists, creating layout templates, and monitoring the real-time health of each player on the network.
Other Mac OS X Server Xserves in a typical hotel installation run AJA video injest cards to capture content from satellite feeds. QuickTime Streaming Server and Wirecast are used to composite video streams together and deliver it to guests' Macs over the network. A single Xserve can deliver HD video on demand to 200 users.
Additional Xserves are used as admin servers to handle network services, as well as file sharing and Xsan metadata. The servers are connected via a Fibre Channel switch to a Promise RAID unit. Mac mini and iMac client machines are linked up via high speed Ethernet.
In addition to in-room entertainment, Macs are also being put to work to deliver public area interaction. Digital interaction systems were the first application of Macs on board Royal Caribbean's cruise ships. Two 65" touch screens installed in the ships' spa and fitness center were designed to provide interactive guest services narrated by a live action personal trainer (below top) and a spa specialist (below bottom), filmed in HD and composited into the interactive menus.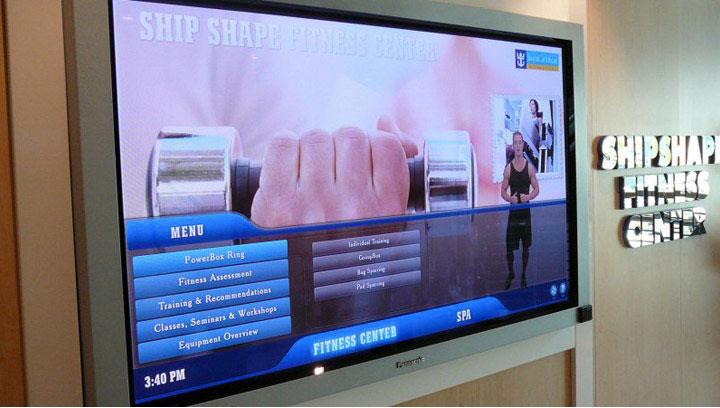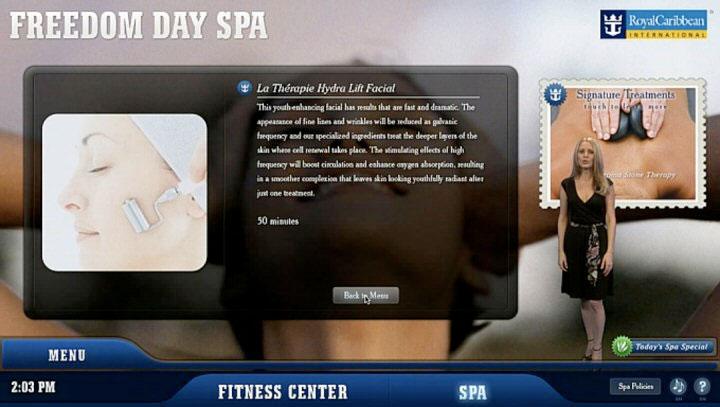 Other Mac driven display systems on the ships offer to provide wayfinding services (below) to help guests find points of interest on the gigantic ships or obtain information on shore excursions or other guest services. Additional systems are installed in the ships' broadcast center and IT data center.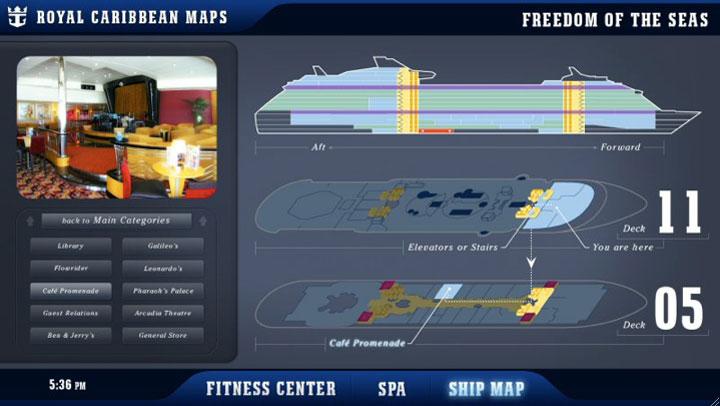 Tools for large Mac deployments
Royal Caribbean's vast Mac installations have to interact with existing IT system and protocols. The ships' networks use Multi Protocol Label Switching to enable class of service (CoS) tagging for prioritization of specific types of network traffic. That traffic management helps to push out thousands of concurrent multicast and video on demand streams.
The network multicasts both video streams and ASR (Apple Software Restore) remote imaging, allowing admins to wipe and reinstall a clean, 3.5 GB software image on a thousand Macs in five minutes. The ships' Macs can also be remotely configured via Unix commands, making it easy to roll out software updates or perform housekeeping operations.
iPhone for the other enterprise
While the iPhone has been getting a lot of attention in the offices of Fortune 500 companies, the hospitality industry is also interested in the iPhone and iPod touch to deliver a handheld experience that integrates with the personalized presentation and guest services features already being supplied to in-room desktop Macs.
Apple demonstrated the potential for wireless retail ordering systems in its Starbucks integration with the WiFi iTunes Store. Developers are now working to build similar location sensing services for ordering drinks, accessing reminders and messages, and other services related to a guest's stay.
The iPod touch is not only cheaper than most other handheld kiosk systems, but its also easier to develop custom applications for, looks classier when handed to guests for their use, and supports rich media playback, web browsing, and standard WiFi networking, something few PDAs, smartphones, or other specialty devices can manage all at the same time at a similar price point.
Putting the iPod touch and iMacs in front of well heeled customers on vacation can only help accelerate Apple's push into the consumer market; the company already holds 66% of the market for retail PCs over $1000. The public exposure afforded by its retail stores has had a tremendous impact on the company's sales in the US and in other markets where stores have opened.