Rising iPhone browser share points to sales of 5 million 3G units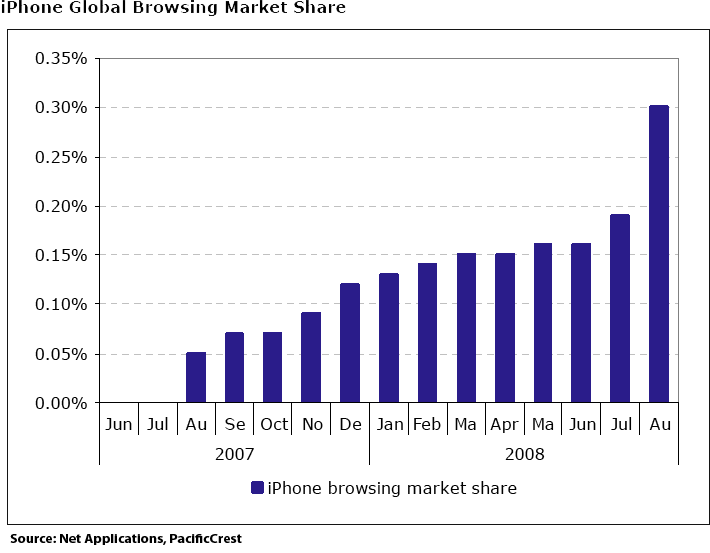 The iPhone's share of the worldwide browser market has increased nearly twofold following the release of the iPhone 3G last month, leading researchers at PacificCrest to suggest that September quarter sales of the device may be tracking 1.5 million units ahead of expectations.
In a report to clients Tuesday, analyst Andy Hargreaves cited data from Net Applications that shows the iPhone's share of the global browser market to have accelerated to 0.31 percent from 0.16 percent since the July 11th launch of the iPhone 3G.
Should the trend continue through the remainder of the quarter (ending September 30th), it would suggest upside of approximately 1.5 million units to his previous estimate of 3.5 million iPhone sales.
"iPhone's share of Internet browsing is now four times that of Windows Mobile and nearly 40 percent of Linux's share," Hargreaves wrote. "Over the long term, we expect iPhone's advantages to drive strong hardware revenue growth, while providing new opportunities to monetize the user base through value-added services."
More specifically, the analyst said the iPhone's share of the browser market has grown nearly 100 percent in the four countries that had access to the original iPhone. Meanwhile, the 17 countries that did not have the original iPhone have seen browser share increases range from 50 percent to 1,100 percent.
"iPhone 3G has generated its most impressive increase in browsing in Japan, where its share has grown to 0.12 percent from 0.01 percent over the past six weeks," he wrote.
In support of his latest estimates, Hargreaves noted a strong correlation between growth in iPhone browser share and unit sales over the past year. For instance, Apple sold 2.3 million iPhones in the previous December quarter and saw its browser share increase by 0.05 percent.
With the iPhone's share having risen another 0.15 percent in just six weeks following the release of the 3G model, current estimates of 3.5 million unit sales therefore seem overly conservative, or about 1.5 million units shy.
"Notably, Apple will be launching iPhone in 20 new countries on Aug. 22 and will be distributing through Best Buy starting on Sept. 7, which could drive further upside to our [September] quarter estimate," the analyst added.
Hargreaves, who maintains an Outperform rating and $235 price target on shares of Apple, estimates that each incremental 1 million iPhone units will generate and additional $0.28 in free cash flow per share.