Repeat tests show iPhone 3G doesn't suffer from faulty hardware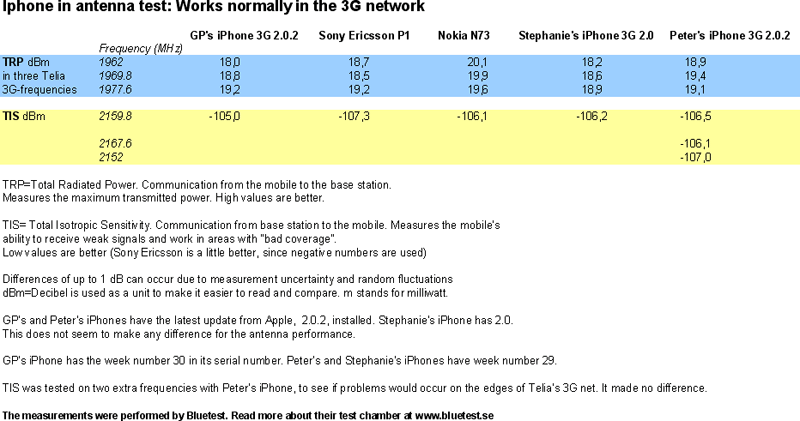 After lab results demonstrated that the iPhone 3G's antenna actually functions normally, critics complained that the tests didn't represent their own experiences. So the tests were performed again on two phones that had been experiencing severe problems for some users; the verdict was the same: no hardware problems found.
Eva Wieselgren, a journalist in Sweden, originally presented the findings of a study by Bluetest earlier this week which confirmed that the iPhone 3G's antenna and its 3G reception were functioning normally. When readers complained that the tests didn't properly single out a problematic phone, Wieselgren asked for volunteers who owned a bad iPhone 3G to offer their unit for additional testing.
Despite the wide visibility of the report, Wieselgren wrote that there were "unexpectedly few" who responded to claim ownership of a bad iPhone, but two users were identified who had experienced few or no bars of 3G service in areas where other mobile phones reported lots of bars of signal strength.
"To look at the bars [of signal on a phone] is a very unreliable measurement method," Bluetest chief executive Mats Andersson explained. "There can be differences of 10 - 20 dB by moving the phone half a meter, or if a car drives by. There is no standard on how the bars should be displayed." Andersson's company had previously pitted an iPhone 3G running iPhone 2.0.2 software against a Sony Ericsson P1 and Nokia N73. In the retest, two additional iPhone 3Gs, one running iPhone 2.0 and the other running iPhone 2.0.2, were also tested, both of which came from owners who reported having trouble finding a 3G signal and frequent fallbacks to EDGE service.
Wieselgren reported that the lab found that all these iPhones to "have no problems with the 3G communication in the test chamber. They send and receive signals in a fully normal manner. They do not disconnect earlier than the others we have tested when the signal becomes weaker." The iPhone using updated 2.0.2 software reported slightly better numbers, but Bluetest indicated there was no statistical significance, as a difference of up to 1dB in the results "can occur due to measurement uncertainty and random fluctuations."
Outside of the Bluetest lab, Wieselgren reported that at one location where a Sony Ericsson phone displayed full bars, one iPhone 3G showed low 3G reception while the other indicated it was on EDGE. When attempting to download a web page however, Wieselgren wrote that "the Sony Ericsson with all the 3G bars makes it in 46 seconds. For my iPhone with Edge it takes 32."
"I do not draw any conclusion from this, there is so many factors influencing the outcome," Wieselgren reported. "We can at least be certain of one thing. The three iphones we tested had nothing wrong with their antennas."
The radio frequencies Bluetest examined fall in the 1900MHz band used for mobile transmit (above in blue) and the 2100MHz band used for base station transmit (above in yellow), the two primary 3G UMTS bands used in Europe. The testing did not also include the 850MHz band used by AT&T in the US and Telstra in Australia.
The longer wavelength, lower frequency 850MHz band is growing in popularity among mobile providers because it provides greater coverage area using fewer towers and better penetration through walls. AT&T uses both 850MHz and 1900MHz bands for 3G UMTS in the US.
In June, Kris Rinne, AT&T's Senior Vice President of Architecture and Planning, was cited in an industry press release as saying, "AT&T has delivered HSPA service at 850MHz wherever possible, with more on the way this year as we redeploy additional 850 spectrum previously used for our TDMA network," indicating a continuation of the company's often repeated strategy of deploying additional 850MHz coverage to strengthen its 3G service in the US.
The lab findings refute the speculation of financial analyst Richard Windsor of Nomura Securities, who issued a report two weeks ago that accused the iPhone 3G's Infineon chipset of being faulty and possibly requiring a massive recall to resolve. Infineon said it was not aware of any problems with its chips, which are also used by Samsung. Other groups, including iSuppli, offered their own guesswork about the possible hardware problems the iPhone might have, albeit without offering any test results to substantiate what the problems actually were.
BusinessWeek cited two "well-placed" but unnamed sources, who both blamed unspecified chips in the device as the source of its reported problems. Swedish publication NyTeknik reported on a study that indicated substandard test results "well below the value specified in the 3G standard" for an iPhone 3G, but did not actually publish the numbers, describe how the tests were carried out, or compare the iPhone 3G's findings against other models.
A broader, informal study conducted by Wired that involved 2,600 users in different countries suggested that the iPhone 3G's problems were more likely due to limitations of carriers' networks, particularly AT&T in the US, where users reported 75 percent of the zero data results from dropped calls and less than half of the average data throughput compared to users on European carriers.
A Citigroup analyst recently reported similar 3G problems with dropping to the slower EDGE network or even cutting out entirely when using RIM's new BlackBerry Bold on AT&T's 3G network. The Bold uses an entirely different cellular chipset than the iPhone 3G.