Apple recalls iPhone 3G power adapters over shock risk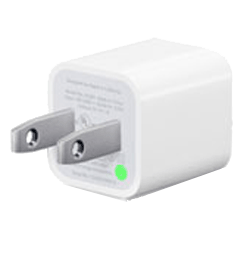 AppleInsider may earn an affiliate commission on purchases made through links on our site.
Apple on Friday afternoon recalled the ultracompact USB power adapter for iPhone 3Gs with warnings that they might pose a hazard to owners.
The company's notice for the exchange program cautions that "certain conditions" could cause the prongs to snap off when the adapter is pulled from a wall outlet, potentially creating a shock for those who touch an exposed connection.
No injuries have been reported by users affected by the failure, and the issue affects just a "very small" number of adapters, Apple claims.
Nonetheless, the company is giving iPhone 3G owners in Canada, Japan, Mexico, the US, and a number of Latin American countries a free replacement charger regardless of whether they're likely to suffer the problem. Owners are asked to immediately stop using the old charger until they receive a replacement and to use either a direct USB connection to a computer, an older iPhone charger, or a third-party accessory to power the iPhone until the replacement arrives in the mail.
Those who bought the power adapter as a stand-alone accessory should also trade theirs in, Apple says.
The company doesn't explain what may have triggered the issue but explains that users can visually identify the new, fixed adapter through a green dot on the prong side of the device.
Replacements should be available from October 10th either online or at retail but will need a given iPhone's serial number as part of the swap.
Apple's replacement power adapter; affected models lack the green dot.