SquirrelFish Extreme promises to speed JavaScript in Safari 4.0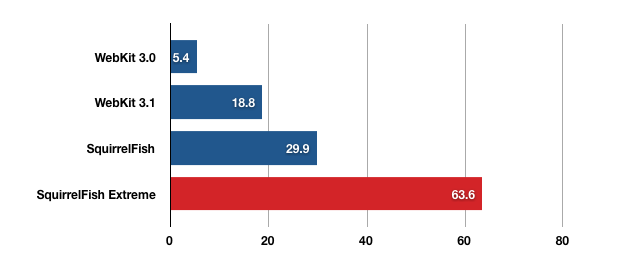 AppleInsider is supported by its audience and may earn commission as an Amazon Associate and affiliate partner on qualifying purchases. These affiliate partnerships do not influence our editorial content.
Last night, Apple's WebKit group announced the new SquirrelFish Extreme, a major new retooling of the SquirrelFish JavaScript engine originally announced in June. The update comes before SquirrelFish even had the time to make it into production versions of Safari.
After Apple announced the original SquirrelFish as a project, Mozilla released TraceMonkey for FireFox and Google unveiled the new V8 engine in Chrome, making the acceleration of JavaScript one of the most competitive and rapidly advancing targets on the computing landscape today.
Apple's enhancements in SquirrelFish Extreme include "bytecode optimizations, polymorphic inline caching, a lightweight 'context threaded' JIT compiler, and a new regular expression engine that uses our JIT infrastructure," according to a Surfin' Safari post by Maciej Stachowiak.
In SunSpider benchmarks, the new SquirrelFish Extreme is "nearly twice as fast as the original SquirrelFish, and over 10 times the speed you saw in Safari 3.0, less than a year ago," Stachowiak wrote. "We are pretty pleased with this improvement, but we believe there is more performance still to come."