Apple pulling away from competition in teenage mindshare

Apple in the last six months has broadened its lead among the teenage demographic in the areas of mobile phones and digital music, a critical indicator of the company's long-term growth prospects in those respective markets.
Apple's dominance unchecked
Piper Jaffray on Tuesday released the results of its 16th bi-annual Teen Survey, for which members of the firm visit several high schools across the country and survey students on their interest and buying patterns in portable media players, online music, and the iPhone.
The bottom line is that "Apple's dominance in the consumer electronics and online music markets is going seemingly unchecked," analyst Gene Munster told clients in a report outlying the study's findings. "We believe that the teen demographic is a critical component of long-term growth in the digital music and mobile markets."
In particular, 8 percent of the 769 students surveyed said they already own an iPhone, with another 22 percent implying that they plan to purchase one in the next 6 months. That's up substantially from the firm's April survey in which 6 percent of students had iPhones but only 9 percent said they planned to purchase one in the next 6 months. What's more, of those students adding a mobile phone to their "wish lists," 33 percent penciled in an iPhone.
Munster said the findings suggest ample room for Apple to continue to build share amongst the teen sub-market and further his convictions that the company is well on its way to meeting a self-imposed goal of capturing 1 percent of the worldwide cell phone market during the 2008 calendar year.
In terms of digital media players, a resounding 87 percent of students said they own one of the devices, up from 80 percent increase during the fall of last year. As such, interest among those looking to buy a new player in the next twelve months has fallen to 37 percent from 47 percent.
Apple continues to dominate the market, with an 84 percent share, up from 80 percent last year. Deadlocked for second place are Microsoft and Sony, whose Zune and Walkman players are each clinging to a 3 percent share of the teenage market. Of those students who say they plan to purchase a new player in the next 12-months, 79 percent indicated they'd choose an iPod while 15 percent are eyeing a Zune — the highest response ever seen by the Microsoft player in the history of Piper Jaffray's Teen Survey.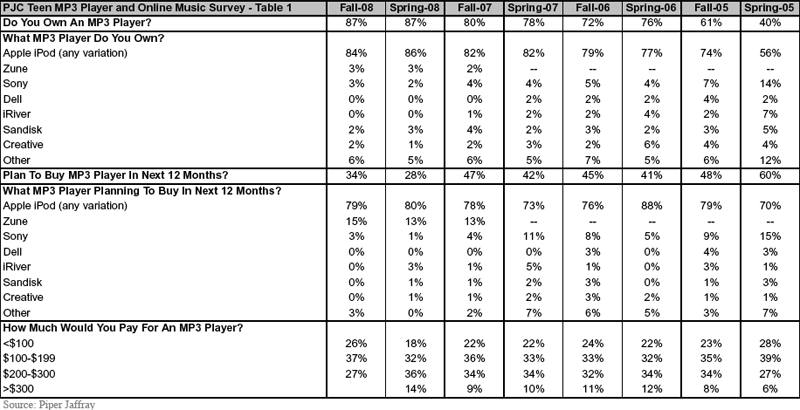 In general, the percentage of students downloading music over the internet remains relatively high at 80 percent, down 6 percent from April. However, 60 percent of those students are still using illegal peer-to-peer file sharing services instead of purchasing their songs legally. The good news for digital music store operators, artists and record labels is that illegal peer-to-peer usage has actually decreased 4 percent year-over-year.
While Piper Jaffray's April survey saw iTunes use amongst teens start to plateau at around 80 percent after falling from a high of 91 percent in the fall of 2006, the Apple digital download service has since bounced back to reclaim a 93 percent share. Rival services from Yahoo, Rhapsody, and Amazon, which at one time seemed as if they'd give iTunes a run for its money among the teen demographic, have since lost their momentum, Munster told clients.

The analyst said the average age of students in the most recent Teen Survey was 16.2 years old, with 53 percent of the students being male and 47 percent being female.