What to expect: Apple Q4 2008 earnings preview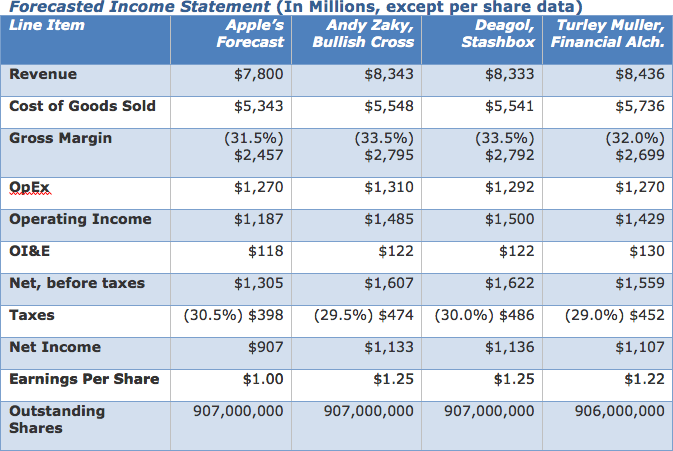 AppleInsider is supported by its audience and may earn commission as an Amazon Associate and affiliate partner on qualifying purchases. These affiliate partnerships do not influence our editorial content.
Wall Street investors are holding their breath as Apple is set to report earnings after the close of regular trading this afternoon. This particular report will be one of the most crucial in the company's history as Wall Street and her analysts have completely written Apple off as a business that could thrive in a slower economic environment.
In order for Apple's shares to recover from its recent 50% plunge in value, Apple will have to demonstrate its resilience in this slowing economy by both reporting strong earnings results and offering some compelling guidance.
In the past, Apple has consistently offered the street ultra conservative guidance, basically rendering such guidance useless when it comes to how the company will actually perform. Yet, irrational investors on Wall Street continue to be completely preoccupied with Apple's meaningless guidance making it extremely difficult for Apple to rebound until management gets a clue that its conservative nonsense is not working in this particular environment. Apple should either take a page from Google's book and not offer guidance at all, or offer guidance that is more realistic in this skittish environment.
Analysts polled by Thomson Financial expect Apple to post earnings of $1.11 in EPS on $8.05 billion in revenue fueled by sales of 2.7 million Macs, 10.5 million iPods and about 4 million iPhones. For Q1 2009, analysts are generally looking for Apple to report $1.66 in EPS on $10.6 billion in revenue.
I am looking for Apple to record approximately $1.25 in EPS on $8.343 billion in revenue. I expect Apple to sell 2.9 million Macs, 11 million iPods and about 7.25 million iPhones. I expect Apple to report that it reached its 10 millionth iPhone sales goal a full three months ahead of schedule. I also expect gross margins to drop sequentially to 33.5%, operating expenses to rise to $1.310 billion, and OI&E to rise to $122 million. I'm modeling Apple to post net income of about $1.33 billion after taxes of $474 million.
In terms of the revenue breakdown from Apple's primary operations, I am looking for Apple to produce $4.118 billion in revenue from Mac sales (2.9 million Macs at $1,420.00 ASP), $1.595 billion in iPod revenue (11 million iPods at $145 ASP), and a total of about $2.63 billion derived from its other primary operations (this includes revenue Apple recognizes through its other music related products and services, iPhone and related products & services, peripherals & other hardware, and software, service and other sales). The table below lists my estimates along with two other analysts whose opinions I highly respect.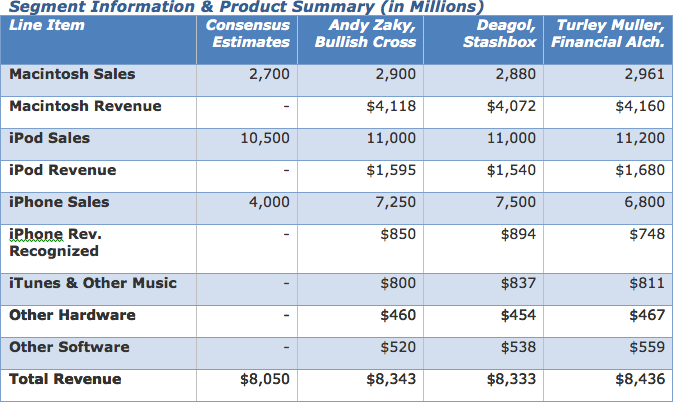 My Estimates Compared to Wall Street Analysts
The table below compares my estimates with Wall Street analysts. It should be noted that Kathryn Huberty from Morgan Stanley consistently provides earnings estimates which prove to be some of the worst on Wall Street. I fully expect the trend to continue when Apple reports earnings this afternoon.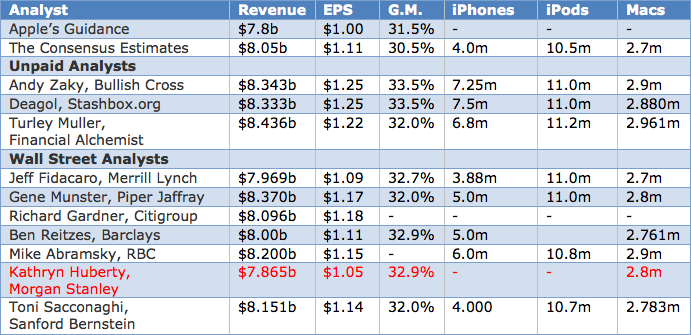 My Past Performance compared to Wall Street Analysts for Q2 2008
The table below compares my past performance with Wall Street analysts. The numbers highlighted in "blue" designate the closest estimate to Apple's actual report whereas the numbers highlighted in "red" designate the estimate which was furthest from Apple's actual report.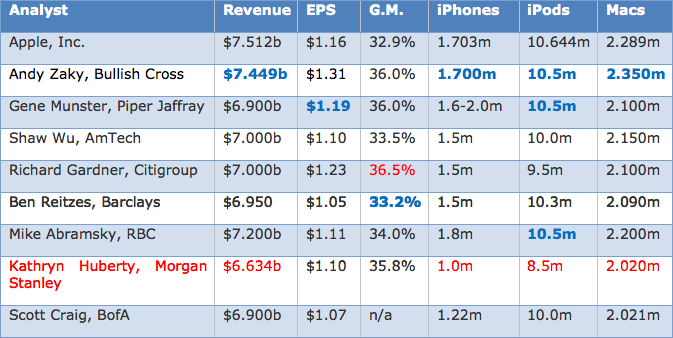 Notice how Kathryn Huberty of Morgan Stanley made the worst call in four out of the six major areas of prediction. She actually missed revenue by almost a cool billion ($815 million). I pointed out the obvious flaws in her analysis before and after earnings were released in Q2 2008. I also tried to point out that investors ought to ignore Kathryn Huberty's estimates and her meaningless downgrades of the stock. In September, she downgraded Apple two weeks in a row causing the stock to drop a cumulative 30 points or about 30% between the two downgrades.
Disclosure: Long Apple. The information contained in this blog is not to be taken as either an investment or trading recommendation, and serious traders or investors should consult with their own professional financial advisors before acting on any thoughts expressed in this publication.