Apple's Black Friday Sale: $101 off some MacBooks and iMacs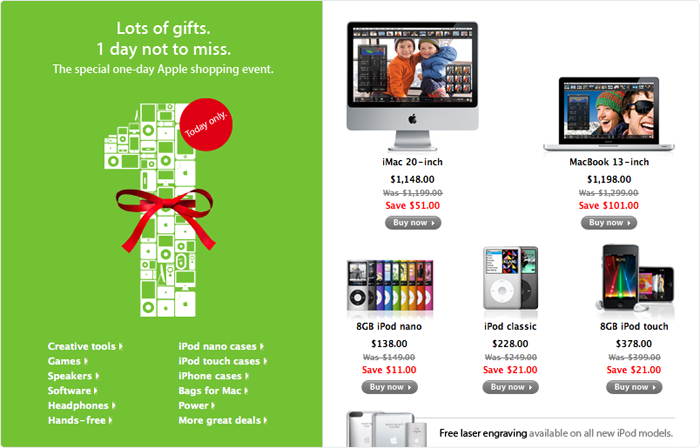 Apple on Friday morning kicked off its 24-hour Black Friday shopping event with deals largely reminiscent of those from last year. Highlights include up to $101 off some MacBook and iMac models, and $21 off Apple TV, Time Capsule, and iPod touch.
DealNN offers a rundown of the 2008 Apple Black Friday Sale, in which the Mac maker is offering $101 discounts on its latest generation "unibody" MacBooks and a $51 discount on the entry-level $999 white MacBook. Similarly, the company has cut between $51 and $101 off its line of aluminum iMac desktops.
iPod discounts include $11 off 8GB iPod nanos, $21 off iPod classics, and $21 off iPod touches. The same $21 discount can be found on Apple TV and the 500GB Time Capsule.
Other minor but notable Apple product deals include $11 off AirPort Express, $11 off the Apple iPhone Bluetooth headset, $5 off the Nike + iPod Sport Kit, and $5 off the iPhone 3G Dock.
In the third-party creative department, shoppers can find $32 off M-Audio's KeyStudio 49, $202 off Sanyo's Xacti VPC-E2 Waterproof Digital Camcorder, and $102 off the Canon Rebel XS Kit.
For headphones Apple is offering $52 off Monster Beats by Dr. Dre Headphone and $16 off each of the following: Sennheiser PMX 80 Sport II Headphones, Sennheiser MX 85 Sport II Earphones, and Sennheiser OMX 80 Sport II Earphones.
There's also some minor discounts on games, speaker systems and hands free kits.