App Store daily download rates now double December volumes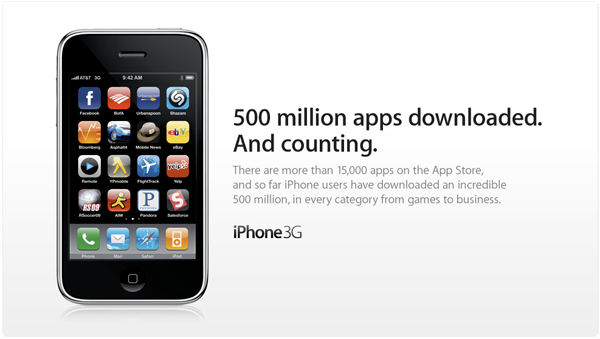 AppleInsider may earn an affiliate commission on purchases made through links on our site.
Apple announced Friday that App Store customers have downloaded more than 500 million applications to date, indirectly revealing that per-day downloads have more than doubled since early December.
When AppleInsider last visited the numbers early last month, Apple claimed over 300 million downloads.
Today's announcement means that in the 42 days since December 5th, another 200 million have been downloaded for an average rate of 4.76 million per day. That's more than twice the daily run-rate of 2.2 million apps per day witnessed last month.
Additionally, a banner on Apple's website reveals more than 15,000 apps have found their way to the App Store's digital shelves since July.