Circuit City calls it quits, to liquidate assets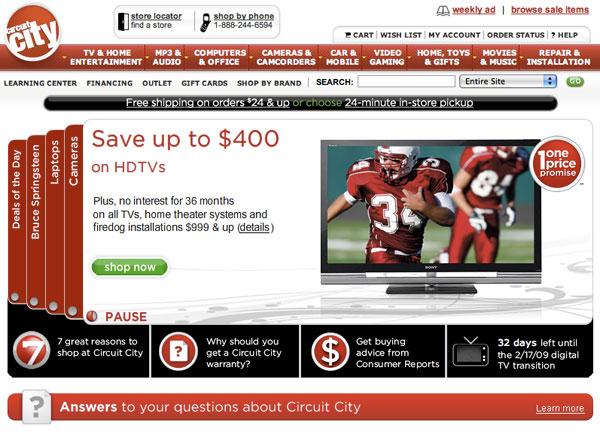 One-time Apple partner and the United States' second largest electronics retailer Circuit City will shutter all of its remaining stores following a difficult holiday shopping season and failed efforts to negotiate a sale that would have saved the company.
Just last week Circuit City said it was in "significant discussions, meetings, and negotiations" with "two highly motivated and interested parties". The Best Buy rival, which was negotiating under immense pressure because its cash reserve was running dangerously short, said Friday it was unable to reach an agreement with those parties. Although Blockbuster made an unsolicited $1 billion bid back in April 2008, Circuit City declined.
The Richmond-Va.-based company is now requesting approval from the bankruptcy court to liquidate all of its assets and close its remaining 567 U.S. stores. It also operates 765 stores and outlets in Canada. It's reported that Circuit City is roughly $2 billion in debt, due in large part to its practice of buying inventory on credit and paying the sellers once it sold the merchandise. The credit crunch and failing banks of last year robbed Circuit City of the good financing rates it depended on.
"We are extremely disappointed by this outcome," said acting chief executive James A. Marcum. "The company has been in continuous negotiations regarding a going concern transaction. Regrettably for the more than 30,000 employees of Circuit City and our loyal customers, we were unable to reach an agreement with our creditors and lenders to structure a going-concern transaction in the limited timeframe available, and so this is the only possible path for our company."
Circuit City's troubles came to a head in November when it announced the closure of 155 stores and the beginning of its bankruptcy process. The company said Friday it has not finalized plans to liquidate stores and other assets or decided the status of CircuitCity.com and its firedogSM service operation, meaning any extended warranties its customers purchased are now in question.
According to a statement, Circuit City "does not anticipate any value will remain from the ... estate."
Apple and Circuit City had a fragmented history together. Circuit City once stocked Macintosh Performas until 1998, then the two resurrected their relationship in 2000 to sell iMacs and iBooks in 600 Circuit City locations. That program was cancelled a year later. Â
After five more years passed and Mac OS X flourished, the companies renewed attempts to push Macs in Circuit City's locations in a 2006 pilot program at a handful of stores, only for Apple to announce a year later that it had decided to pull the plug. Circuit City still sold iPods while Best Buy's partnership with Apple to also sell Macs only got stronger.
One possible reason Circuit City has not announced the fate of its website is that CircuitCity.com is a $1 billion business, according to CNNMoney. A chance remains that a creditor could acquire the company out of bankruptcy. In such a scenario, Circuit City would follow the lead of CompUSA, which drastically cut back its retail locations to just 23 in four states in order to focus on online sales in a partnership with TigerDirect.  As a final note of interest, one reason Apple reconsidered a partnership with Circuit City as an attractive option was the early 2007 demise of CompUSA.
As of press time, CircuitCity.com had been taken offline with a message telling customers to return in a few minutes when it will announce a series of special offers.