Some Best Buy stores fitted with snazzy new Apple displays (photos)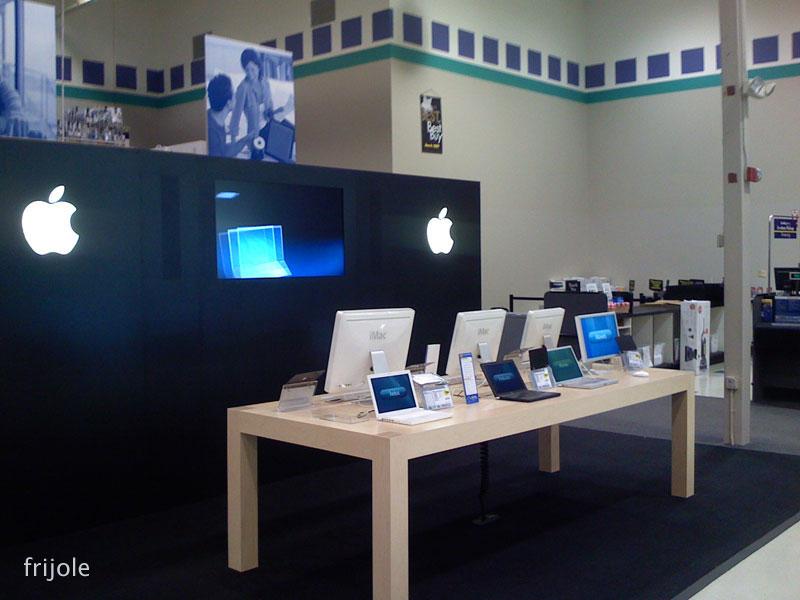 Electronics specialty retailer Best Buy, which announced in April that it would be expanding its Mac pilot program to about 200 stores, has begun fitting some of its higher profile locations with radically improved Apple store-within-a-store concepts.
As can be seen in the photos below, isolated Apple display areas have cropped up near the front of some of the retailer's computing departments. A two-foot thick black display wall forms the centerpiece of the layout, packing stereo speakers and an embedded LCD display (or "mini theater") flanked by two glowing Apple logos.
A wooden table, reminiscent of those used in the Cupertino-based Mac makers own retail stores, sits in front of the mini theater. It's stocked with iMac, MacBook and MacBook Pro display units. Power and security cords, like in Apple's own stores, are channeled through recesses within the tables, reducing clutter and minimizing the appearance of wired connections.
It appears that Apple has even taken measures to jazz up Best Buy's ancient looking price tags, concealing them with Apple-branded plastic jackets that can be flipped up to reveal product costs, specifications and steeply priced extended warranty options.
Adjacent to the Apple display tables are shelving units that feature matching planograms for both Apple Peripherals and Apple Accessories. In stock appear to be the usual array of Apple cables, mice, routers and replacement notebook batteries. Those items are joined by a handful of third party offerings such as Iomega's MiniMax and Western Digital's MyBook external hard drives.
Apple and Best Buy have been working to expand the presence of Apple's Mac line at Best Buy outlets since last Spring. The initiative began as a 7-store pilot program on the West Coast and quickly expanded to approximately 50 locations by the Fall. In April, Best Buy used a quarterly conference call to reveal that it, along with Apple, had decided expand the pilot to approximately 200 of its stores by the fall of 2007.
Investment bank Morgan Stanley has said that a full expansion of the pilot to all of Best Buy's stores could generate as much as $400 million in additional Mac sales for Apple each year.