Firm reiterates claims of entry-level iPhone this spring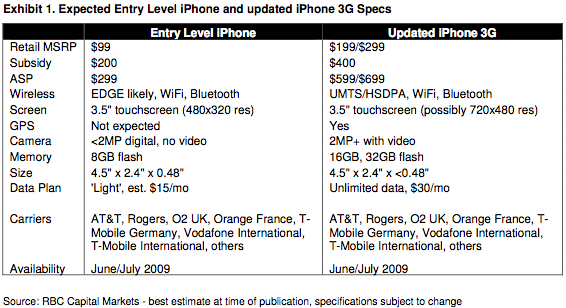 Although Apple has downplayed the possibility of a stripped-down iPhone, the Royal Bank of Canada is reiterating claims this week that the company is gearing up to announce two new versions of its touch-screen handset, including an entry-level model that lacks both 3G connectivity and an unlimited data plan.
The call came from analyst Mike Abramsky, who opened a research note to clients Tuesday by proclaiming that "checks reveal further entry-level iPhone details, including launches on existing carriers [in] June [or] July with a data plan, entry-level pricing and a lower subsidy."
Abramsky, who did not elaborate on his sources anywhere in the seven-page report, said the new handset would arrive in tandem with a "3G iPhone performance upgrade," or third-generation iPhone that would sport a new form factor, added features and outperform the existing model.
In a chart accompanying the report and attributed to RBC Capital Markets with the caption "best estimate at time of publication, specifications subject to change," the analyst constructed a side-by-side comparison of the two models he claims are on their way to market in the coming months.
New versions of the flagship iPhone 3G would supposedly fetch $199 and $299 for 16GB and 32GB models, respectively, after a $400 subsidy that would be absorbed by Apple's wireless carrier partners. Features such as UMTS/HSDPA connectivity, WiFi, Bluetooth, GPS and a two-megapixel camera would reportedly remain the standard, though the analyst claims the camera will be upgraded with video capabilities.
For screen real estate, Abramsky suggests Apple will stick to a 3.5-inch display but believes there's a possibility the company will employ a higher-density panel that ups the standard resolution to 720x480 from 480x320, a move that would somewhat mirror that of Japanese phone makers who've increasingly adopted 800x480 displays for their non-touchscreen handsets.
Meanwhile, the so-called "entry-level iPhone" would come wrapped in an enclosure similar but slightly thicker than the new iPhone 3G, adopting the same size screen, albeit at a resolution no greater than 480x320, according to the analyst. This model would forgo 3G connectivity for legacy EDGE support, lack GPS, and include a two-megapixel camera sans video, he said.
Apple would reportedly sell this model to carriers in an 8GB configuration for $299, which the carriers would then turn around and sell to consumers for $99 ($200 subsidy) alongside a "light" EDGE data plan with limited bandwidth for $15 per month.
Abramsky believes the move would be a play for unit volumes, something Apple chief operating officer Tim Cook categorically denied interest in pursuing during a recent conference call with analysts and members of the media.
"You know us, we're not going to play in the low-end voice phone business. That's not who we are. That's not why we're here," he said. "We'll let somebody do that, our goal is not to be the unit share leader in the phone industry. It is to build the best phone."
Oddly, the RBC analyst acknowledged the poor economics of such a move in his report to clients, noting that an entry-level iPhone at lower gross profit margin to Apple would "appear less attractive" while simultaneously posing a threat of cannibalizing the sales of higher-end iPhones and iPods.
"We estimate the entry-level iPhone would cost $195-225 to manufacture, vs. the iPhone 3G at $300, assuming the exclusion of 3G (UMTS/HSDPA) chipset and royalties, exclusion of GPS, lower-resolution digital camera module, and component pricing declines on existing components (e.g. ARM processor, 8GB flash memory) along with assumed manufacturing economies of scale," he wrote.
Given these estimates, an entry-level iPhone would generate a 30 percent (or $90) profit margin compared to the iPhone 3G's 50 percent (or $300) margin, meaning Apple would need to sell three $99 iPhones to replicate the gross profit from one 3G iPhone, or 34 million units in total before 'breaking even' on the initiative. He believes 20 to 30 million of the devices will be sold during fiscal 2010.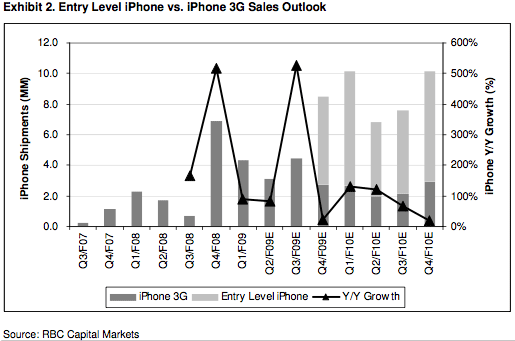 Ironically, Abramsky followed his prediction of this margin-diluting strategy by maintaining his Underperform rating and $70 price target on shares of the Cupertino-based iPhone maker, saying he remains concerned of the "elevated risks to valuation from a possible growth and/or margin 'downshift'" for the company.
In an article titled "Mike Abramsky's bad Apple advice," published earlier this week, Fortune took the analyst to task for his most recent recommendations on the stock, noting that shares have climbed 27.5% in the past three weeks, meaning anyone who sold short the Monday after Abramsky's most recent downgrade "would have lost his or her shirt."