New photos may show rear of next-gen iPhone casing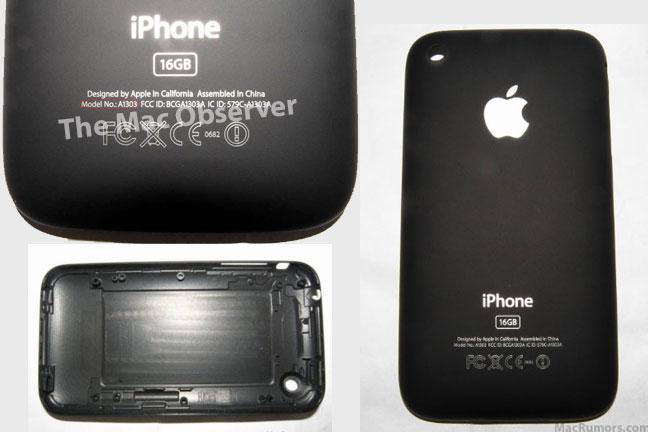 AppleInsider is supported by its audience and may earn commission as an Amazon Associate and affiliate partner on qualifying purchases. These affiliate partnerships do not influence our editorial content.
Leaked photos on Thursday purport to reveal a new iPhone design with an unfamiliar model number and a more subdued, matte black surface.
The images, first sent to iPod Observer in early form but followed up by a couple of larger versions at MacRumors, show what at first looks to be the familiar, tapered back of iPhone 3G but give signs that they may represent an entirely different model.
The empty shell appears to have official model markings for a 16GB iPhone but lists a new model number, A1303, that doesn't correlate to existing iPhone models with the same capacity. Existing 16GB iPhone 3G units often have the model number A1241.
More tellingly, the example put on display drops the glossy coat that has defined both black and white iPhone 3G models since launch. It's instead a dull, matte finish not unlike the back of current aluminum iMac models. The tip to Mac Rumors implies that the finish is also textured and less prone to slipping out of one's hand.
Supposedly originating from China, the photos are difficult to authenticate and still carry the risk of being identified as fakes. However, they're posted by the Observer in the belief that its history with sources supports this latest leak; tellingly, the news site was one of the first to have a photo of what was later confirmed to be the iPhone 3G's back.
There have yet to be additional rumors supporting the change in case design, though Apple has been steadily dropping hints of a widely anticipated iPhone revision, including a hardware identifier string for an unreleased iPhone 2,1 and statements by both Apple's Phil Schiller and carrier partners that allude to a June refresh.