Photo of next-gen Apple Mac mini in the wild?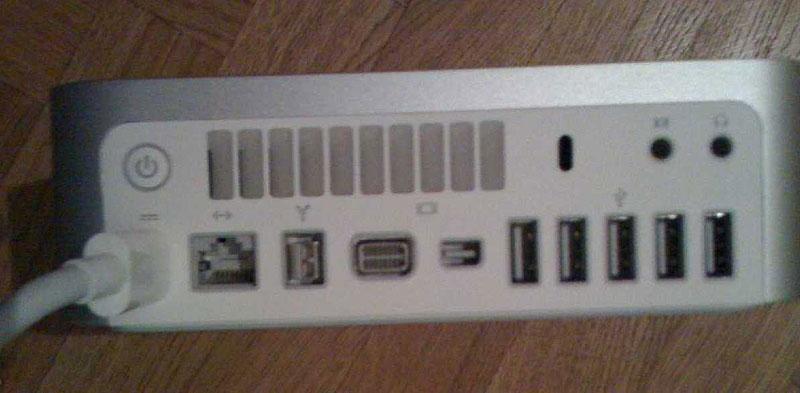 AppleInsider is supported by its audience and may earn commission as an Amazon Associate and affiliate partner on qualifying purchases. These affiliate partnerships do not influence our editorial content.
A photo making the rounds on the Internet appears to conform to descriptions of a next-generation Mac mini published by AppleInsider earlier in the year.
The photo shows the rear of a Mac mini that includes five USB ports instead of 4, both mini DVI and Mini DisplayPort connectors, and FireWire 800 instead of 400 — all of which were specifications for a next-generation Mac mini first published by AppleInsider back in January (1, 2).
For what it's worth, this is the second picture of a Mac mini seen by AppleInsider with such a port makeup, the first of which we were asked not to publish. While we cannot vouch for the authenticity of this new photo, it shows a Mac mini that is identical in every way to the system in the unpublished photo, which was said to be a prototype from last fall.
People familiar with Apple's plans have said that the new Mac mini, like Apple's MacBook families and upcoming line of iMacs, will be powered by chipsets from NVIDIA Corp.
However, with no official announcement from Apple, and two photos of the same unreleased system making the rounds in as many months, there's an outside chance the company may have recently changed its course for the next-gen Mac mini.
Update: The image was also posted to the MacRumors forums from user 'monthy,' who claims the system will ship with a 2GHz Core 2 Duo with 3MB Level 2 cache, 2GB DDR 3 RAM @ 1066MHz and a ATA Super Drive. It appears monthy is the source of the image.