A peek at Apple's new QuickTime X interface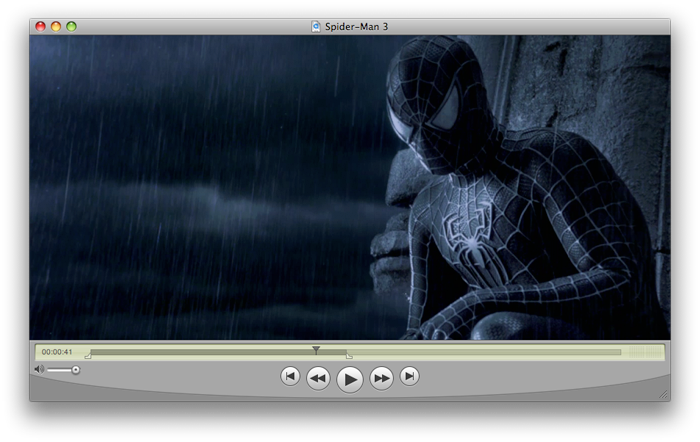 A widely reported interface overhaul making its debut in early betas of QuickTime X Player distributed with pre-releases of Apple's Snow Leopard operating system this week is reportedly not much to write home about.
Unlike the current version of QuickTime Player 7.6 — which reserves considerable real estate for sizable, platinum-themed video controls at the base of the each player window — QuickTime X Player is said to forgo all traditional interface controls in favor of video overlay controls (like those that appear when you mouse over video in full-screen mode of the current Player software).
The only window-based interface element in the QuickTime X Player is reportedly the title bar, which is reminiscent of the iPhone's semi-transparent black glass interface while also adopting hues from the video frames playing beneath it. However, this too fades away and disappears with the new overlay controls so videos appear to float on the screen with nothing more than a deep shadow surrounding all four sides.
AppleInsider has made its best attempt to provide mockups of this reported new interface using existing Apple interface elements, based off descriptions of the new QuickTime X Player provided by people familiar with the software. In addition to the standard overlay for controlling playback, the new player is also said to offer overlay controls for trimming, editing, and viewing scenes of a video like in iMovie.
Apple has described QuickTime X as a new version of its media software due to ship with Mac OS X 10.6 Snow Leopard that "optimizes support for modern audio and video formats resulting in extremely efficient media playback."
The current window interface in QuickTime Player 7.6
A few other features are rumored to be baked into the new player software, such as the ability to export video clips in a variety of sizes to your iTunes library with the help of the CoreMedia framework or publish them through a MobileMe account.
Meanwhile, those familiar with the latest betas of Snow Leopard in general say that the previously-reported addition of Apple's CoreLocation framework has been put to work in the Time Zone tab of the Date & Time panel, which attempts to pinpoint a Mac's geographic location, dropping a pin on the world map at the Mac's estimated location.
A handful of other additions and omissions are also being reported. For example, a new version of Apple's Preview app is said by those familiar with the software to include a new annotations toolbar at the base of content windows, while VoiceOver is being upgraded from version 2.0 to 3.0. Also back from early betas are QuickLook icon previews but gone is the awkward interface for drilling down into stacks under grid view that first surfaced in pre-releases of Snow Leopard distributed last month.