Hackers crack Apple's iTunes gift card algorithm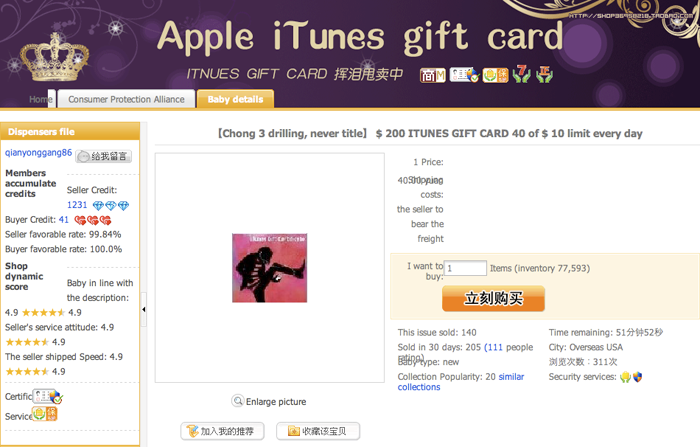 $200 iTunes Gift Certificates are selling for less than $3 in China now that a group of local hackers has circumvented Apple's algorithm for creating the digital vouchers and built their own gift certificate generators.
According to Outdustry, which describes itself as a music industry consultancy specializing in the Chinese music business, sellers on China's largest consumer-to-consumer online shopping site are marketing these illegitimate vouchers directly to customers.
"Choose one seller whose Taobao IM is online, talk to him a little bit, purchase his product and pay money to Taobao's online payment system, Alipay, which supports most banks in China," the report says. "All the seller actually sells is the gift voucher code which they send you directly through Taobao's IM software. You can then redeem the card in your iTunes account."
The consultancy adds that legitimate digital music download sites are few in China, as a free mp3 search is dominant. The $200 cards are going for just 18RMB ($2.60) at the site.
"We make more money as the amount of customer is growing rapidly," said the owner of the Taobao shop contacted for Outdustry's story. He also acknowledged having paid the hackers an undisclosed sum for use of their iTunes Gift Certificate generators. "The hackers are based in China, but I don't know if they do the same thing in eBay," he said.
This screenshot, translated via Google, shows 77,593 codes available for purchase.
According to the owner, the business started half a year ago. Apple has not commented, but it would come as no surprise if the company alters its algorithms in an attempt to prevent the practice.