Apple revamps MobileMe iDisk features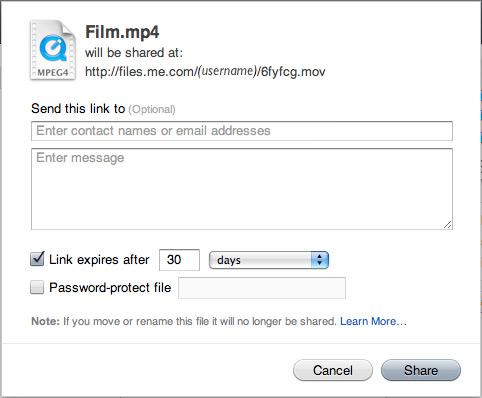 MobileMe web applications have received another facelift, with new features including a revised iDisk module that enables easy file sharing using a system Apple first debuted with its iWork.com experiment at Macworld Expo.
MobileMe's iDisk is a WebDAV-based cloud file share that subscribers can access from the me.com website or mount on their desktop as a volume. Support for iDisk is automatically configured when a user sets up his or her MobileMe account in System Preferences or the MobileMe Control Panel for Windows. In Mac OS X, users can even sync their iDisk locally, so that its files are available even when the system is not connected to the Internet.
Files uploaded to iDisk are private to the MobileMe user, outside of two special folders: Web and Public. Documents copied to the Web folder, including sites posted by the iWeb application, are hosted by the MobileMe web service.
Files copied to Public are available to anyone via http://public.me.com/user. The subscriber may choose to only allow visitors read access, or can enable read and write access via the MobileMe pane of System Preferences. The Public folder can also be assigned an access password for more selective sharing.
The newly enhanced Shared Files feature allows users to select a specific file from the iDisk web interface and share it using the same system Apple debuted in iWork.com. The system sets up a short URL to the shared file along the lines of http://files.me.com/user/31sk02. You can manually email the link to others, or you can enter email addresses directly in the sharing configuration sheet (below) and enter a brief message.
Unlike sharing access to the Public folder, Shared Files allows the subscriber to make the link valid only for a set number of days, weeks or months, with the default being 30 days. The shared file can also be assigned password protection.
If shared users are specified at creation, they will receive an email with a download link. Otherwise, the file is highlighted in a new Shared Files section on the iDisk webpage (below) for keeping track of the currently shared files. The user can click a Sharing Options button to resend the file to new users, extend its valid sharing period, change its password, or stop sharing the file.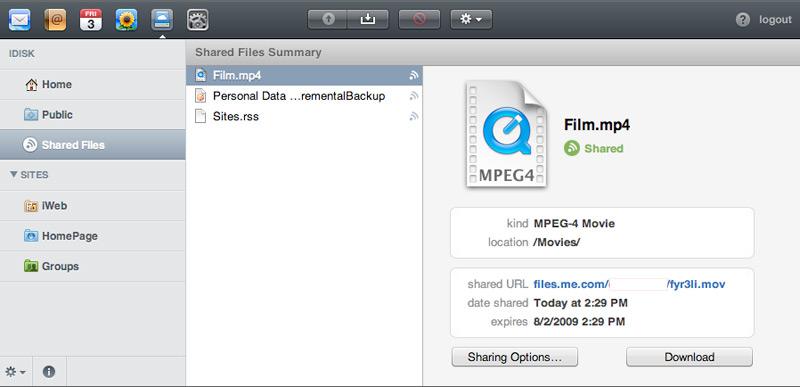 Along with the change, Apple also updated the iDisk icon to closer match the iDisk icon presented in the Finder of a volume with a cloud on it. Apple also changed the Account pane from a user silhouette to a gear icon similar to that used by System Preferences or the iPhone's Settings. The previous iDisk interface is shown below. Note that HomePage and Groups features under web sharing, held over from the .Mac era, are slated to disappear at the end of July.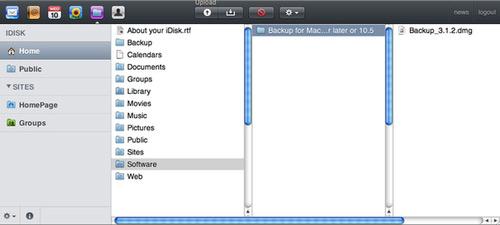 Apple has also outlined plans to expand iDisk features to allow iPhone users to access their iDisk files and to directly share files with other iPhone users via the Public folder.
Apple highlights Office and iWork documents, PDFs, and video files as examples of documents users can share via iDisk if they are too big to send via email. Other users can then receive a shared link for downloading directly from their own iPhone, or browse other users' published files using the Public Folders feature.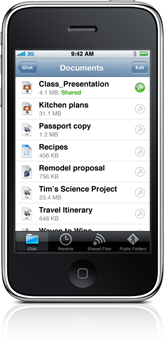 AppleInsider has affiliate partnerships and may earn commission on products purchased through affiliate links. These partnerships do not influence our editorial content.