Apple releases MobileMe iDisk app for iPhone, iPod touch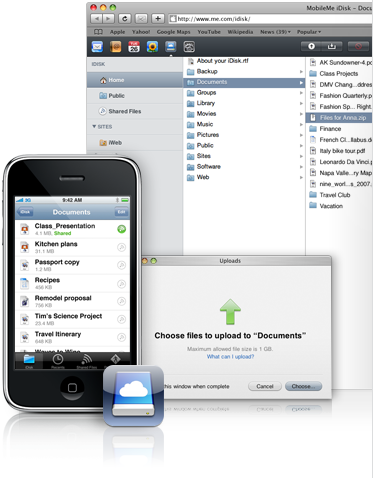 Apple's free MobileMe iDisk application is now available on the App Store, allowing users to remotely access files saved online via the MobileMe service.
"You can already access your iDisk online at me.com," Apple's Web site reads. "And now you can access it right from your iPhone. Free for MobileMe members, the iDisk app for iPhone makes your important files accessible anytime, anywhere. View popular file types, such as Microsoft Office and iWork '09 documents and presentations, PDFs, and more, in portrait or landscape. Share any file, big or small, with just a few taps. And access files in the Public folders of other MobileMe members just as easily."
Apple says that files recently accessed via the application can be viewed when there is no reception, such as traveling on an airplane.
View files on your iDisk
Access Public folders
Easily share files from your iPhone
Quickly access recently viewed files
View iPhone supported file types — including iWork, Office, PDF, Quicktime and more (files larger than 20MB may not be viewable).
It is available in English, French, German and Japanese, and requires a MobileMe subscription along with iPhone OS 3.0