Apple's iPhone gross margins estimated near 60 percent
A new report suggests Apple turns nearly a 60 percent gross profit on the sale of each iPhone, and the device allows the company to lower prices on other products without impacting its bottom line.
Meanwhile, another report released Wednesday says there is a "surprising" move by consumers toward the higher-end iPhone 3GS at $199 and $299, versus the $99 iPhone 3G.
Analyst Turley Muller, on his blog Financial Alchemist, said that with the carrier subsidies, Apple earns well beyond what it spends to build each iPhone. All three models of the phone earn more than 58 percent margins, with the 32GB iPhone 3GS carrying the most profitable 59.6 percent margin.
"Going forward Apple will recognize higher iPhone revenue carrying a higher gross margin," Muller writes. "As iPhone revenue as a percentage or share of total revenue increases, the impact of the higher iPhone (gross margin) on overall (gross margin) will intensify. This will assuage margin pressures Apple faces in other areas."
Muller goes on to suggest that the high profitability of the iPhone has allowed Apple to lower prices on its MacBook Pro lineup without having any effect on the company's earnings.
"As we just witnessed, Apple cut prices on its Mac line-up, and there hasn't appeared to be any noticeable impact on overall (gross margins)," he writes. "Going forward, Apple is guiding Q4 GM to 34%, suggesting GM in the 36%-38% range, thus there doesn't appear that these price reductions will have a dramatic impact on its overall GM."
Fortune Brainstorm Tech believes people should put stock in what Muller says. As the blog points out, he has come within pennies of predicting Apple's earnings per share during recent quarters, while the Wall Street consensus was off by dimes and quarters.
And in a report released by Kaufman Bros. Wednesday says that the iPhone 3GS, particularly the $299 32GB model, is doing better than expected.
"There were widespread shortages of nearly all 3GS models through the first weeks of July, due to strong preorders and strong demand," the report reads.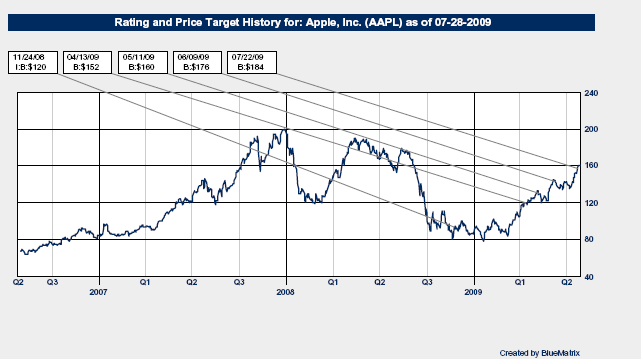 Kaufman Bros. had assumed that more customers would lean toward the affordable $99 iPhone 3G model. The firm expects Apple to sell 6.8 million iPhones in the third financial quarter, a 31 percent year over year increase.
But analyst Shaw Wu, who compiled the report, admitted those numbers could be very conservative, as it is a "tough comparison." The firm has raised its target price for Apple to $184 and recommends that investors buy. Kaufman Bros. joins a number of other Wall Street analysts who are high on AAPL stock.
"We continue to believe Apple is positioned to outperform in this tough macroeconomic environment with its defensible strategic and structural advantages and its vertically integrated model," the report reads. "We see several catalysts in the quarters ahead including Snow Leopard, new iPods, new desktop Macs, and a potential new form factor."