Apple's Mac leads sales growth as PC market begins to recover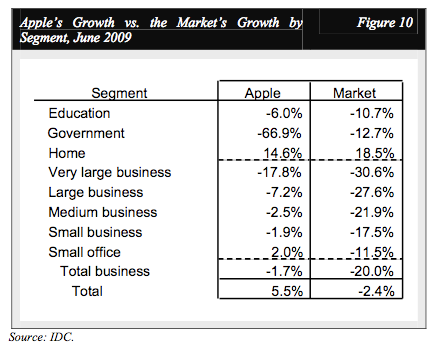 The worldwide PC market began a slow rebound from the recession last quarter with overall home sales surging, and strong Mac sales with business buyers.
In a note to investors, Charlie Wolf of Needham & Company said that a surge in home PC buyers has offset significant decreases in computer sales to the "saturated" business market. But here again, Apple bucks the industry trend, actually performing relatively better in the business market than for home sales. Wolf calls the Mac's business performance an "event" he can't explain.
In the June quarter, Apple's share of business sales declined only 1.7 percent year over year, while the overall market saw a 20 percent drop in shipments to the same demographic. And while business sales made up only 18.4 percent of all Mac shipments for the period, with business sales stronger than the rest of the industry, Apple's numbers fared well.
The overall market in June saw an 18.5 percent increase in home PC sales, while business, government and education fell behind. The total industry-wide loss for the quarter was 2.4 percent, while Apple gained 5.5 percent year over year.
Strong Mac sales, Wolf said, were achieved through the price cuts enacted on June 8. He believes that widely known high profit margins on the iPhone have allowed the company to cut prices without affecting its bottom line.
"The one thing Apple has resisted is listening to pundits who argue that the current recession demands that the company lower the prices of Macs to make them 'more competitive' with Windows PCs," Wolf wrote. "This is a misguided suggestion for two reasons. First, Mac shipments actually grew faster than the PC market in both the March and June quarters. Second, while lower prices might stimulate some additional sales, the price elasticity of demand for Macs is so low that it's unclear whether price reductions would actually translate into increased revenues. The one thing price cuts would clearly do is destroy Apple's margin structure."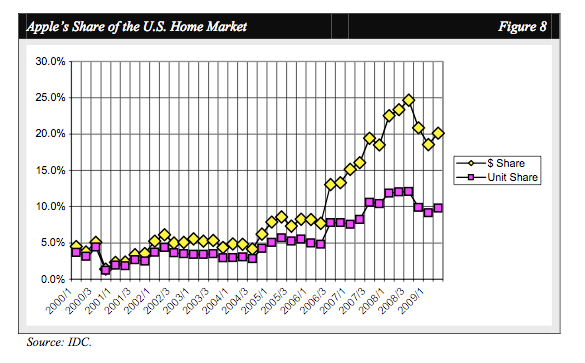 Wolf also noted very strong sales of netbooks, which have been reported elsewhere as well. He goes on to discuss the long-rumored Apple tablet, but does not provide any inside information, just skepticism and speculation.
"In our opinion, it would be premature to expect the iTablet to be introduced this soon because it's likely to incorporate chips developed by the PA Semi engineering team, which Apple acquired last year," the report states. "It's also our opinion that the so-called iTablet, if it exists, will not simply be an iPod Touch on steroids, if only because the market for such a product would probably not be that large. Of course, we couldn't understand Apple's rationale for introducing the iPod Touch in the first place two years ago. But with access to all of the applications running on the iPhone, the Touch has evolved into the must-have iPod, especially among teenagers."