AT&T 3G MicroCell to cost $150, require no monthly fees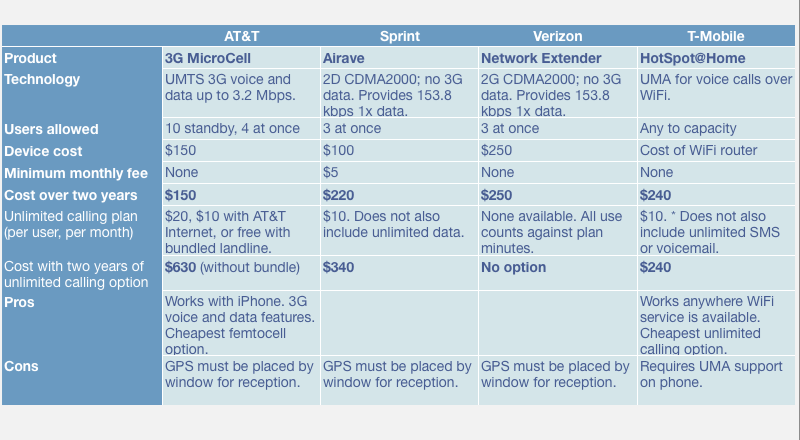 AppleInsider is supported by its audience and may earn commission as an Amazon Associate and affiliate partner on qualifying purchases. These affiliate partnerships do not influence our editorial content.
Users have reported AT&T's new 3G MicroCell has been test launched in the Charlotte, North Carolina market, with a $150 price tag and no required monthly fees.
A report published by GearLog answered some outstanding questions about the new device presented earlier.
Citing an AT&T representative in Charlotte, the report said the femtocell device provides 3.2Mbit/sec 3G service, which is on par with AT&T's existing towers in areas of ideal service, but not the maximum 7.2MBit/sec speed supported by the iPhone 3GS. Of course, most users won't be using the device's 3G for data, as they presumably will be using WiFi for that.
What the device will do is blanket 5,000 square feet (about a 40 foot radius from the device) of home or office space with excellent voice, text, and data service coverage to prevent dropped calls or delayed messages. SMS messages, like voice calls, require mobile data service and can't be sent over WiFi.
AT&T's device will support up to four users making simultaneous calls, and up to ten users on 3G standby available for incoming calls and messages. In order to support that bandwidth, the 3G MicroCell needs to be connected to an appropriately fast broadband connection. Typical DSL service provides 1.5Mbit/sec downloads and 0.7Mbit/sec uploads; a voice call consumes around 0.04Mbit/sec upload and download.
The upfront cost of AT&T's 3G MicroCell fits between Sprint's $99 Airave and Verizon's $250 Network Extender offering, although AT&T's supports fast 3G voice and data with UMTS features such as multiple party calling; Sprint and Verizon only offer relatively slow, legacy 2G CDMA2000 service.
Sprint also charges a $5 monthly "Enhanced Coverage Charge" fee just to use the Airave product, in addition to an activation fee. This makes AT&T's 3G MicroCell the cheapest option for users who just want to patch a dead service hole for their mobile, and of course the only option for iPhone users.
For $10 per month, Sprint allows unlimited calling for calls made using the device. That option will cost $20 on AT&T, but will be optional for users who want it. Verizon does not offer a "bring your own pipe" unlimited calling option at any price. Calls originated on a femtocell device are handed off to the mobile network if you leave the coverage area during the call, but remain counted against that unlimited coverage plan.
Opting for AT&T's $20 per month MicroCell unlimited calling plan is relatively expensive, costing an extra $240 over two years. However, compared with the $960 users could save by downgrading their exiting $120 unlimited mobile plan for a 900 minute, $80 contract, the option can provide a large net savings for users who place most of their calls from a single location.
AT&T's new device, which should begin being rolled out across the nation over the next several weeks, will allow users who live or work in dead spots to solve the issue themselves without waiting for AT&T's network improvement plans to reach them. That promises to help Apple's sales of the iPhone, which users in some areas have been forced to return due to specific service outages where they live or work.
The ability for users to offload traffic from AT&T's existing mobile network onto their own Internet connection for "last mile" service between their phone and AT&T's back end may also help balance the company's remaining bandwidth available to other users, effectively crowd-sourcing the problem of keeping up with the iPhone's voracious appetite for bandwidth.